THE NUTCRACKER AND THE FOUR REALMS
Dir: Lasse Hallstrom and Joe Johnston
Starring Keira Knightley, Mackenzie Foy, Eugenio Derbez, Matthew Macfadyen, Richard E Grant, Misty Copeland, Helen Mirren, Morgan Freeman





3 STARS (out of 5)
Christmas is well on its way, which means that it's more than time for us to start seeing a few festive pictures hit the big screen. Leading the way in plenty of advance is Disney's latest super-ambitious novel adaptation, which – following in the footsteps of the perhaps disastrous A Wrinkle In Time – serves to try and tell an amalgamation of two tales in one fell swoop. As with many Disney live action standards we've been audience to over the years, expect plenty of lavish set pieces, fleet pacing and all-star casts. While Nutcracker tries its best to set itself apart from a wide range of Disney standards, it does rather struggle to stand on its own two feet – while nice all the same.
Largely based on The Nutcracker and The Mouse King by ETA Hoffmann, this retelling focuses on young Clara (Foy) as she finds herself looking for a key to open a mysterious egg she received from her mother as a present. En route to looking for the key, she finds herself thrown into a magical world hidden beyond our own – one which her own mother knew about long ago. The world seems to be split into disarray – as three magical lands oppose another, and as Clara is thrown into the mix as the new Princess of the four realms. Can she find the key? Can she help to save the magical kingdoms from collapse?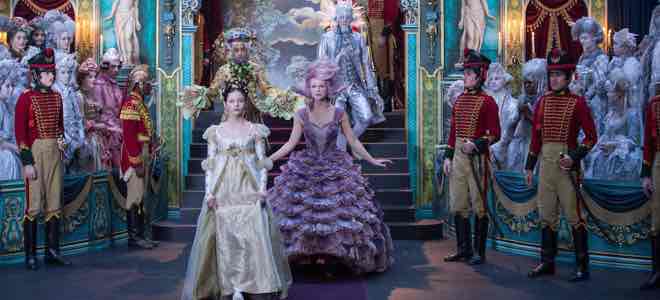 The Nutcracker and the Four Realms (Walt Disney Studios)
Whimsy is very much on offer here, front and centre – and for the most part, it's very appealing to behold. Nutcracker performs well when it's trying to be magical, and when it's offering up majestic set pieces and outfits – and, as such, I feel it's a good option for much younger children. In the briefest sense possible, I would regard Nutcracker as the sort of movie which is completely harmless to play during Christmas afternoon, in the same vein as many other Disney family movies which have come along in the past few years.
Nutcracker does seem to suffer the same fate as many other films from the studio, in that while it clearly has plenty of imagination and plenty to offer, the final product is rather flat and in some places unmemorable. The same issues befall Christopher Robin, A Wrinkle in Time and both Alice in Wonderland movies. While I can safely say that there's plenty going on here, it often seems as though that is to the movie's detriment – that it is struggling to offer a coherent and captivating narrative under the weight of all its parts.
It's an entertaining film, but one which does suffer from stuffing itself to the gills with plot and character elements without giving much heed to developing either. This is to its detriment – without much to root for, why should we stay invested? In any case, taking off the adult glasses and putting the kid ones on, there is still plenty here for kids to enjoy. It's very pretty to look at, though it's unlikely adults or older children will have much to remember or talk about post-event.
The movie does benefit from having a solid cast, though Freeman and Mirren are elevated to top-billing on the main movie poster despite having around 15 minutes of runtime appearance each. The side characters portrayed by Omid Djalili and Jack Whitehall are amusing enough, but are woefully underused and are thus unimportant as a result. If the movie's intention is to create whimsy and wonder, it does somewhat succeed – but if it's to do anything else, it falls a little flat.
The Nutcracker and the Four Realms - Official Final Trailer (Walt Disney Studios)
Let's also consider the dancing elements. While some of the movie – particularly the music and the choreography – are based around Marius Petipa's Nutcracker Ballet, there's very little time given to the medium of dance. There is a nice section midway through, but as a movie which promises to rest upon the ballet to such an extent, many fans of dance will perhaps be left a little disappointed. The Nutcracker Ballet is world famous and could have been incorporated into the movie a little more succinctly or usefully. Instead, it's reduced to a small midsection which is a little forgettable to say the very least.
Nutcracker is a sweet movie with plenty of ambition, but with a severe lack of focus, opting to cram itself full of elements without much nuance or development. As such, you're left with an aesthetically pleasing and pleasant movie which will create an atmosphere or fill a room after dinner – but not one which will inspire children everywhere. Nowhere near as abhorrent as some of the more caustic criticism available elsewhere online would have you believe – but perhaps worth holding off until it hits streaming. Save it for next year – will The Grinch offer more in the way of festive entertainment next week? Stay tuned….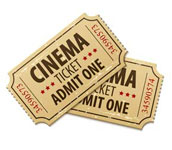 » See more of Graham's Movie Reviews