MARY POPPINS RETURNS
Dir: Rob Marshall
Starring Emily Blunt, Lin-Manuel Miranda, Ben Whishaw, Emily Mortimer, Julie Walters, Dick Van Dyke, Angela Lansbury, Colin Firth, Meryl Streep





4.5 STARS (out of 5)
There was concern rife for a while over whether or not the world really, truly needed a sequel to Mary Poppins. How do you follow up on one of the most iconic family films of all time? Was there a need to bring the magical nanny for another round of songs and dances? Perhaps, just perhaps, enough time had elapsed for a second entry to become worthy viewing – and perhaps, in trying times, we never truly knew how much we actually needed Mary Poppins ourselves. Okay – I promise to leave behind the corniness at that sentence – but my route through this review is clear. Mary Poppins Returns is an absolute triumph in almost every sense of the word.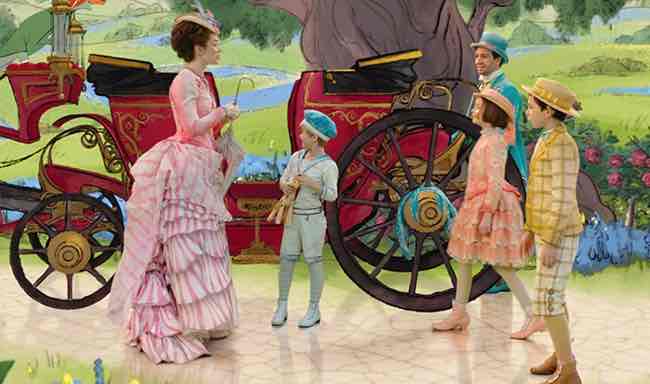 Mary Poppins Returns (Walt Disney Studios)
Michael and Jane Banks are now fully-grown, having been children in the classic Mary Poppins of old – and this time around, Mr Banks (Whishaw) finds himself struggling to keep the old family home while raising three industrious and imaginative children following the untimely passing of their mother. As a result, sister Jane (Mortimer) is on hand to try and help save the property – though what they don't expect is the return of mysterious, magical nanny Mary Poppins (Blunt), who arrives to offer the children, their father and their aunt a little bit of firm, proper British solace. All the while, cheeky chappy lamplighter Jack (Miranda) is on hand to lead a number of songs and dances to help Ms Poppins along the way. Expect extended fantasy sequences, expect catchy tunes and more besides.
Let's be abundantly clear here – I'm afraid I never grew up with the original Mary Poppins. I have seen the movie over the years and certainly appreciate it for the rightful classic it remains – but this type of movie has never really been quite on my radar. There's only so much whimsy you can take, after all! Imagine my utter delight, therefore, when this long-awaited sequel turned out to be one of the most joyous, deftly-paced and amazingly-cast movies of the year – and possibly one of the finest musicals of the decade (nudge nudge La La Land, nudge nudge The Greatest Showman).
Mary Poppins Returns is awash with childlike wonder. While many family films struggle to capture that sense of delight and adventure that Disney often – not always – does so well, Poppins 2 offers a well-balanced, well-envisaged and superbly choreographed series of events which peel out one after the other in welcome abandon. Sure, it's cheesy – and it absolutely knows it – but at the same time, it's having a whale of a time of it. For me, the shining grace here is competency – in songwriting, in choreography, in casting, in plotting (simple, but not over-complicated) – it is built in such a way that it keeps up with children's attention spans, all the while offering many parents a huge slice of nostalgia in the bargain.
What's more, it harks back to a simpler time. Yes – there have been plenty of movies in the family realm of recent years which root themselves deep in an age before smartphones, Peppa Pig and Baby Shark – but Poppins 2 does so in such a confident and matter-of-fact way. In other Disney standards this year – Christopher Robin and Nutcracker springing to mind – things seem forced, or even hokey – while Poppins 2 is unashamedly whimsical to a fault, it is hard not to get behind the cause.
Mary Poppins Returns - Official Trailer (Walt Disney Studios)
Let's talk about the cast. Surely recasting Julie Andrews as Mary Poppins is a cardinal sin? Maybe not. Emily Blunt is an immensely talented actress and she absolutely embodies the magical nanny with pith and necessary abandon. She's a revelation, here – I can almost feel the mental scars left by The Girl on The Train slowly healing – almost. Lin-Manuel Miranda is of course a master of the showtune and he is therefore perfectly cast as the new cheeky cockney. Dick Van Dyke, sadly, doesn't get to bring out his infamous London brogue once more, but he does get to offer a nice cameo, as does the always wonderful Angela Lansbury, still one of the greatest living vocalists working in Hollywood today.
Here's the clincher for you – the children in this movie are neither annoying, nor cloying. The child stars involved here act like real kids – they're perhaps a little more straitlaced than your average Fortnite-playing eighth grader – but they offer genuine enthusiasm and charm without ever being grating. Ben Whishaw, too, proves to have an incredible range for an actor who still finds himself typecast as either the slightly wet British gent or a talking bear from Peru. Why he's not yet been snapped up for Doctor Who is beyond me.
All things considered – my only slight issue with the movie is that it's perhaps a little too long – but there's so much going on. From brilliant animation-live action blends to surprising villain turns and addictive song and dance routines, Mary Poppins Returns is the joyous, non-stop family movie we all need to see 2018 off with a bang.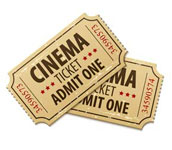 » See more of Graham's Movie Reviews