BIRD BOX
Dir: Susanne Bier
Starring Sandra Bullock, Trevante Rhodes, John Malkovich, Vivien Lyra Blair, Julian Edwards, Danielle Macdonald, Lil Rel Howery, Jacki Weaver, Rosa Salazar, Colson Baker, BD Wong, Tom Hollander, Sarah Paulson





4 STARS (out of 5)
Netflix continue to really push the envelope as far as original movies are concerned, with very few failing to ignite at least some positive critical attention in recent times. With the emergence of 'nu-horror' movies in the form of A Quiet Place, Annihilation and Hereditary in the past year or so, it makes sense that the streaming network would turn their attention to concept horror themselves in an attempt to eke morbid interest. Bird Box is their latest triumph, having garnered a freight train of social media interest and having apparently broken all manner of viewing records in its first week. Bizarrely, it's also been the focus of a new spate of social media 'challenges', those of which Netflix has directly intervened with in an attempt to close down completely.
Bird Box is an adaptation of a Josh Malerman novel which follows the journey of Malorie (Bullock) and her young family in the face of what appears to be a mysterious apocalyptic event. We are soon shown that people all committing suicide everywhere you look – with strange entities supposedly causing whoever looks at them to experience feelings of such dread that they take their own lives. The movie traverses across Malorie's interactions with fellow survivors of what continues to be a very strange take on the apocalypse – as we start to learn little bits and pieces about what may be at stake. Not much, of course – as is the way with concept horror!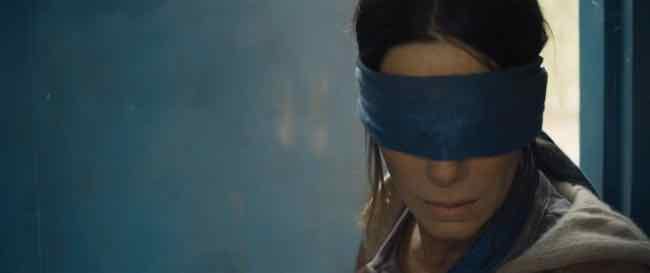 Bird Box (Netflix)
Off the bat, this is a great premise, albeit one which may seem a little samey to some horror or genre enthusiasts who feel they may have seen the same things attempted across TV and movies before. Blindfolding to avoid seeing suicidal monsters is a new one on me, though – and while the execution ultimately may not live up to the sheer intensity of the premise, the movie at least does a great job of being genuinely unsettling. All too often, modern horror movies promise a ton and fail to deliver – you get what you pay for with Bird Box, and that, obviously, is your monthly subscription.
Led by Bullock and ably assisted by a well-rounded and very capable cast, there are a number of great ensemble players in here who genuinely help to propel the movie to scale greater heights. The pacing is generally speedy, there's a nice sense of urgency – and you do actually grow concerned, if not morbidly curious, about what on earth it might be that's forcing everyone to either kill themselves or keep their eyes shut.
Bird Box - Official Trailer (Netflix)
Frustratingly, and yes, we have Cloverfield still to blame for this – the old trope of 'you don't get to see the monster' is rolled out yet again. So is, I'm afraid, the trope of 'you don't get to know where the monster came from'. This lack of explanation does rather let the side down in the sense that it's a cliché that has absolutely been done to death across the past decade and before. There are multiple genre movies still doing this, and while it can be used to a great extent in many cases, in others, it is spectacularly unfulfilling. In the case of Bird Box, it's irksome at worst – it's still not a trope that's welcome if done badly, but it doesn't let the side down completely here. While the unknown can certainly help to propel fear and concern to new heights – which it does here, for the most part – the distinct lack of closure across the board is immensely unsatisfying.
That being said, the simple threat of there being a monster at all rather becomes the monster itself, in lieu of there being any kind of physical creep waiting to leap out. Critics of the 'closure' approach to monster-based storytelling may argue that more needs to be left to our imagination, and that giving us too much to play with spoils any intended effects. I think there's a keen balance to be found, somewhere.
Some of the character relationships, if I have to say anything more critical, may be a little bit on the haphazard, rushed side – though if this was to make way for the major monster thrills, I'm all for it. Bird Box remains a great piece of cult concept horror, slotting in well alongside the likes of A Quiet Place – helping to rid us all of the memories of The Happening from more than a few years ago. Cloverfield, however, still has plenty to answer for – in the sense that a lot of us are still waiting for 'closure horror' to make a comeback.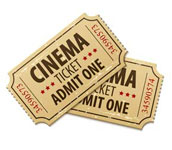 » See more of Graham's Movie Reviews