HOW TO TRAIN YOUR DRAGON: THE HIDDEN WORLD
Dir: Dean DeBlois
Starring Jay Baruchel, America Ferrera, F. Murray Abraham, Cate Blanchett, Gerard Butler, Craig Ferguson, Jonah Hill, Christopher Mintz-Plasse, Kristen Wiig, Kit Harington





4 STARS (out of 5)
For reasons beyond my own knowledge, How To Train Your Dragon 3 drops the '3' and goes the subtitle route, bringing forth the long-awaited third and final movie to finish off one of the most beloved animated trilogies of the modern age. DreamWorks' initial adaptation of Cressida Cowell's books back in 2010 was met with some critical surprise – the studio has offered a somewhat hit-and-miss approach to its output over the years, and Dragons has always gone rather against the perceived pop-culture-friendly approach of much of their movies (Shrek, Over The Hedge, The Boss Baby among them). The two prior Dragons movies have been wonderfully told and are stunning to look at – which meant the third instalment was always going to have something of an uphill battle.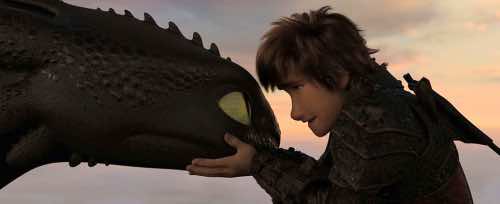 How to Train Your Dragon: The Hidden World (DreamWorks)
In this third and reportedly final part, the young Viking Chief Hiccup (Baruchel) and the villagers of Berk are continuing to adjust to living with dragons, the very beasts that they once feared. However, even further changes are on the horizon when a sinister dragon hunter (F. Murray Abraham) emerges from the darkness, and as Berk reveals that he intends to find a 'hidden world' his late father (Butler) spoke of when he was young. On top of this, Berk's trusty dragon, the goofy alpha Toothless, seems to have found himself a love interest – but at what cost?
As mentioned, this was always going to need to do something spectacular to be able to top the first two movies, and – sadly – it doesn't exactly so much as reinvent the wheel as it does trundle along on it. Dragons 3 (as I'll refer to it from here on out) is a charming, visually gorgeous piece of animation, one which I'm still glad DreamWorks has in them amid news of Shrek reboots and after the likes of Boss Baby in recent years. Any fans of the first two movies will be perfectly enamoured with this latest effort – all your favourite characters are back, as are your favourite dragons.
That being said, while Dragons 3 is a perfectly enjoyable movie, it does sadly feel as though its ending is being justified. This latest movie is sadly more predictable and by-the-numbers than its predecessors, both of which really blazed a trail in their own right – as it does at times often feel like an extended version of an episode of the TV series, which had previously aired on Netflix. I believe I said the same about Kung Fu Panda 3 when it aired a few years ago – that this feels, suitably, like the end of the run for these characters, and in a good way. I've never tired of this franchise, though it's clear from the story and some of its execution that, sadly, its best years are behind it.
Most fans will be affected by the twists thrown at the viewers in the final act, which, while you'll likely be able to see them signposted, still hit hard. The final 10 to 15 minutes of the movie are particularly bittersweet, though anyone with a cursory knowledge of this series will likely be going into Dragons 3 expecting what eventually happens to actually happen.
How to Train Your Dragon: The Hidden World - Official Trailer (DreamWorks)
Dragons is a series which is so creative and is so different from its often pop-culturish ilk that it's hard to put in quite the same box. The same humour, energy and character journeying is here, as always, meaning that it genuinely feels as though these characters have never really been away. That being said, the movie does feel a little tired – it follows a lot of the same tropes as some of DreamWorks' lesser contemporaries, and as such it feels as though the series is going out with a fizzle as opposed to a bang. Again, though, following up Dragons 1 and 2 with something more substantial and more ground-breaking was an almost impossible challenge. It feels as though I'm talking very negatively about a movie that's receiving four stars!
That's because Dragons 3 is a fantastic echo of an even better series. It's sad to see franchises such as these end – but all good things, as they say, must do so. The film still holds a Rotten Tomatoes average of 98% approval at the time of writing – which is an astounding achievement – and it is still a worthy watch. However, I can't say that, after watching it, it offered much to bolster the series as a whole. It's great – it's amongst DreamWorks' best in recent years – and it is an absolute must for anyone who enjoyed the first two. Just don't expect anything too original.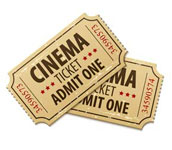 » See more of Graham's Movie Reviews