COLD PURSUIT
Dir: Hans Petter Moland
Starring Liam Neeson, Tom Bateman, Tom Jackson, Emmy Rossum, Domenick Lombardozzi, Julia Jones, John Doman, Laura Dern





3.5 STARS (out of 5)
Cold Pursuit is a movie which perhaps picked up more press than had initially been anticipated. Anyone paying attention to entertainment press in the past few weeks will likely have seen the ongoing controversy surrounding remarks lead actor Liam Neeson had made regarding an alleged rapist of a certain ethnicity. That story is something bets saved for another discussion, as this is merely a movie review, of course – but the perceived outcry actually led to the cancellation of Cold Pursuit's initial red carpet premiere.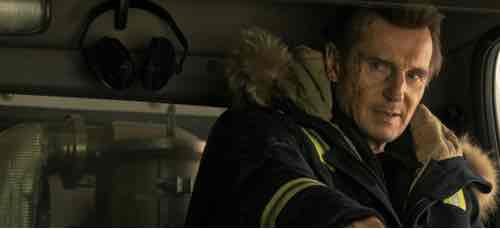 Cold Pursuit (Lionsgate Movies)
Despite this, however, the movie has performed well with critics, moviegoers and box offices. There's a few reasons for this – while the initial trailers for the film, which is Hans Petter Moland's Hollywood debut, may have given off smacks of unoriginality, the actual product is an action thriller with its tongue more than firmly in its cheek. That's not always going to be everyone's cup of tea, of course. But what it is, and I cannot deny this, is a breath of fresh air in many ways – even if it's nowhere near perfection.
Even the initial premise may set certain moviegoers' eyes rolling. Liam Neeson – of course – plays a Dad who's out for revenge following the death of his son. Nels Colman – the man in question – is led to believe that his son did not die of a heroin overdose, but in fact was the victim of a drug cartel. This, in true Neeson fashion, leads the ski resort plowman to ditch his unassuming life and become a vigilante in search of justice. That premise pretty much sums up a huge chunk of straight-to-streaming action thrillers from the past decade, even some of those that Neeson himself has starred in.
However, what sets Cold Pursuit apart from the pack is that it's billed as a black comedy. As an adaptation of the original Norwegian movie In Order of Disappearance, it's a Hollywood rendition of black Scandinavian humour and action in one deft package. Neeson is ideal in the main role – and you have no idea quite what to expect from the remainder of the cast, who largely play against type with absolute gusto.
This certainly seems to be the order of the day with the screenplay – there's an underlying wryness in the script which could be seen as akin to the Coen Brothers or even Quentin Tarantino – only it puts this bizarre balance of unashamed out-and-out action together with surprising character moments in a very unique way. There's an awful lot going off on-screen, too. You can hardly say that Cold Pursuit is a movie which plods. It's absolutely stuffed with plot and development, all the while nailing some of the darkest jokes you'll see put to anything of this genre. For many people, it'll be an absolute riot.
Anyone having seen trailers and marketing material for the movie could be forgiven for expecting something a little more by-the-numbers. Thankfully, it more than impresses in this regard. Its knowing screenplay, set pieces and out-and-out nuttiness more than sell it to a willing audience, meaning that – while it may not be a patch on anything like Tarantino's best – it's certainly a few strides ahead of the competition. Just don't expect it to be all sunshine and rainbows – in fact, it's probably best you go in without any expectations whatsoever.
Cold Pursuit - Official Trailer (Lionsgate Movies)
The movie is well-cast, and while Laura Dern perhaps could have had more to do here, Neeson is – as expected – an absolute powerhouse. The actor can be depended on to deliver straight-up action thrills or tongue-in-cheek material – and this latest outing certainly proves the latter. The movie was never going to make any record-breaking splashes, even with the added shadow of recent comments made by Neeson in real life hanging over the top. Thankfully, however, plenty of people are seeing it, as box office figures suggest, and while Rotten Tomatoes may be a little divided on the matter, this could well be another February surprise. Still reeling from how genuinely good Alita: Battle Angel was, we're waiting for a true stinker to take 2019 down a peg (though Life Itself may well take that mantle all on its own by the time the year's out).
Who can I recommend Cold Pursuit to? Anyone who loves action movies but who isn't likely to get scared off by irreverent scripting, pacing and incredibly black comedic touches. Anyone who may dabble in action occasionally but who may be tired of the same old tropes and the same old characters – definitely go along and give this a shot. It's a shame external controversy may have dampened its release a little – but it's still worth seeing, regardless.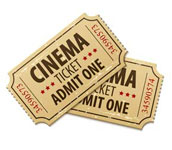 » See more of Graham's Movie Reviews