CAPTAIN MARVEL
Dir: Anna Boden and Ryan Fleck
Starring Brie Larson, Samuel L Jackson, Ben Mendelsohn, Djimon Hounsou, Lee Pace, Lashana Lynch, Gemma Chan, Annette Bening, Clark Gregg, Jude Law





4 STARS (out of 5)
Disney really seems to be knocking Marvel movies out of the park at a blistering rate these days. Captain Marvel, in any case, is perhaps one of the longest-awaited releases in the Marvel Cinematic Universe (MCU) line, and as such, plenty of anticipation has been riding on this movie's shoulders. It's certainly had plenty of marketing and hype build up, and as such, it would've been massively disappointing if the final result was anything less than good. Thankfully, it's an extremely watchable adventure, and one which is absolutely necessary for the future of the MCU.
Captain Marvel focuses on Vers (Brie Larson), an elite mercenary based on the planet of the Kree, a race who are currently fighting with the Skrulls, whom they have had an ongoing war with for centuries. After being intercepted by Skrulls on a mission, Vers finds herself spacing to Earth, where she finds herself in the company of SHIELD agent Nick Fury (Jackson) – and where her mysterious past, of which she knows nothing about, starts to unravel. Who is Vers really – and could she hold the key to finishing a conflict that has waged on for centuries? Where do the Avengers fit into all of this? Stick around, and you'll find out.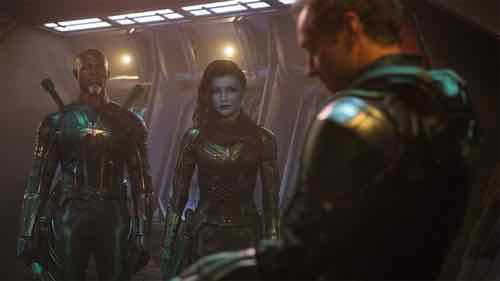 Captain Marvel (Marvel Entertainment)
Captain Marvel is a solid superhero origin movie which, in an interesting twist, neither insists on itself too much nor dwells on its own smarts too frequently. All of the major Marvel hallmarks are here – snappy dialogue, cheeky surprises in the plot and in action sequences, and a solid cast. The main difference here – of course – is that this is the first Marvel movie to have full focus on a female lead. That, at least, has been the focus of quite a few people's attentions, and while it's something I'm going to comment on, I feel it fair to review the movie more on its own merits as opposed to its casting.
It's an essential movie for the ongoing direction of the MCU. Larson is perfect in the main role, and will likely prove to be a fantastic, charismatic lead for any future MCU projects that line up after Endgame. Quite why it has taken so long for there to be a female-led superhero movie of this caliber is a question which remains unanswered – though Wonder Woman, arguably, led the way a few years ago. Captain Marvel takes what Wonder Woman started and adds its own unique charms and trappings, and – genuinely – the gender debate didn't cross my mind while watching. The main character (whose full name I won't mention as it's a bit of a spoiler) is headstrong, well-written, and is clear proof that there can be strong women pushed to the front of these films. I greatly enjoyed the fact that there are so many central female characters in a movie of this genre without it feeling like more of a statement than a piece of entertainment. It's a wonderful achievement.
Captain Marvel - Official Trailer 2 (Marvel Entertainment)
Moving on slightly, it's certainly a good film, though it doesn't quite feel on par with Marvel's A-game (that, in my opinion, is still between Thor Ragnarok and Infinity War). It's crammed full of nice action sequences, funny quips and interesting plot turns which will likely appeal to most comic book movie aficionados. At no point does the film slow down or feel the need to pose, instead, it's well-paced and delivers a perfectly entertaining piece of cinema. It just doesn't do that much which can be considered original, at least compared to other movies we've been spoiled with. That, of course, is already taking into account the central female presence. Looking past this pivotal moment in Marvel's timeline, it's still very much a by-the-numbers hero origin story. One that's very watchable – and which will hold up well on repeat viewings – but which doesn't do that much to push the envelope otherwise.
However, it was never quite clear what to expect from Captain Marvel. It was always going to be billed as the big movie which would help to usher in a new age of MCU movies, and it of course was always going to be Marvel's opportunity to push a strong female lead to the fore. If what's rumoured is true, we should still be getting a Black Widow movie and may well get Captain Marvel installed as an MCU lead for many years to come. It's all going to depend on how Endgame plays out next month.
Captain Marvel is a great Marvel movie which makes great use of its lead, and it's a movie that has been a long time coming. An important moment for the MCU, at least – though on paper, there are better Marvel movies out there. Fans of the brand will not, at least, be disappointed.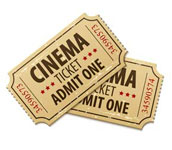 » See more of Graham's Movie Reviews