MOVIE REVIEW: Shazam!

Monday, 8 April 2019
by 👨‍💻 Graham Pierrepoint


SHAZAM!

Dir: David F Sandberg

Starring Zachary Levi, Mark Strong, Asher Angel, Jack Dylan Grazer, Djimon Hounsou, Faithe Herman, Grace Fulton, Ian Chen, Jovan Armand, Marta Milans, Cooper Andrews





4 STARS (out of 5)
What is happening with DC just lately? In a world where we are expected to see Marvel Studios sweeping up all the plaudits and all the praise, it seems their rival counterparts in the comic book movie industry are fighting back more and more. Wonder Woman and Aquaman already set the standards high above those we experienced with Justice League, Suicide Squad and Batman V Superman. Shazam, however, takes things that one step further – even if it isn't completely perfect.
Billy Batson (Angel) is a teenager who's been drifting from foster home to foster home in search of his real mother his entire childhood. When he gets placed with a large family full of lively characters, he's ready to continue to his search. However, after finding himself at the mercy of a wizard called Shazam from another dimension (Hounsou) who bestows cross-dimensional powers upon him, Batson finds himself transforming into a nameless superhero (Levi) with a whole host of incredible powers. Naturally, he and new partner-in-crime foster brother Freddy (Grazer) put this to their advantage the only way teenage boys can. But there's a bigger threat out there – and its name is the hateful Dr Sivana (Strong), who's out to prove to the world that he really matters.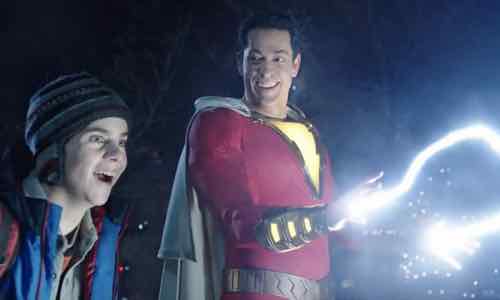 Shazam! (Warner Bros. Pictures)
Shazam is the first movie – I think even including Aquaman – that really takes a firm swipe at the sort of comic book humour Marvel has been perfecting for some time now. This movie is simply a lot of fun – from start to finish. The acting talent is well-suited, particularly Levi (who you genuinely forget is actually an adult and not just a kid in an adult's body), which helps to propel the script along. Strong, as always, is a reliable baddie, and there are a number of genuinely interesting, laugh-out-loud pastiches of comic book standards which I don't believe I've seen Marvel do themselves.
Shazam was always going to sit right with certain people. Younger viewers will likely get a lot out of this movie. I feel the younger characters and cast are portrayed with a lot of realism in many ways. The two teenage leads – Billy and Freddy – are likeable rogues, troubled in their own ways. Billy's inner turmoil runs core to the plot – though you can see that all of the kids have their own struggles. There's obviously nice comparisons with how the heroes deal with their struggles in comparison to what the villain does. For the first act, until he at least starts killing innocent people, Dr Sivana is an almost sympathetic antagonist. However, he is suitably bonkers, which is absolutely perfect for a movie like this.
Shazam! - Official Trailer (Warner Bros. Pictures)
While Shazam is a lot of fun – and I believe it's thrown a lot of faith back in DC movies as a whole – it certainly relies heavily on jokes used constantly in trailers. The trailers were, after all, what helped to propel this movie into the minds of people like myself who otherwise wouldn't be as interested in buying a ticket. It's a shame that so many of the funnier scenes between Billy and Freddy, at least, were used up in promotional material. That being said, there is a fantastic twist waiting for viewers in the third act which comic readers will already be aware of. Anyone paying close attention to the plot, too, will see it approaching – but it's a lovely little side-step that really helps to energise the final few scenes.
However, what does let Shazam down is the plot. There is an intense focus on the main character being a child in a man's body – there is joke after joke after joke – and it really does start to insist on its own silliness after a while. The background plot and message (families should look out for one another) are layered on thick, and much of the story relies on a stack of cliches. It's fine for the movie to make fun of certain tropes in one scene, but perhaps not so great that it falls back on a few lazy touches here and there. The movie does sadly start to drag through its second to third act, and without the aforementioned twist and a number of well-aimed jokes, it could have fizzled out much quicker.
Here's something to the movie's credit – you do absolutely get what you pay for. Shazam is great fun, well-realised, very self-aware and extremely well-cast. However, it doesn't really break as much ground as I was hoping it would. As the latest in a long line of DC movies, it's an impressive new direction. Aquaman, for me, still offers the best all-around entertainment. But if you like the look of Shazam's trailers, you'll have a whale of a time.
You Might Like
💡 One News Page Knowledge: Other News Mentions
Tatiana Maslany lands coveted 'She Hulk' role

Marvel Studios looks like it's found its found its latest leading lady, with Tatiana Maslany set to become She-Hulk in the Disney+ series.
Credit: Cover Video STUDIO Duration: 00:45
Published
Wonder Woman 1984 Pushed Again

Wonder Woman 1984 won't be flying into theaters anytime soon. Warner Bros. has announced that the latest DC superhero flick has been delayed again, this time set to come out in late December. As reported by Variety and Deadline, Wonder Woman 1984 has been moved from its previous release date of October 2 and will now come out on December 25—more than a year after its original release date.
Credit: Wochit News Duration: 00:32
Published
Warner Bros announces new game 'Gotham Knights' at FanDome

Warner Bros. Games Montreal has announced its new game set within Batman's world, 'Gotham Knights', at DC Comics' FanDome. During the event, the developers brought nearly eight minutes of gameplay footage for fans to watch. The open-world game is set within Gotham City. The gameplay footage in particular sees Batgirl and Robin team up to take on classic Batman villain Freeze. This is just one of several villains encounters that the vigilantes-turned-heroes will happen upon in the game, according to Warner Bros. Games Montreal's description of the game. Both Robin and Batgirl will "use a variety of abilities, weapons, and unique combat moves to neutralize their foes," the description read. Gotham Knights will be released in 2021.
Credit: ANI Duration: 01:15
Published
Brec Bassinger and Luke Wilson on new TV show Stargirl

Stars of the new series Stargirl, Brec Bassinger and Luke Wilson, discuss thecreation of the latest DC TV show and the pressure to get it right as fanswait eagerly for the release. Stargirl launching on Amazon Prime Video onFriday August 21st. The plot focuses on an American high school sophomoreCourtney Whitmore as she brings together an unlikely group of young heroescalled the Justice Society of America. Stargirl launching on Amazon PrimeVideo on Friday August 21st
Credit: PA - Press Association STUDIO Duration: 01:12
Published
Zachary Levi suggests 'Shazam!: Fury of the Gods' will begin filming in early 2021

The actor is set to reprise his role as the titular hero in the DC Extended Universe flick.
Credit: Cover Video STUDIO Duration: 00:50
Published
Chloe Sevigny credits co-star Jack Dylan Grazer for changing her mind about having a son

Chloe Sevigny has confessed she was desperate to have a baby girl, but working with Jack Dylan Grazer on the HBO show We Are Who We Are changed her mind.
Credit: Cover Video STUDIO Duration: 00:47
Published
Related news from verified sources
Tweets about this
•More original news reports from One News Page