MOVIE REVIEW: I Am Mother

Monday, 17 June 2019
by 👨‍💻 Graham Pierrepoint


I AM MOTHER

Dir: Grant Sputore

Starring Clara Rugaard, Rose Byrne, Hilary Swank, Luke Hawker





4.5 STARS (out of 5)
Sometimes, it's nice to see a bit of genuine sci-fi on the big screen. Too much of the genre is muddled with good guys and bad guys, plot twists and big-budget explosions – which is why, when we get something that makes us think, rather than something that makes us marvel, it's all the more surprising. Netflix's latest movie acquisition, I Am Mother, seems worthy of the hype it's getting (and let's face it, Netflix Originals have a habit of getting a good amount of buzz – even when they're terrible).
Following an apocalyptic event, a robot known as 'Mother' (voice of Byrne, performance of Hawker) prepares to start raising the human race from scratch again. In a mysterious bunker and facility in the middle of nowhere, Mother takes one of thousands of preserved embryos and raises it as her own, calling her Daughter. As she raises Daughter (Rugaard) over 20-or-so years, the girl wonders what the rest of her species were really like – when they were alive. One fateful evening, she finds out more than she'd ever wished for – as a mysterious, armed stranger (Swank) arrives at the front door. From here, Daughter must decide whether to trust Mother, or the stranger – is it safe to go outside? Who's telling the truth?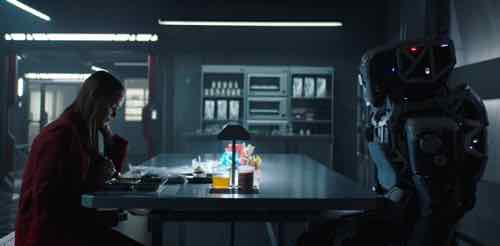 I Am Mother (Netflix)
First of all, I have to say that this is a movie with a brilliant amount of focus. It's got a core story in mind, it's very well-realised, and as a result, it's really satisfying to watch. If anything, it's probably a little too thick to wade through at times, but I'll get to that later. There's a rich, pervasive sense of mystery and intrigue here which is sold through great acting and a fine balance of exposition and visual clues. This is classic science fiction – it's less about the gadgetry, and more about the politics of an impossible situation.
The sound design, the score and the overall look of the film really help to sell the futuristic dirge. Daughter's home is presented as safe and clinical, but there are still odd touches here and there which suggest you may have to think otherwise. There is an amazing atmosphere of foreboding throughout, the likes of which I don't think I've seen since Arrival. While I Am Mother gets within a whisker of that movie's level of intrigue and delivery, it is still compelling viewing.
The best aspects of the movie centre around the main question, which is posed at around the second act. Who is the antagonist? Is it Mother, who has raised and protected Daughter as her own, but who may not have been truthful about the world outside, or is it the stranger, who is keen (verging on desperate) to convince Daughter that Mother is part of a bigger, more sinister reality? You're kept guessing a fair amount all the way through. It's a great dynamic, though many sci-fi aficionados will work out the bigger twists early on. Even so, the build-up is admirable.
I Am Mother - Official Trailer (Netflix)
The script could have done with a little tweaking for it to achieve amazing results – but not much. The twists waiting in the wings could have been signposted a little less obviously, and at times, the pacing is unashamedly plodding. This is a story with tons of big ideas and a very intense concept – and the movie does like to wallow in it. We could have been better distracted by smaller elements of this story world, or foreshadowing could have been written a little more succinctly.
In any case, it's a Hollywood rarity in that I Am Mother is a sci-fi movie with a satisfying pay-off. It may not be the ending everyone watching will want, but the final ten minutes are gloriously intense, and the big reveals still land with a real sledgehammer – whether you've seen them coming or not. Truth be told, you're never quite sure what sort of film you're watching throughout. Are you watching an action movie? A sci-fi adventure? A psychological horror? By the time the final twists are unravelled, you know for certain. And it's very satisfying – one of my favourite endings of recent times, in fact.
Yes, there are some loose threads, and yes, there are plenty of questions. This is a story which maybe could have worked better as part of a bigger series, as the world it's built up by the end is absolutely fascinating. There's room for a sequel – there's room for a saga! Whether or not these will occur, and if we will simply be left to imagine what's on the cards next, who knows.
In any case, Netflix's latest viral movie is one which is well-deserving of hype. It's a very satisfying piece of science fiction – one which passes the Bechdel Test with flying colours – and I can't wait to see more of the same in the months to come.
💡 One News Page Knowledge: Other News Mentions
Netflix Put Winner Of RuPaul's Drag Race In Episode Thumbnail

When it comes to spoilers, nowhere is safe. Even if they had all the right hashtags and words muted on their social media feeds, many overseas fans of RuPaul's Drag Race had this season's All Stars winner spoiled for them on Saturday courtesy of Netflix itself. (Because we're not that dumb, we won't be revealing the results here.
Credit: Wochit News Duration: 00:32
Published
Meghan Markle and Prince Harry Sue for Invasion of Privacy, 'Outer Banks' Renewed for 2nd Season & More News | THR News

Netflix renews 'Outer Banks' for another season, Disney makes changes to its theatrical release schedule amid the pandemic and Meghan Markle and Prince Harry sue for invasion of privacy over illegal images that were taken of their young son.
Credit: The Hollywood Reporter Duration: 02:15
Published
Netflix Axes D'Elia

Netflix has dropped a planned prank show featuring Chris D'Elia. The move comes after allegations of sexual misconduct made against the comedian. A spokesperson for Netflix confirmed the news to The Independent. According to the LA Times, which first reported the development, the non-scripted show would have featured D'Elia and another comedian. The program had yet to go into production. D'Elia has been accused of grooming underaged girls for sex via social media.
Credit: Wochit News Duration: 00:41
Published
Netflix Renews 'Outer Banks' for Second Season | THR News

Netflix is making a return trip to the 'Outer Banks.'
Credit: The Hollywood Reporter Duration: 01:31
Published
Rose Byrne felt 'terrified' licking Steve Carell's face

According to Rose Byrne, she felt "absolutely terrified" during her first scene with Steve Carell.
Credit: Bang Media World Duration: 00:56
Published
Jon Stewart on Why He Decided to Write, Direct New Film 'Irresistible' | The Hollywood Reporter

The Hollywood Reporter sits down with director and writer of 'Irresistible' Jon Stewart, Rose Byrne, Chris Cooper and Mackenzie Davis to talk about their new film, which is available to watch in theaters and on-demand on Friday, June 26th.
Credit: The Hollywood Reporter Duration: 04:34
Published
Drama Actress Roundtable With Janelle Monáe, Zendaya, Reese Witherspoon, Jennifer Aniston, Helena Bonham Carter & Rose Byrne

Janelle Monáe, Zendaya, Reese Witherspoon, Jennifer Aniston, Helena Bonham Carter & Rose Byrne come together from their homes for the Drama Actress Roundtable.
Credit: The Hollywood Reporter Duration: 17:25
Published
Jon Stewart's 'Irresistible' takes aim at American politics

Comedian Jon Stewart has taken "the redundancy of the political system" and turned it into a comedy with a twist with his new film, "Irresistible." This report produced by Yahaira Jacquez.
Credit: Reuters - Politics Duration: 01:38
Published
Mum swaps mindless shopping for a minimal waste lifestyle

A stay-at-home mum who swapped "mindless shopping" for minimal waste and mindfulness – and is now showing others how clearing their cupboards will help tidy their minds – told how a book on simple living triggered her epiphany. Constantly buying things she did not need to "keep up with the Joneses," a life changing moment came in 2017 for Cassie Tomesek, 34, when she read a French book entitled, L'art de la Simplicité, meaning The Book of Simplicity, by Dominique Loreau – which advocates a 'no frills' existence – and overhauled her family's way of life. Now embracing minimal living, Cassie, who lives in Dubbo, New South Wales, Australia, with her husband Thomas, 39, who works for the department of education, and their children, Lucas, three, and Aksel, one, said: "I used to suffer with social anxiety." She continued: "But, since I started living a more minimal life, my anxiety has eased off. I think the saying, 'Tidy house, tidy mind' is very true." Now trying to follow zero waste principles, Cassie uses as little plastic as possible, owns no ornaments, side tables or sofa cushions, has less clothes than her husband and only owns eight pairs of shoes. And she firmly believes that decluttering her home has, in turn, removed a lot of the unwanted thoughts that were cluttering her mind.
Credit: PA - Press Association STUDIO Duration: 01:55
Published
Mum says watching RuPaul saved her teen drag queen son's life and helped him realise he's trans

A devoted mum has told how she believes RuPaul's Drag Race saved her son's life - as the gender-bending performance art helped him realise that he is transgender. Though assigned female at birth, Bailey Larsen, now 14, grew up feeling as if he did not belong, cutting off his long, blonde hair and wearing boyish clothes in a bid to feel more comfortable. Eventually, in 2017, aged 11, he came out to his mum, child therapist Dana Larsen, 41, as non-binary – a person who does not identify rigidly as either a man or a woman. Keen to encourage him to explore who he is, she decided to start watching RuPaul's Drag Race with him, a VH1 show that sees fierce queens compete for the title of America's next drag superstar. Buoyed by the confidence of the performers he saw on screen, Bailey, who has now decided he would like to transition to male, and is taking hormone blockers, felt gradually more comfortable showing his true self to the outside world. And now, he even has a sassy drag alter-ego of his own, Nemo.
Credit: PA - Press Association STUDIO Duration: 03:14
Published
You Might Like
Tweets about this
•More original news reports from One News Page