MOVIE REVIEW: IT Chapter Two

Monday, 9 September 2019
by 👨‍💻 Graham Pierrepoint


IT CHAPTER TWO

Dir: Andy Muschietti

Starring Jessica Chastain, James McAvoy, Bill Hader, Isaiah Mustafa, Jay Ryan, James Ransone, Andy Bean, Bill Skarsgard





4 STARS (out of 5)
So, we're here again. A re-imagining of Stephen King's seminal 1986 novel 'IT' was always going to need a long runtime. It just so happens that the first instalment of the re-imagining broke all kinds of records for horror movies at the time. Naturally, the studio behind Chapter Two was banking on converting on this popularity yet again, with almost three hours' worth of follow-up adventuring and evil clown-baiting, and a pretty impressive ensemble cast.
The Losers' Club picks up 27 years after the events of the first movie, which was released in 2017. Having seemingly defeated the sinister, shape-shifting demon in Pennywise the Dancing Clown (Skarsgard), the old friends reunite back in their home town to take on the beast one last time. With news circulating that the evil entity is back up to his old tricks, the gang reforms to string together a ritual of sorts to destroy Pennywise for good.
The good news is, if you enjoyed the 2017 take on the story, you'll get on fine here. It may not be as scary, or as tense as the first part, however, it works hard to blend together the two disparate narratives. IT is a notoriously lengthy book, and while some parts of the story have been (in some cases rightfully) shaved away, Chapter Two does a pretty good job of sticking to the material. King himself must have been pleased with the results, as he pops up in a brief cameo.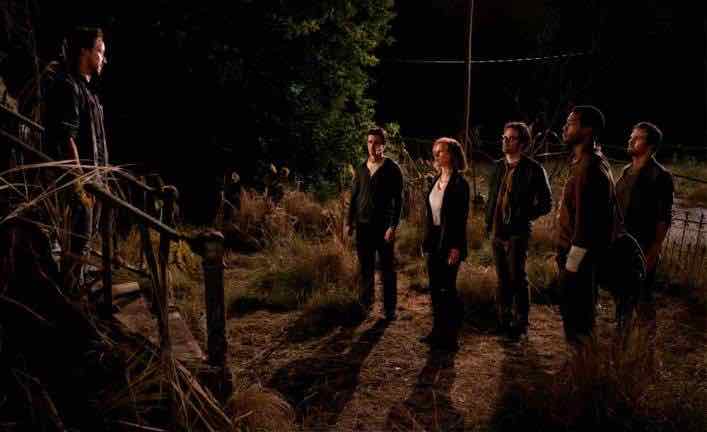 IT Chapter Two (Warner Bros. Pictures)


The cast is well-chosen and it's interesting to see these characters and how they have developed over nearly three decades – but two years, for us. There are King hallmarks strewn about the place, as normal, and the general despair and malaise offered by Chapter One is carried on with aplomb. Skarsgard doesn't disappoint, yet again, as Pennywise – once again cementing himself as a major part of cinema pop culture for years to come. Those concerned that Tim Curry's take would be the definitive performance need no longer worry. This Pennywise is a very different beast, though as we've seen what the creature can do in Chapter One, to very unsettling extent, his scare factor here diminishes slightly. That's not to say Skarsgard's performance is any less noteworthy.
However, it is a long film – perhaps unnecessarily so – though that, again, is doing justice by the book. IT is one of the longest works of fiction ever published, meaning it only makes sense that a full movie would need five or six hours to get everything down pat. However, it's a story which arguably doesn't need this much runtime, and you're certainly going to be feeling numb by the end of it all, for better or worse.
IT Chapter Two - Official Final Trailer (Warner Bros. Pictures)
The narrative does tend to wander a little, as there is still apparently time for us to plunder the depths of some seriously tortured pasts. It's horror at its most melodramatic, with a creepy clown added in for the sinister factor. However, where it will likely appeal most to genre fans, to readers of the book and to those who really want to get something out of the movie, is just how rampantly bizarre the whole spectacle is. While the shocks may not be as effective this time around, the intensity has been kicked up to eleven, and what's more, it's likely going to be a lot more uncomfortable to watch than its predecessor.
That's not just thanks to the clown. Brutal physical violence, emotional torture, mental breakdowns and suicide are all par for the course. For a fair chunk of the viewing public, IT Chapter Two is a nasty little film with a real harrowing layer of dread that's hard to escape. I won't spoil the ending, but let's just say that there is an awful lot of heavy, depressing twists and turns en route.
But that's what the follow-up to IT needed to be. Yes, the original TV mini-series was creepy and unsettling, but it was also a product of its time. This modern take on King's debatable magnum opus is likely to remain fresh and affecting for quite some time. It doesn't fit into the same box as other horror movies, and that's a good thing. Long may it continue to stick out like a sore thumb.
I'd normally suggest you go see a sequel regardless of whether or not you've seen a prior instalment – as you will get caught up – but I feel seeing Chapter One before Chapter Two will be worth your while. Yes, there's a catch-up, and yes, you'll meet these characters all over again – but back to back, the modern take on IT is a big, sprawling, dark and nasty little dive into the human condition. Also, there's a bulbous-headed sewer clown stomping around. Go see it if you enjoyed the 2017 predecessor, as you won't be disappointed.
💡 One News Page Knowledge: Other News Mentions
James McAvoy to narrate reality show for U.K. broadcaster

Actor James McAvoy is set to narrate a new reality competition show for Channel 4.
Credit: Cover Video STUDIO Duration: 00:43
Published
Today in History for September 21st
Highlights of this day in history: President Bill Clinton's grand jury testimony in the Monica Lewinsky scandal aired on TV; Authors H.G. Wells and Stephen King..
USATODAY.com
Robert Pattinson COVID Recovery: Making Out With Suki Waterhouse

Looks like Robert Pattinson has recovered from coronavirus. The Batman actor was photographed making out with his girlfriend Suki Waterhouse in a London park on Wednesday. Perhaps fighting off a deadly disease made R.Patz a little less shy about showing his love for Waterhouse in front of photographers. The diagnosis caused production on The Batman, which had just resumed, to be "temporarily paused" on September 3, according to a statement Warner Bros provided to CBS News.
Credit: Wochit News Duration: 00:32
Published
Wonder Woman 1984 Pushed Again

Wonder Woman 1984 won't be flying into theaters anytime soon. Warner Bros. has announced that the latest DC superhero flick has been delayed again, this time set to come out in late December. As reported by Variety and Deadline, Wonder Woman 1984 has been moved from its previous release date of October 2 and will now come out on December 25—more than a year after its original release date.
Credit: Wochit News Duration: 00:32
Published
Ellen's Talk Show Sets Return Date

"The Ellen Show" will return to the airwaves on September 21st, 2020. Tiffany Haddish is set to help DeGeneres kick off the new season. The show will be filmed in-studio on the Warner Bros. lot in Los Angeles but not in front of an audience, the studio said in a release. CNN reports that other premiere week guests will include Kerry Washington, Alec Baldwin and Chrissy Teigen. Ellen and her show have been under fire for creating a toxic work environment.
Credit: Wochit News Duration: 00:32
Published
Jason Momoa backs Ray Fisher amid Warner Bros. Justice League disagreement

Jason Momoa has weighed in on the side of fellow Justice League cast
Credit: Cover Video STUDIO Duration: 01:06
Published
You Might Like
Tweets about this
•More original news reports from One News Page