by 👨‍💻 Graham Pierrepoint


DAD'S ARMY

Dir: Oliver Parker

Starring Toby Jones, Catherine Zeta Jones, Bill Nighy, Michael Gambon, Daniel Mays, Bill Patterson, Tom Courtenay, Blake Harrison, Felicity Montagu





1.5 STARS (out of 5)
TV to movie reboots are nothing new – in fact, they're big business right now – and sometimes they work really well. Other times, they fall flat for various reasons – they either fail to capture the magic of the source material, or they simply fail as movies in their own right. Dad's Army, the 2016 recasting of a classic British sitcom surrounding a hapless group of part-time soldiers on the south coast, is sadly more of the latter than the former.
The original sitcom saw the blustering and incompetent Captain Mainwaring try to take order of his ramshackle ranks, including the undermining and better-educated Wilson, wisecracking Walker, affably dopey Godfrey, young and naive Pike, brusque Frazer and delightfully eccentric Jones – a cast which, even in reruns forty to fifty years on, still shine through superb comic timing and predictable if witty scripts that have allowed the show to be hallowed in comedy's hall of fame. Certainly, it may not be a franchise that travels well – and doubtless, this movie may experience that difficulty – but it's seen as quintessential British comedy on home shores.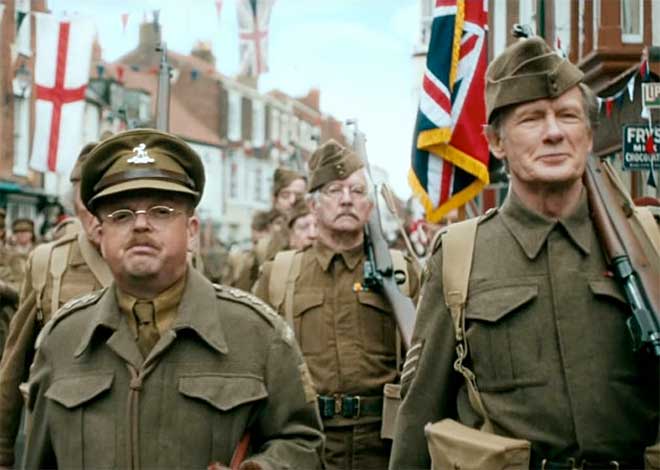 The movie sees a new cast spearheaded by Toby Jones' Mainwaring take orders to patrol a base that is under scrutiny from Nazi spies, all the while being informed that a Nazi spy is well within their midst. While this is occurring, the men are mystified by the appearance of the classy and confident journalist Rose Winters. What transpires from here is a comedy of errors – many made by Mainwaring at all, but some made in the predictable plot twists and comedic turns the script takes. Granted – anyone likely to sit down and watch Dad's Army will not be expecting an intricate and thrilling plot worthy of writing plaudits the world over – but what people will expect is laughs. Sadly, having remained a fan of the original series despite having been born a decade after the original series finished, I was left bereft of much to actually laugh at.
Dad's Army is a bizarre case of a fantastic cast having been given very little to work with – it is only so bizarre because re-casting a well-loved franchise carried so many risks. However, the men and women involved at the forefront of the production are fantastic – their interpretations of the characters are somehow new as well as recalling those in the sitcom, and, for the most part, it's the performances that garner what few laughs occur. Toby Jones is a revelation as a talented pratfaller. Tom Courtenay, while he will never replace Clive Dunn, offers a few lines which grabbed a chuckle or two in the theater I went to. Michael Gambon, as the lovable Godfrey, plays completely against type as he conveys blissful ignorance at his own actions. This is the same marvelously dour-voiced Gambon who stunned TV audiences in The Singing Detective, and will be better known to younger audiences as the late Richard Harris' replacement for Professor Dumbledore in the Harry Potter franchise.
Dad's Army Official Global Trailer (Universal Pictures)
Dad's Army should be viewed, rather, as a movie on its own as opposed to in comparison with its source material – and even then, it fails to deliver on a number of levels. While the cast possess comic timing and delivery, the direction and story pacing let down opportunity after opportunity for the movie to be truly laugh-out-loud funny. At best, due to lackluster pacing and an overstretched story, it's a movie that wrangles a few chuckles here and there. At least, on opening night, it managed that.
The story, while, as stated, no one will have attended a screening of Dad's Army for, is written in such a way that not only do the characters have barely any room to shine, but it feels as if they are merely being put through the motions of a by-the-numbers episode of a middling early-evening sitcom – one that has been stretched to two or three times its length. We are informed as to who the Nazi spy is near the start of the movie, meaning that much of the suspense, comedic or otherwise, is neglected for awkward character moments that I ended up praying in my head the cast wouldn't make. There is so much focus on this by-the-numbers story that there is barely any room for character development whatsoever – there's a twist in the last act where a character or two is required to redeem themselves, and, predictably, they do. The final scenes, without spoiling the plot, are muddled and poorly conceived, throwing everything into a puzzling mess of a conclusion that feels all the more unsatisfying.
Dad's Army is clearly aiming to be a comedy movie that seeks to recreate the charms of the original material – for its efforts, there is charm here – but the chances for truly great comedy are rarely monopolized upon, left to fizzle out at the expense of a plodding script that ultimately fails to satisfy. This is such a talented cast – and, luckily, the stock of characters are already great – but even as a standalone movie, Dad's Army is not unwatchable, but oddly unsatisfying. If you can wait for a Netflix release, my advice would be to hold out and try watching it once it makes it to streaming if you're a fan of the original series. If you're completely new to the characters and set-up, I am unsure how much joy you will be able to take from this.