MOVIE REVIEW: Goosebumps

Monday, 22 February 2016
by 👨‍💻 Graham Pierrepoint


GOOSEBUMPS

Dir: Rob Letterman

Starring Jack Black, Dylan Minnette, Odeya Rush, Ryan Lee, Amy Ryan, Jillian Bell





3.5 STARS (out of 5)
In the 1990s, Goosebumps was an essential children's franchise. R.L. Stine's kid-friendly horror stories inspired a generation of schoolchildren to pick up and read book after terrifying book, often marked by bizarre twists, modern takes on classic monsters and, of course, the surprise ending. As someone who grew up reading the books in the mid-1990s, I can vouch for Stine's books being both entertaining and unique for the time – and I was impressed to learn that the author continued to write new tales for kids well after I had grown out of them. That being said, they now carry with them a bizarre nostalgic fascination, and a number of the stories still manage to offer a nice, scary twist or two. A handful of stories here or there may have been a little contrived – but this was the world in which Stine made his mark.
As such, the series remains one of the biggest-selling children's literature franchises worldwide, resulting in the spawning of a popular (but now delightfully cheesy and dated) TV series, the majority of which was recently available to stream via Netflix. It is, then, no surprise that a movie adaptation was forthcoming – but in 2016, it seems perhaps a little late to be monopolising on the freight train that was Stine's success, rather to jump on the bandwagon of nostalgia that is currently seeing 1990s properties such as the Mighty Morphin' Power Rangers and Nicktoons get a second airing in the spotlight. The kids of the 1990s are aged twenty-six and above – meaning that it is wholly likely they may be introducing their own children to the TV and movies that they grew up with. Goosebumps, as a movie, stands on its own two feet without nostalgic connotations – but I'll come to that shortly.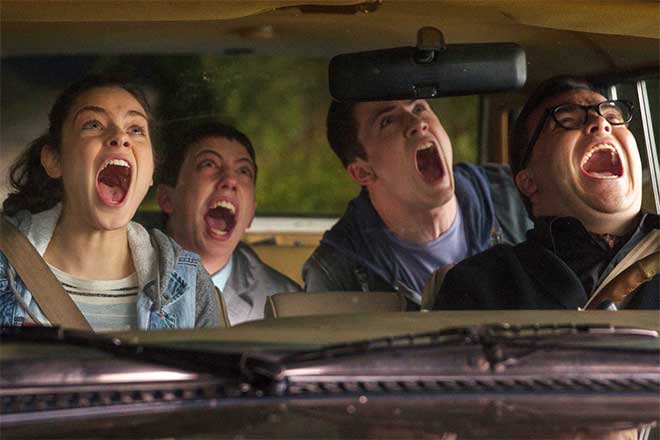 The movie sees New York teenager Zack and his mother moving into a sleepy neighborhood in Madison, Delaware, following the untimely passing of his father the year before. Zack struggles to adapt to his new environment as first, but finds a kindred spirit in next-door neighbor Hannah, whom he explores the local forest with – only to find that her father – portrayed by Jack Black – is extremely protective of her, to the point where Zack overhears a disturbance at their home one night. After involving the police, Zack recruits new friend Champ to break into his neighbors' home, only to find that they are housing original manuscripts of the Goosebumps novels by R.L. Stine. However, these are no ordinary manuscripts – as one such novel is unlocked, a creature escapes into the real world to create havoc – eventually setting off a domino rally of creeps, ghouls and freaks as showcased throughout the novels of R.L. Stine.
Goosebumps - Official Trailer (Sony Pictures Entertainment)
You don't have to have been aware of the original series in the slightest to be entertained by the movie's various monsters and mayhem, as there is a huge variety of chaos-causing demons, werewolves, giant praying mantises and huge amorphous blobs to keep most children entertained – certainly, the movie is anything but boring in what is essentially an extended chase sequence that swallows up the final acts of the film. Character development, regrettably, is relegated to the movie's first 30 minutes, before the script allows the film to descend into spectacular chaos, with enough peril to keep younger viewers watching. Certainly, as a children's film, I think Goosebumps mostly succeeds. This was its aim, and it does so with charm and with relish – it's also surprisingly funny, with a witty script and comic timing that actually hits far more than it misses. Ryan Lee in particular is a fantastic comic character actor in the making, and Jack Black proves his versatility in playing a character that is as far away from his namesake in Tenacious D or his roles in School of Rock and Shallow Hal as you can get. He also provides voice work for Slappy the dummy and the Invisible Boy, meaning that we get to see – or rather hear – his range in full play, as he portrays both protagonist and antagonist simultaneously.
Where Goosebumps falls down is ultimately in its script's execution. While the set-up is fine, and the conclusion shares similarities with a twist in Stine's book The Blob That Ate Everyone – said blob gets a cameo and the book a namecheck here, too – the pacing allows for what may be an extremely entertaining movie at times to descend into one that is far too long for any audience. The first act, or set-up, is far too long and while it offers nice foreshadowing of later events, it did inspire me to think 'so when are the monsters showing up' after a fair amount of time. For someone nearing thirty years of age to think this, I can only imagine what would be going through the mind of a child of say nine or ten.
From here, while the frantic chase sequences and chaos that ensues certainly satisfy, they again roll on for far too long. There are often few gaps to pause, or breathe, between monster attacks, and while there are nice little segues that allow our characters to complete personal journeys, the sheer break-neck speed this segment tears away at is in stark difference to where the movie started. It is as if the movie decided to start rolling around thirty minutes in, only at double the speed to make up for lost time. What's here is, as mentioned, entertaining – whether or not you know of Stine's books – but its uneven pace rather lets it down.
This all being said, while I understand criticism that's been aimed at the movie, it sets out what it intends to do. It's big, bombastic, it's silly and it knows it – it's a great family film that deserves attention. However, the problems it suffers in pacing and a number of weird plot holes here and there fail to raise it to the level of 'modern classic'. For nostalgia's sake, or a big, daft monster movie that you and the kids can switch off and bumble through without much thought, Goosebumps is worth the price of admission.