MOVIE REVIEW: The Finest Hours

Thursday, 25 February 2016
by 👨‍💻 Graham Pierrepoint


THE FINEST HOURS

Dir: Craig Gillespie

Starring Chris Pine, Ben Foster, Casey Affleck, Eric Bana, Holliday Grainger, Rachel Brosnahan, Kyle Gallner, Graham McTavish





2 STARS (out of 5)
Some true stories adapted for TV or film can be hard to watch – and easy to sympathize with – and, in a lot of ways, The Finest Hours satisfies the necessary criteria for a real-life story of heroism and bravery to be fictionalized. The story of young coastguard coxswain Bernie Webber is certainly one that deserved telling – and, seven years after his death in 2009, audiences are treated to a cinematic retelling of his life-or-death rescue mission in this big-screen turn, with Star Trek's Chris Pine in the role of Webber himself. Unfortunately, while the story itself may be remarkable, as a movie, it's not as entertaining as trailers have led us to believe.
Bernie Webber is a young, soon-to-be-married member of a Massachusetts coastguard in the early 1950s, who finds his life and career turned upside down after he is ordered to man a rescue team to find the stranded crew of a halved tanker in the middle of a severe winter storm – one which sees the crew of the tanker gradually lose hope for survival against greater and greater odds. The mission is doubtful from the off – as local fishermen and members of the coastguard fear that the chance of Webber's crew braving the colossal waves and weather to bring the tanker's personnel to safety is extraordinarily slim. Nevertheless, Webber and three men go out regardless – and, let's face it – you could actually write the rest.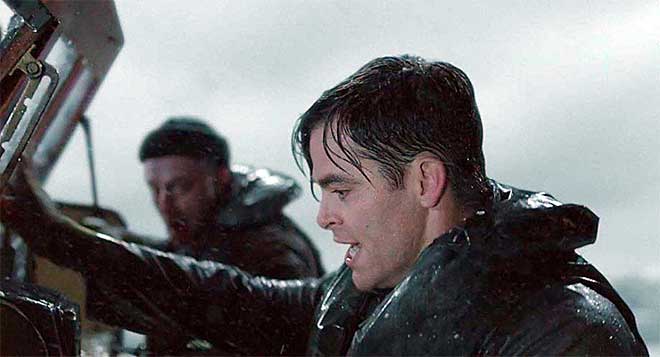 Regardless, it's clear that this is a perfect story to be adapted to a movie. It's a classic underdog tale, of man versus nature, of unbeatable odds being faced up against – it's what sells big in theaters and at Oscar season, and continues to do so. However, while Webber's story is incredible, The Finest Hours does not necessarily make for a particularly entertaining movie.
Much of the dialogue and script activity is fairly by-the-numbers and full of exposition – it's hugely mechanical. Something happens, so something else happens, and then something happens as a result. Characters are unfortunately cookie-cutters – the tanker's crew are filled with motley, uninteresting folk, while certain members of the coastguard and the fishing fraternity are irritatingly curmudgeonly. The script appears to write itself, and, sadly, this leaves for very little in the way of character development and surprise.
It's understandable that The Finest Hours attempts to retell a true story – but it does so in such a straightforward and predictable manner that there is very little opportunity for escapism, or for inspiration. Other inspirational tales have been told in a similar manner, and, then again, in a different way altogether. For the majority of its run-time, The Finest Hours is oddly unremarkable, relying upon awkward exposition-laden scenes between its cast – who perform well with the material they have – and as a result, it leaves the impression that it may have worked better with an extra 30 minutes shaved from its run-time.
The Finest Hours - Official Trailer (Disney UK)
That being said, there are a number of reasons as to why I believe this is a movie that is worthy of two stars as opposed to one alone – and this is due mainly to the fact that there are some truly great moments of high peril and intrigue scattered throughout the movie. There are scenes both on board the ill-fated tanker and on the tiny lifeboat at sea that inspire interest, insofar as the cinematography and direction are both well-paced and use all the best angles – during such scenes, we are genuinely left wondering if all will survive turbulence on board both boats – and it's genuinely great tension that's created as a result. However, with this all being well and good, it's framed in such a way by such flat, exposition-heavy storytelling that these moments are a genuine treat when they arrive. Sadly, 3D does little to help liven up proceedings, with much of the screen time being taken up by people discussing the storm or the potential dangers facing Webber's crew.
When all is said and done, while The Finest Hours is by-the-numbers storytelling with little new to see or for anyone to really experience from a 'true story' picture, there is something to be said for the remarkable events that did take place, and in addition to this, the movie honors the audience's wishes for high-octane scenes at high sea fleetingly, but well. This is a movie that has sadly been sold as a thrilling disaster movie, but instead is a rather old-fashioned and predictable period piece that benefits from piecemeal excitement, and often too little, too late. Anyone that enjoys a periodic melodrama will enjoy what is here, but anyone after more escapism will do well looking elsewhere.
While The Finest Hours isn't a bad movie, it's certainly mediocre enough to remain a one-watch picture, with multiple viewings prescribed for those who particularly enjoy seafaring adventures – but not necessarily ones with much turbulence.
You Might Like
Related news from verified sources
MOVIE REVIEW: The Promise
by Graham Pierrepoint - THE PROMISE IMDb Dir: Terry George Starring Oscar Isaac, Christian Bale, Charlotte Le Bon, Daniel Gimenez Cacho, Shohreh Aghdashloo,...
One News Page Staff
MOVIE REVIEW: Triple 9
by Graham Pierrepoint - TRIPLE 9 IMDb Dir: John Hillcoat Starring Casey Affleck, Chiwetel Ejiofor, Anthony Mackie, Kate Winslet, Aaron Paul, Norman Reedus,...
One News Page Staff
MOVIE REVIEW: The Purge: Election Year
by Graham Pierrepoint - THE PURGE: ELECTION YEAR IMDb Dir: James DeMonaco Starring Frank Grillo, Elizabeth Mitchell, Mykelti Williamson, Joseph Julian Soria,...
One News Page Staff
Tweets about this
•More original news reports from One News Page