by Graham Pierrepoint

HAIL, CAESAR!
Dir: Joel and Ethan Coen
Starring Josh Brolin, George Clooney, Scarlett Johansson, Alden Ehrenreich, Ralph Fiennes, Frances McDormand, Tilda Swinton, Jonah Hill





3.5 STARS (out of 5)
2016, so far, has been a mixed bag in terms of new movies – and, thankfully, the Coen Brothers have returned to theaters to make things a little more interesting. However, because it's a Coens movie, many film buffs will already assume that this isn't necessarily going to be a straightforward ride. The Oscar-winning duo behind The Big Lebowski, Fargo and No Country For Old Men have courted a unique style of storytelling in film across three decades, making their names synonymous with quirky and challenging movies that people either love, or simply can't quite get to grips with. Hail, Caesar!, I can confirm, is very much a case of Coens on form – whether or not you see that as an appealing statement.
The movie's plot – if it has a core plot at all – revolves around a Hollywood movie studio in the early 1950s, and the bizarre abduction of George Clooney's affable but gullible lead actor, and the various scenarios and fiascos that resident 'fixer' Josh Brolin has to take on in order to make sure business runs as usual. While trailers and synopses the world over will make the kidnapping plot the driving hook for the movie, this really is a picture that is simply a slice of life during two or three days at one Hollywood studio – with various story strands involving a physical actor played by Alden Ehrenreich attempting to make the move into a talking role with uptight classical director Ralph Fiennes, Scarlett Johansson facing impending motherhood alone, Tilda Swinton's twin magazine columnists attempting to scoop a big story from underneath each other. There are several different threads going on at once, normally which involve Brolin attempting to resolve matters, and the plus side is that the majority of the cast here seem to be having an awful lot of fun playing their parts.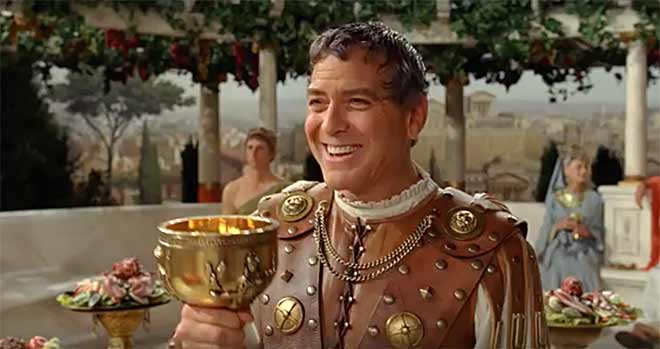 Hail, Caesar! is less a film with a steady narrative and is more a series of snapshots of one particular day – showcasing the host of quirky and irreverent characters who keep the system ticking over. Much like Lebowski, this is very much a movie about very little – and for some, that can be bothersome. In the cinema I attended, two people left midway through, audibly disgruntled with the disjointed direction in which the movie was very happy to be moving in. Certainly, providing that you're happy to move in the flighty and irreverent manner in which the Coens' characters operate and speak, this is a movie that rewards in its variety of character studies and humorous touches, even if it doesn't go anywhere particularly major.
Given this, the movie's major downfall is that it does often feel like there is too much focus on too many characters, and as such the tone of the film is up and down – offering an inconsistency that will likely turn a fair few moviegoers off. Unlike some of the Coens' other movies, Caesar opts to take its characters in whichever directions they want to go in, as opposed to letting them inhabit a linear narrative or world in one direction.
Hail, Caesar! - Official Trailer (Universal Pictures)
As a feat of character development, this movie is an absolute triumph – there is something so subtle in the way that Coen characters are directed that their personalities and motivations are established long before they offer any dialogue. The characters are likeable and easy to follow without much effort being required of the viewer, no matter how complex their dialogue. The stories may be lightweight and fairly flimsy for a feature-length movie, but it is the sheer attention to character and their various idiosyncrasies that makes this so enjoyable – it's what made Lebowksi's Dude such an iconic figure, and certainly goes some way to help make up the Coens' magic formula.
However, it should not be ignored that Hail, Caesar! is an extremely odd movie, especially in a sea of by-the-numbers Hollywood scripts that have saturated the first quarter of this year's pictures – making it a fairly unorthodox watch for many, including myself. Anyone hoping to catch Caesar should therefore be aware that this is less of a straightforward comedy that the trailers would initially have you believe – and that this is really more of a mismatched character study that works on the merits of a fantastic script, witty dialogue, superb cinematography and above all a fantastic realization of the time period in which the Coens are attempting to emulate – and it's clear that they have not only done their research, but that they are also mildly obsessed with the minor details.
The cast is excellent, particularly Josh Brolin, who I believe the movie will have benefited from in a solid focus towards – otherwise, both the tone and character focus is more than a little wayward. Despite this, Caesar may not be to everyone's tastes nor expectations – however, it remains a highly entertaining little curiosity that will delight fans of the Coen brothers and the history of movie-making in equal measure. It's a brilliantly-made period piece which suffers only from its slips in focus and loose tone throughout. In any case, it is worth the price of admission for sheer spectacle alone.