MOVIE REVIEW: Eddie The Eagle

Thursday, 17 March 2016
by 👨‍💻 Graham Pierrepoint


EDDIE THE EAGLE

Dir: Dexter Fletcher

Starring Taron Egerton, Hugh Jackman, Jo Hartley, Keith Allen, Tim McInnerny, Mark Benton, Ania Sowinski, Christopher Walken





4.5 STARS (out of 5)
It's great to be surprised, sometimes – particularly when it comes to TV and movies – and while Eddie The Eagle seemed reasonably promising in the multitude of trailer runs that came out for the movie earlier this year, 2016 has seen a number of films get released that don't necessarily live up to the standards that their previews set for them. The Finest Hours and Dad's Army spring to mind, and with Dexter Fletcher's semi-true take on the rise of Eddie 'The Eagle' Edwards, we seemed to be set for another British comedy that could quite easily have broken on landing. What transpired, however, is something quite different.
Eddie The Eagle is a part fictional, part biographical adaptation of the life of Michael 'Eddie The Eagle' Edwards – the sole ski jumper representing Great Britain at the 1988 Winter Olympic Games in Calgary. The movie takes you through the various steps of his early life and journey, focusing on his childhood dreams of being an Olympian of any kind, through difficulties in his relationship with his father, through to his eventual decision to take up ski jumping at the age of 22. Despite initial sneering and ridicule from professionals and from ex-Olympic ski jumper Bronson Peary (Jackman, in an entirely fictional role), Edwards persists in his endeavours to pursue the Olympic dream – he simply wants to get there, to be an Olympian, at all costs. Eventually, he wins Peary around to mentor him over months of training. What transpires is frustration, loss, strife and small victories – ultimately building to a suitable climax.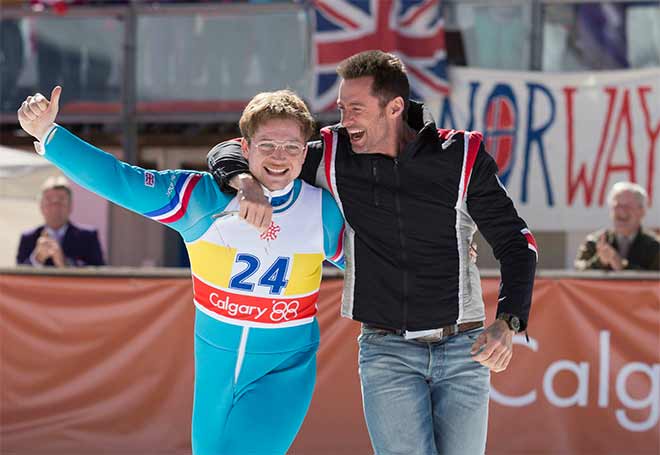 Eddie The Eagle is, no holds barred, an 'inspiration' story and makes absolutely no bones about hiding it. Normally, this type of movie would be relegated to afternoon TV, or left to languish in the January screenings. However, despite a catalogue of cliches that make up such a story, neither the script nor the acting talent sell a movie that is overly glib or that is so flat and dull that it has only a message alone to sell. Instead, we are left with a movie that is genuinely enjoyable – one that delivers well-judged laughs, well-weighted pacing and enough of a script and useful dialogue that brings out the best in its principal cast.
Eddie succeeds in its charm, in the sense that the pacing is set at just the right speed for us to grow with Egerton's Edwards at an appropriate rate for us to truly connect with him. Egerton, who arguably broke out with last year's superb Kingsman : The Secret Service, plays Edwards as adorably awkward and irrepressibly determined – gleefully continuing to chase his dream no matter how ridiculous it may be, and no matter how many people – professional, personal and official – try to put him off.
While the real Edwards has advised that he was informed much of the movie would be fabrication, his real-life journey to Calgary is given the respect and quiet reverence it deserves in a movie that, while it may poke gentle fun at Edwards' affectations and deviation from 'normal behaviour' of young men his age – along with his unflappable belief in himself – it ultimately converts the audience into supporting his campaign. The pacing is so tight and delicately played that Edwards' journey feels like an evolution that is neither forced nor overwrought.
Eddie The Eagle - Official Trailer (Lionsgate)
It is genuinely rare, in my experience, to find myself so enthused in a character – and it is a testament to both Eddie's scriptwriters – Sean Macauley and Simon Kelton – and the depth of character portrayed by the film's principal cast. Egerton as Edwards offers nothing short of evidence of his range as an actor. Jackman is, as always, in-character and companionable (no matter how gruff nor dysfunctional he may be). Even Edwards' parents – who play pivotal but background roles in the movie – are believable and travel their own journeys from start to finish. Tim McInnerny proves once again that he is a spectacular character actor, particularly when playing stuffy, malevolent (or even malicious) characters. It's simply a great cast.
With a script that is genuinely funny when it tries to be, offers pathos and depth for the right amount of time, and delivers serious tension in its closing ten minutes, Eddie is topped off with fantastic locations and directorial touches that cement Dexter Fletcher – who is no stranger to being in front of the camera, particularly on British TV and film – as one who knows what makes storytelling via the medium effective and enjoyable. Eddie as a result is a movie that is both entertaining and – without getting too cheesy – even inspiring, with a twist or two that anyone who's unaware of Edwards' story will find goes against that grain of adapted 'real life' stories. This tale could have so easily been tainted in a very Hollywood manner – with too much of a focus on the moral of the story and less on the meat of the matter – and thankfully, Eddie The Eagle offers a humble and consistently entertaining movie that will likely exceed any expectations you set for it.
It's not a movie that is likely to topple big names at the box office – but, like its eponymous subject, is likely to trundle along at a humble pace, thankful for any support it receives. While it may be cheesy for some, and it isn't the type of movie that provides entertainment for everyone – from a movie-making perspective and for sheer entertainment value, Eddie The Eagle is certainly worth jumping at.
You Might Like
Related news from verified sources
MOVIE REVIEW: Florence Foster Jenkins
by Graham Pierrepoint - FLORENCE FOSTER JENKINS IMDb Dir: Stephen Frears Starring Meryl Streep, Hugh Grant, Simon Helberg, Rebecca Ferguson, David Haig, Nina...
One News Page Staff
Han Solo Movie: Alden Ehrenreich Wins Lead Role
by Graham Pierrepoint - While at the time of writing it appears that he is in final negotiations with studio bosses, it appears that Alden Ehrenreich has been...
One News Page Staff
MOVIE REVIEW: The Great Wall
by Graham Pierrepoint - THE GREAT WALL IMDb Dir: Yimou Zhang Starring Matt Damon, Tian Jing, Pedro Pascal, Willem Dafoe, Hanyu Zhang, Eddie Peng, Han Lu,...
One News Page Staff
•More original news reports from One News Page