NORM OF THE NORTH
Dir: Trevor Wall
Starring Rob Schneider, Heather Graham, Ken Jeong, Colm Meaney, Bill Nighy, Maya Kay, Loretta Devine





0.5 STARS (out of 5)
Before Norm of The North started at the screening I attended, a well-timed trailer for Zootropolis aired – almost as if to say, "This is what you could be watching." Thankfully, while I'd already seen Disney's latest movie recently, some families may not have been so lucky in their movie-viewing choices. Norm of The North has been in US theaters since January, while in the UK, it has seemingly been timed to hit the Easter weekend rush – and while many families were queuing up to see Zootropolis, I was alone in my screening. Alone in my experience of Norm that afternoon, and perhaps even concerned that I was without fellow witnesses to what it was that I watched. Unfortunately, and while I was well aware of how Norm has fared in terms of critical reception in the US, I was not so prepared for quite how insultingly cliched and remarkably boring the twerking polar bear's antics were to be.
Norm is a polar bear, who, like his grandfather, has the gift of being able to speak with humans. He's worried that he won't live up to become 'King' of his sloth of bears as he's not exactly the best hunter – he does, however, have his gift, and for tourists that visit the Arctic, he likes to give a dance number or two. It's not long before Norm discovers that there are plans for luxury condos to be built in the Arctic, threatening his home – and with this, the bear sets out on a trip to the US to try and save his family, his home, and find his grandfather, who is mysteriously missing after a considerable period of time. What follows is Norm becoming the spokesperson for the corporation planning to launch the luxury condos, in an effort to blow the operation from the inside.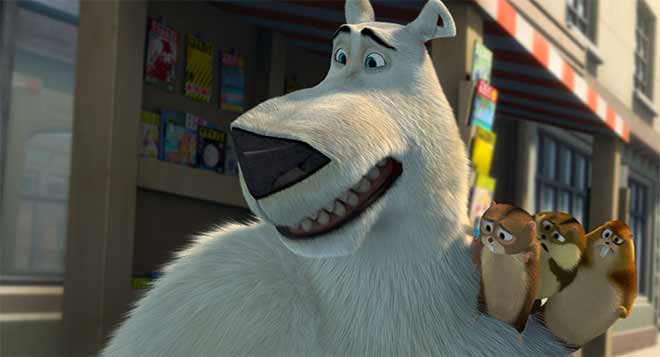 For a movie that is aimed to capture the interest of kids and the box office money of families, Norm of The North is incredible in the sense that it somehow manages to both be patronisingly low-brow and astonishingly dull in equal measure. On face value, Norm is not the best looking movie, from character design to animation and even down to the acting of the animated cast – this is a movie that feels like it is trying to be a desperate cross between Happy Feet and Madagascar, yet fails to manage to capture either the comic timing or appealing characters that made both movies so profitable and well-loved. Norm struggles on a base level in that none of its characters are memorable – Norm himself is just a bear who happens to talk, and anyone expecting Rob Schneider-isms from him will be sadly disappointed. The villain is intensely annoying, and while there are clear attempts to make him over-the-top and so-pathetic-he's-funny, what transpires is an infuriating set of tropes floundering around in an uninspired flurry.
The story is essentially an environmentally-friendly one – one that we know the ending to already, and one that has been written better many times before – and yet, Norm sells it to kids in such a bizarre way that it's hard to comprehend just how anyone involved behind the scenes were confident that they knew how to entertain children. The movie opens and occasionally offers badly-timed and irritating pop-culture camera-mugging and 'dance numbers' that see a number of characters inexplicably bopping about to pop tunes that will quickly date – while Norm himself offers up what he calls the 'Arctic Shake', a clear pastiche of the internet meme 'Harlem Shake' which was almost three years old at the time of this movie's release, and therefore already long out of scope for it to go over many youngsters' heads. In antithesis to this, the movie's plot plunges into what transpires to be a rather convoluted and grimy case of corruption between councillors and company officials, which is handled so earnestly and so matter-of-factly late on that kids will be left thoroughly bored – and, likely, thoroughly unentertained.
The above problems with characterisation and bizarre appeals to the core audience could be forgiven – perhaps – were it not for a story which is badly paced, filled with a lucky-dip of cliches from every animated movie from the past fifteen years. One which offers a mind-numbingly convenient and empty conclusion that bears little witness to the environmental message it was trying to put across, nor the characters – everything simply levels out. Not in a heart-warming way, like it hopes it might, but in a way that the audience will be relieved that they can leave. This goes without mentioning the constant appearances of blatant Minion-inspired characters that follow Norm around – the lemmings – who fail to emulate the comic timing nor simple appeal of their yellow counterparts.
Norm Of The North - Official Trailer (Lionsgate)
The cast consists of well-known actors – Rob Schneider, who, despite having been maligned for over-the-top turns in movies such as Bio Dome and Deuce Bigalow – offers little of the bizarre character acting that made him infamous. The tertiary cast offer little character to their performance, perhaps most shocking from Bill Nighy, who appears to glumly offer expositional advice to the main character as the plot demands it. In fact, most of the characters are mouthpieces for the script – there's very little left to the characters themselves, they merely play their parts – and it's extremely dull as a result.
This is a movie that would be considered poor ten years ago, on visuals, on story, on technique, and on its attempts to cajole with the audience. It is the cinematic pantheon of executive meddling; a slapdash mess of environmental messages mixed together with dated crazes, poorly-timed jokes and attempts to cajole a younger audience, awful visual design and execution, a storyline which is propelled on cliches and familiar territory alone, and a cast that does little to encourage viewers to believe in the world that is opening up for us. It's obnoxious, it's inconsistent, it's boring, it's unfunny, it's convoluted, it's cliched, it's amateurish and it's severely misjudged in its execution.
Norm went up against the far superior Kung Fu Panda 3 in the US, and with it going head-to-head with Disney's magnificent Zootropolis in the UK this Easter, anyone who chooses to see this poor excuse for family entertainment first deserves all ninety minutes. As the first movie I have seen this year with which I have genuinely struggled to find anything positive to comment about, my advice would be to avoid, for your family's sake, at all costs.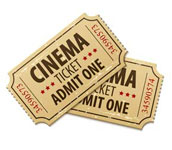 » See more of Graham's Movie Reviews