by 👨‍💻 Graham Pierrepoint


HARDCORE HENRY

Dir: Ilya Naishuller

Starring Sharlto Copley, Haley Bennet, Danila Koslovskiy, Tim Roth





3.5 STARS (out of 5)
It's probably wise to preface any review of Hardcore Henry by stating that it's unlike much of what you've ever seen before, certainly at the cinema – while the idea of a first-person action movie has probably been bouncing around in gamers' heads for years thanks to the rise of videogames such as the Doom, Call of Duty and Battlefield franchises, and it's been realized in brief snatches here and there on the small screen – but I can safely say that the idea of going to see a non-stop action thriller through the eyes of the main protagonist was new on me. Certainly, for the most part, it does what it sets out to do with guilt-free aplomb, and with it, enough panache to satisfy its core demographic.
Hardcore Henry is, essentially, a video game that you don't control. A man named Henry wakes up to find that his wife (Bennet) is helping 'repair' various parts of his body in a strange facility. Before long, the facility is invaded by a stereotypical bad guy with long white hair and Henry is forced to escape the lab with his wife, before they end up getting split up. From here, Henry – or rather the audience, as you see absolutely everything through his eyes – fights off horde after horde of grunt and disposable bad guy that you can imagine, making curious use out of various weapons and inanimate objects to make his way towards a laboratory run by the mysterious Jimmy (Copley), who insists that here's here to help. From here, the story is pretty much well-trodden action movie territory – but in this case, it's about how it's told, not so much as what happens.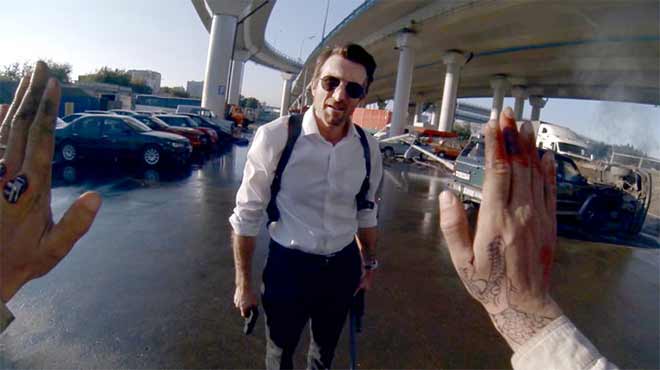 Hardcore Henry is gratuitously and unashamedly violent, and is therefore a superb distraction for anyone looking to get their fill from an over-the-top shoot-and-slash affair that doesn't take itself seriously. Along with Deadpool, this is easily one of 2016's more creative adventures on the big screen, which could almost forgive the lackluster offerings of London Has Fallen and Triple 9 earlier this year – and, as such, while the movie has shortcomings, it plain doesn't care – and it's likely the audience won't, either.
This is an extremely nihilistic movie – it's altogether pretty shallow, all things considered – with a linear plot and twists that you can spot a mile away – offering little in the way of a story or characterization to really get behind, save for Sharlto Copley as Jimmy, who offers extraordinary versatility in a number of comic turns and appearances throughout the movie. Certainly, reveals about Jimmy throughout make him easily the most memorable character and despite Copley's dodgy London accent, he sells it as if he's purposely making a hash of it on purpose. Without Copley, while Hardcore Henry is still darkly humorous, but it would lack the touch of madcap humor that breaks up the constant killing and non-stop pace. Certainly, it's his presence that makes the movie all the more palatable, mainly as we lack a main protagonist that we can see.
Problems with story, characters and tone aside, Hardcore Henry is not only exceptionally well-realized, but it's executed with impressive stunts and a seamless cinematography style that barely feels as if it cuts at all – and while the in-your-face approach may not appeal to viewers of a weaker disposition and those who generally don't find blood and guts to be particularly appealing on any level, it is hard not to appreciate the movie's dedication to its craft. It's extraordinarily well-focused, and delivers non-stop entertainment to the sort of person that is likely to be entertained by ridiculous twist after ridiculous twist. The final ten minutes a spectacularly gruesome and unforgiving, with an ending that is so defiantly anti-Hollywood that I couldn't help but marvel at its abruptness. Hardcore Henry knows that it's mostly spectacle, and it loves every minute of it. This is a charm that can't help but be admired.
That being said, the movie is likely to be a trailblazer ahead of other movies that take advantage of the first-person viewpoint, and in years to come may be viewed as little other than a cult, or a gimmick – and it's a movie that's content to be as such. Many movies struggle to keep focus or realize their key audience beyond a few buzzwords and putting together a trailer that entices the right people – Henry, however, does well to stay meticulously on track, making use of varied locations, fantastic fight choreography, impressive stunts and camerawork to create as much chaos as possible. That's pretty much what the movie is – unbridled, nihilistic chaos – and in its dedication to its art, it's perhaps settling itself a little too much in its niche.
Hardcore Henry: Official Trailer (STX Entertainment)
If you're interested in seeing a movie that leaves movie making pretension and expectation at the door, and are simply keen to see a few hours of unique action (but don't mind a shaky camera or buckets of blood and gore), this is likely to make you very happy indeed. Anyone looking for more substance, meaning or fulfillment may not need apply. As far as brainless entertainment goes, Hardcore Henry is very clever in how it does things – and, as such, it's technically impressive on top of being laser-pointed at a very specific audience. Providing you leave sensibilities at the door, anyone with a strong stomach and a taste for cartoonish violence will very likely lap this one right up.