by 👨‍💻 Graham Pierrepoint


CRIMINAL

Dir: Ariel Vroman

Starring Kevin Costner, Gary Oldman, Gal Gadot, Ryan Reynolds, Tommy Lee Jones, Alice Eve, Michael Pitt





2.5 STARS (out of 5)
The action movie genre is certainly seeing itself put to task this year, with London Has Fallen having already fulfilled much of the box office quota for 'big dumb shoot-em-ups', Hardcore Henry having played to an audience that appreciates gimmicks regardless of content, and with Bastille Day due to hit cinemas shortly – with trailers promising explosive, tense drama. Getting action right in today's cinemas is getting harder and harder – every single movie that deals with terrorism or have-a-go heroes is now tinged with world politics lingering in the background, as we know more than ever that the world is indeed a scary place – and while the events of such movies aren't always realistic – London and Henry getting particular mention here – it's difficult for action movies to otherwise stand out. We see and read about atrocities daily, and more to the point, Die Hard was a long time ago – audiences are thirsty for an action thriller that isn't necessarily going to be hard-bitten-cop against a band of terrorists against the odds. People are thirsty for something a little different.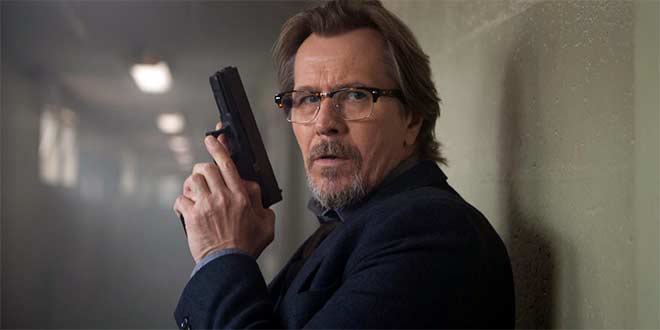 Despite its bland title, Criminal has a promising concept – London-based CIA agent Ryan Reynolds is due to make a deal with a blackmailer who threatens to compromise US security – something which has caught the eye of an international terrorist intent on causing widespread chaos – but before he can finish the deal, he finds himself intercepted and killed by said terrorist and his cronies. The London-based CIA, led by Gary Oldman, has little choice but to attempt an experimental medical procedure which will see Reynolds' memories implanted into another man's brain – as it just so happens that the operative has memories that are essential to ensuring international safety. Enter maximum security inmate Kevin Costner, a violent sociopath who finds himself strapped to the operating table by Tommy Lee Jones' brow-beaten medical practitioner – and when he wakes up, the criminal finds himself armed with a whole new set of emotions and memories that slowly start to change how he sees the world. However, time is also running out for the deal to be finalised, and the memories are essential to finding where the blackmail money has been stashed – leading to a tense series of skirmishes and standoffs.
Plot-wise, it's fairly convoluted – and brave – but at the same time, rather proud of that fact. While Criminal is, ultimately, a big dumb action movie, it presents its premise in such a way that it seems to take itself extremely seriously – and despite a few dark laughs from Costner's violent streak, it's a movie that seems to believe in its own importance. It's this that stops a great premise from being handled with subtlety and self-referential moments that could have made it intriguing and irreverent viewing. Its subscription to the well-worn tropes and plot pathways lead what starts out as an intriguing first twenty minutes into a by-the-numbers story that anyone could finish off. As a result, it's somewhat lazy in its composition.
This aside, Criminal does remain a fairly enjoyable movie, despite its demeanour and its well-worn cliches. This is largely down to a talented cast and likeable cinematography, along with pacing that, while the movie doesn't go anywhere spectacular, doesn't drag you along at a speed that has you yawning in the cinema (and believe me, movies in this genre – in particular Triple 9 – have caused me to check remaining run time recently). Kevin Costner is still a fantastic actor, and he is still very much waiting for a vehicle to elevate him back to star status – he runs the gamut here from gleeful sociopath through to a disorientated and conflicted human being – and while many could imagine someone akin to, say, Michael Keaton performing in the role with more pith or venom, Costner sells us a man that plan doesn't care – and is genuinely off-the-wall by design – in a very downplayed and unsettling manner. He has great presence here, and it's one of the performances I've seen on screen this year I've appreciated the most.
Criminal - Official Trailer (Lionsgate Movies)
Costner aside, Oldman never misses a beat as standard – offering a barking, morally-ambiguous CIA general that's a million miles away from his George Smiley and his Commissioner Gordon – and Gal Gadot offers genuine emotional gravitas and a believable performance as the widow of the late CIA agent at the heart of the matter. While Ryan Reynolds isn't in the movie for long, it's a mark of his versatility that he can perform high drama convincingly as well as chew the fourth wall down as Deadpool. Tommy Lee Jones plays a very quiet and seemingly downtrodden man which plays against type for much of his acting history, again showing the scope of this great cast's acting potential. It is startling that such a great cast could not elevate the movie to higher places – it is similar to Triple 9 in that respect, however – it benefits from far better pacing and a far more interesting and engaging premise.
The villains of the piece are sadly lacking depth or development, instead appearing to be 'baddies for baddies' sake' – adding to the overall feeling of laziness that pervades much of the movie's runtime. Truth be told, however, this is still a movie that is well-paced and well-acted enough to keep interest throughout, even if it does feel excruciatingly by-the-numbers at key moments along the way. This is a movie that will sadly be destined to get buried on Netflix or in cut price DVD racks in years to come – and while I would never suggest it is worthy of such degradation, Criminal does little with its premise and its talented cast to raise its neck above mediocrity. Memorable, but then again – not very.