by 👨‍💻 Graham Pierrepoint


EYE IN THE SKY

Dir: Gavin Hood

Starring Helen Mirren, Alan Rickman, Aaron Paul, Iain Glen, Barkhad Abdi, Phoebe Fox, Kim Engelbrecht, Jeremy Northam, Babou Ceesay, Aisha Takow





3.5 STARS (out of 5)
Most of the movies that I've been able to see this year have mainly had big, sprawling stories to tell – some overly ambitious and lacking in key areas – so it's a refreshing change to watch something like Eye in The Sky that, while intense and dramatic at its best, remains relatively isolated. It's great to see that cinema such as this can still both work well in modern times for modern audiences – and that it can hopefully make a fair profit at the box office – however, the intense and minimal nature of Eye in The Sky is both its selling point and its main contributor to any problems it suffers from.
Helen Mirren plays a military colonel in charge of operations to hunt down terrorists in Kenya, and a third of the action takes place from within her operations room – as she learns that the targets she is aiming for are planning a suicide bomb attack. As the team set about preparing to launch a drone on a house in a suburban Kenyan town with all the necessary authority, a young girl wanders into the dropzone, selling bread for her family – and with this, a huge battle between moral judgment, the greater good and the potential for media frenzy ensues, with both UK and US governments wading into what will be the best case scenario – do they wait for the girl to leave, or do they strike, risking her death? If she doesn't leave soon enough, will this allow the terrorists to carry out an attack that kills scores more people?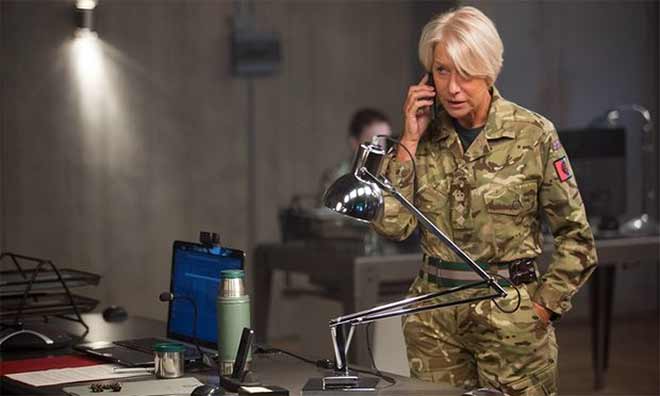 Eye in The Sky is both timely and well-realised in a culture and time where the world is still very much both on tenterhooks with the potential threat of global terrorism and where western forces continue to be involved in military operations in Africa and the Middle East. In this sense, this is very likely to be a movie that will hit home with anyone that has been paying attention to, and who has been affected by, headlines during the past few years. This is a movie that is directly focused upon every single ramification that could occur as a result of one dire event – as a result, as a story, it's incredibly intense and continues to be so as the audience knows all of the lives – and potential issues – that are at stake. It's cleverly paced in that we essentially have around and hour or so of movie that surrounds both Mirren and Rickman waiting for a decision to be made. It is thanks to a good, if (necessarily) expositional script and the gravitas of its lead actors that the drama is so raw and so real.
The acting chops on board are likely to be the biggest draw of this picture, particularly as it will be one of the late Alan Rickman's last big screen appearances – he will appear again, voice-only, in Alice Through the Looking Glass later this year – and while big names do not necessarily a good film make, Mirren is cold and professional enough to drive home her colonel to audiences, and Rickman is superb as a Lieutenant General who has seen enough war himself to know the price to pay – leading to a particularly poignant soundbite near the end of the movie that would have sounded corny coming out of anyone but Rickman's commanding delivery.
Aaron Paul is fantastic as the man on the trigger that provides a challenge to even the highest of authorities, as he has an attack of moral guilt that proves to be essential to much of the film's tension and appeal. Certainly, this is a much better vehicle for his talents than Triple 9 earlier this year – which, again, benefited from an all-star cast, but made the error of squandering the script.
Eye In The Sky - Official Trailer (Bleecker Street)
On the flip side of the coin, while Eye in The Sky is high drama at its deepest, darkest and most human, it still suffers in a few areas that may well be argued shouldn't particularly matter. The major issue with this movie is that the first twenty minutes are fairly plodding thanks to a lack of character development – anyone looking for character studies or backstories that flesh out the reasons for the military doing what they do beyond duty need not apply. Essentially, each of the characters feel as if they are playing a part in a game, and sadly, they are forgettable barring the actions they directly take in this movie. While Eye in The Sky is superbly realised and unbelievably well-timed, it must be said that the lack of a character anchor across the board leads us to purely see actors making decisions – and without character development, it all feels a little too methodical.
One scene where Rickman purchases a toy doll for his young relative is vaguely humorous only in the actor's delivery – as it's otherwise a very stark attempt, possibly the only attempt, to introduce an alternative, human side to the cast of characters. As such, like me, it's probably likely many people will side with Rickman's character the most, as he sits in the middle between the colonel itching for the trigger to be pulled, the ministers sweating over moral and press ramifications, and the higher-up statesmen who feel awkward or even dismissive in making a decision. There is clear political opinion at stake in the script as the British Foreign Secretary is shown to be affected and unable to make his own decisions under such pressure, whereas his US counterpart is disgruntled to have been asked what he claims to be such a basic query while he is busy playing table tennis on a state visit to China. While this is a distinction that many will agree and disagree with, it is handled cleverly enough for anyone to appreciate it.
That being said, while a little character focus would have made Eye in The Sky a truly spectacular movie, it knows how to press for tension and this is absolutely its strong point – while this won't be to everyone's tastes and it cultivates drama in the same muted fashion that, say, Tinker Tailor Soldier Spy does, it succeeds at allowing us to make our own opinions on who was wrong, and who was right in the series of scenarios that play out. This is a very relevant and I believe important movie for the current climate, and one that needs to be seen by anyone that has a semblance of interest in global politics, particularly surrounding the morality of war. Big ideas, very big politics, and overall, a well-directed and acted picture – only faltering on its neglect for characterisation.