FLORENCE FOSTER JENKINS
Dir: Stephen Frears
Starring Meryl Streep, Hugh Grant, Simon Helberg, Rebecca Ferguson, David Haig, Nina Ariadna, Stanley Townsend





4 STARS (out of 5)
True stories never seem to stray too far from the cinema – and with Eddie the Eagle and The Finest Hours having been the most memorable in recent history, they don't always hit straight out of the ballpark. Of course, some stories are embellished or fictionalised slightly to better fit the audience and the chance of making it big at the box office – making them slightly less true than they had made themselves out to be. However, in the case of Florence Foster Jenkins, while there is obvious characterisation at work and acting chops all around, the central character's story is more or less cribbed directly from reality – and that, to me, makes matters all the more heartbreaking.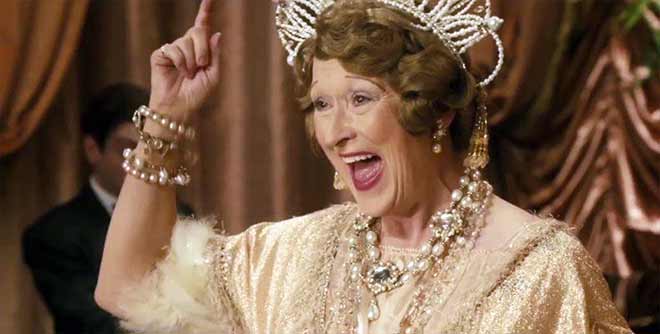 Meryl Streep plays New York heiress Florence Foster Jenkins, a flighty but optimistic director of a music venue in the city with a genuine passion for music – and her husband, St. Clair Bayfield (Hugh Grant), remains supportive and loving despite his having a secret lover across town. The story takes place during World War II, and Ms Foster Jenkins finds music and performance a welcome distraction from the horrors of the conflict and finds herself drawn to the idea of performing opera, alongside young and awkward pianist Cosme McMoon (The Big Bang Theory's Simon Helberg) – but the drawback is, she can't sing a single note on key. Her husband and vocal coach insist that she has a marvellous talent, and from here, plans for a concert grow into record pressings and increasing difficulty on the part of Bayfield to protect the singer from criticism – yet, as more and more find themselves entertained by Ms Foster Jenkins for all the wrong reasons – they find her hilarious – Bayfield and McMoon frantically attempt to keep the heiress from finding out the truth.
If there's one thing I enjoy in being a movie critic the most, it's being surprised. The last time I was so genuinely surprised by the entertainment value and quality of a movie was during the aforementioned Eddie the Eagle – and Florence Foster Jenkins holds many of the traits and facets that made that movie so enjoyable. Streep continues to be one of the most versatile and transformative actors of her generation, morphing into the larger-than-life Foster Jenkins with aplomb, offering joy and heartbreak in equal measure. The film's perhaps syrupy and perhaps even occasionally self-satisfied charm is spread nicely across the runtime thanks to a varied and genuinely bright and breezy cast. Grant is arguably as good as he's ever been here, once again breaking free from the stereotypical 'bumbling gent' roles he played in the 1990s to offer a conflicted and genuinely loving man who lives for his wife – despite having made little more than a drop in the ocean through his own acting career. Simon Helberg, too, is perfectly cast as the twitchy but talented McMoon. The characters here are so loveable and so passionate that it's positively infectious.
On a humour level, Florence Foster Jenkins is downright hilarious. While the idea of what is essentially a period piece promising a look at a certain side of wartime New York society may not appeal to everyone, Streep plays a woman who really cannot sing with such gusto and self-belief that it's impossible not to crease up as she attempts to hit the high notes. In a very meta sense, this is how the real Foster Jenkins was perceived. All the time, she never knew that she couldn't sing – but people found her passion, her belief and the laughs she created addictive – and while the story is fairly basic in that it observes her rise and subsequent events after her performance to servicemen and opera fans alike at Carnegie Hall, the cast and treatment carry the plot along at a pace that is both palatable and never wears thin.
Florence Foster Jenkins - Official Trailer (Pathe UK)
If Florence Foster Jenkins falters at all, it is only in its editing and its reliance upon wallowing in the atmosphere during certain scenes. The movie starts in a rather odd fashion, only hitting its tonal stride once Streep starts singing – making some of the experience a little hard to swallow – as at times the audience feels too far removed from the high society and foppish characters that inhabit the world that is being presented. It is comparable to the work of P.G. Wodehouse – responsible for Jeeves and Wooster – in that when it is pleasantly ridiculous, it revels in being ridiculous – but at other times, we are not sure whether matters are being played straight nor if we are made to feel like an outsider looking in. This may well be a personal issue I have with a number of the exchanges and events during the movie, and I must add that this is a very minor complaint.
Florence Foster Jenkins is an extremely funny and often touching movie that is every bit as tragic as it is genuinely entertaining – and despite a few tonal issues, and a script and focus that could use a little sharpening, this is a movie that ticks most of the boxes laid out for it. While this may be a fairly niche film in that it may not appeal to a wider audience, its level of gentle humour and affecting story is accessible enough for anyone to get more than their money's worth.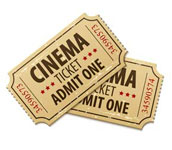 » See more of Graham's Movie Reviews