THE ANGRY BIRDS MOVIE
Dir: Clay Kaytis and Fergal Reilly
Starring Jason Sudeikis, Josh Gad, Maya Rudolph, Danny McBride, Kate McKinnon, Bill Hader, Sean Penn, Peter Dinklage





4 STARS (out of 5)
If there's any movie that releases this year with as much stigma to it as The Angry Birds Movie, I'd like to see it. Movies adapted from video game franchises and plots are infamous for not converting brilliantly to the big screen – with only Mortal Kombat and Prince of Persia : The Sands of Time in the genre managing to squeeze a Metacritic score above 50% - and this hasn't even been the chief concern laid down at Angry Birds' doorstep.
The Angry Birds brand has exploded since its debut as an insanely addictive smartphone game in 2009, resulting in merchandising, spin-off games and tie-ins galore – with many being quick to turn their noses up at the idea of a movie adaptation being little other than part of the merchandising empire. Taking this into account with the fact that the Angry Birds franchise is perhaps not the draw it was at the turn of the decade, you're left with a movie that has had a number of cultural hurdles waiting for it before it even set off.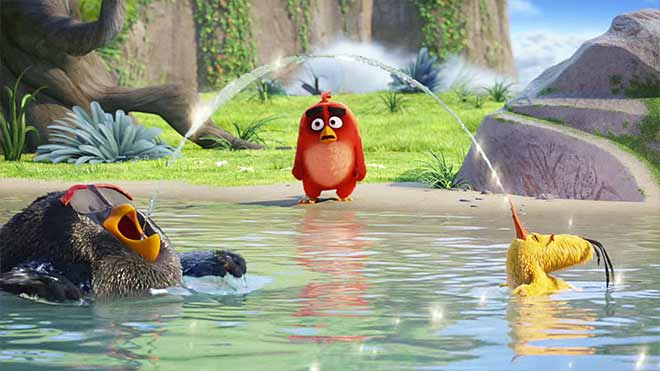 The adaptation sees grouchy Red (Sudeikis) – just one of many colourful and crazy avians at home on a solitary island - finds himself thrown into an anger management program after a work-related outburst. Red feels he is the only sane bird in the flock, constantly irritated by even the slightest hiccups and or personalities he comes across. Truth be told, he's fairly antisocial – but he has a reason for this. This aside, the birds find themselves unexpectedly playing host to a band of green pigs who have sailed ashore on a mission of friendship – however, Red quite aptly sees red, and he is determined to prove to his fellow feathered folk that the swines have malicious intentions – and it's up to him, hyperactive Chuck (Gad) and dopey Bomb (McBride) to lead the fight for the truth – and later on, more besides.
I am not afraid to say that I was among the people all too willing to assume that a movie based on Angry Birds would be distinctly below average viewing. Certainly, the trailers failed to do the picture much justice, and due to their over-playing at features such as Zootopia, it's not hard to see why viewer fatigue set in before many of us even got to see Red and co on the big screen. However, truth be told, I was not only pleasantly surprised by The Angry Birds Movie – I was downright entertained.
The Angry Birds Movie - Official Trailer (Sony Pictures Entertainment)
Angry Birds is an absolute triumph, make no mistake, in terms of playing to its core audience. The characters are colourful, identifiable, likeable and well-performed, aided by brilliant design and animation that frankly had very little to work with from the original source material. Seeing the titular birds with limbs may feel a little odd if you've spent considerable time catapulting the blighters around on your iPad, but the sheer variety of characters – even background extras – is remarkable. The animation is fluid and humorous, creating a visual spectacle that will entertain younger children if not those approaching their teenage years.
While the movie is fairly predictable and falls back on a number of well-worn tropes and cliches, what sets Angry Birds apart from, say, Norm of the North, is in both its diverse, rounded characters and in its self-awareness in that it is more than a little silly. This is an animated movie at its most bonkers, constantly on the move and providing very few moments of contemplation. This alone will likely annoy some moviegoers, but anyone wanting to go and see a movie based on Angry Birds will surely know what they are letting themselves in for. Many of the jokes are well-timed and well-written, with personnel in Peter Dinklage and Danny McBride in particular earning much of the movie's laughs. To see such vivid, original and genuinely entertaining characters come out of a movie based on a mobile app is nothing short of astonishing.
However, where Angry Birds does fall down is in its insistence upon falling back on safe culture references, toilet gags and even adult jokes that fall flat, and hard. One scene expects you to laugh at an eagle urinating into a lake for around a minute – while context is obviously key here, it doesn't stop the joke from feeling a little more than awkward and out of place in a family movie of this stature. It lacks the warmth and challenge that Disney, Pixar and Dreamworks manage to capture almost effortlessly – and it's certainly not a case of money spent or poor technology, as this is one of the cleanest and most interesting-looking animated movies you'll see this year. While it won't touch the likes of Zootopia's intricacy or The Jungle Book's jaw-dropping realism, comparing the innovation in the design and animation here to, say, the uninspiring characters and settings of Norm of the North, shows just what ballpark Angry Birds is actually playing in.
Angry Birds is surprisingly entertaining and is maybe even a little refreshing in a climate of animation where so much is riding upon Disney to continue delivering the goods and for Pixar to continue their winning streak from Inside Out and – to a lesser extent, The Good Dinosaur – it's great to see some originality in young people's entertainment, and it's all the more bizarre to think that I am referring to The Angry Birds Movie as I say that.
Angry Birds is a bright, breezy and entertaining – if more than a little odd – animated feature that will likely surprise anyone expecting a cheap, quick number made purely to cash in on a brand. While it won't be bothering the likes of the most revered in animated movies, there are certainly worse choices to be made at the cinema in 2016, and I for one resolve to judge a movie by its trailer a lot less harshly next time around.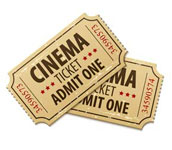 » See more of Graham's Movie Reviews