by 👨‍💻 Graham Pierrepoint


ME BEFORE YOU

Dir: Thea Sharrock

Starring Emilia Clarke, Sam Claflin, Charles Dance, Steve Peacocke, Jenna Coleman, Brendan Coyle, Samantha Spiro, Matthew Lewis, Joanna Lumley





2.5 STARS (out of 5)
There is still very much a viable audience and market for love stories – and while some may be regarded as 'rom-coms' and others as 'weepies', it's often hard for some screenplays to bridge the gap between the two. Certainly, most movies of this type are adapted from popular literature, and Me Before You is no exception, having been adapted from the critically-acclaimed novel of the same name authored by Jojo Moyes. In 2016 thus far there hasn't been much of a representation from this genre, and as representatives go, it does a more than reasonable job of appealing to its key audience – even if it is unfortunately flawed in a number of important areas.
Louisa Clark is a twentysomething that finds herself at the mercy of losing her job at a small cafe in her home town, and is forced to look for alternate employment to support her and her struggling family. She is soon accepted on as a home care assistant for wealthy quadriplegic William Traynor, who continues to feel remorseful and devastated for the life he lost due to a road accident that occurred two years prior. Traynor was an active, fun-loving man who lost access to his job, his lifestyle and – crucially – the woman he loved. As a result, Traynor appears resentful and bitter towards Clark initially, as the two struggle to find common ground. What transpires, however, is a journey on which Clark attempts to help Traynor realise that life is worth enjoying – as her enthusiasm and humour gradually become infectious.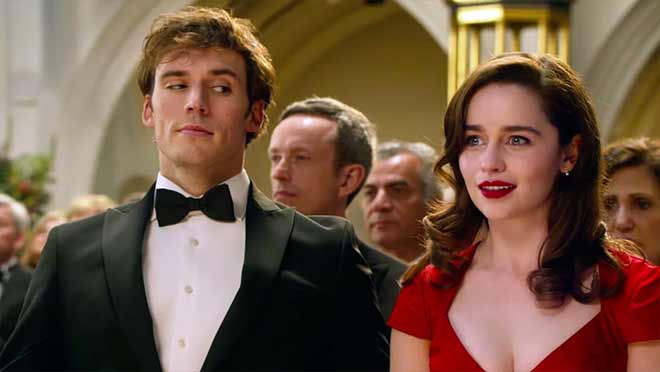 Firstly, you can't but marvel at the casting – many of the names on the bill are associated with extremely popular franchises and are widely known for playing iconic characters elsewhere – these include Clarke (Game of Thrones), Claflin (The Hunger Games), Coleman (Doctor Who), Coyle (Downton Abbey) and Lewis (Harry Potter), all of whom are instantly recognisable from TV and film over the past few years. Add in the acting might of Charles Dance (also Game of Thrones, but has been a regular fixture on both small and big screen for considerable years) and Samantha Spiro, and you have a fairly formidable line-up.
Certainly, anyone expecting Clarke to channel Game of Thrones' troubled and vengeful Danaerys Targaryen here will be pleasantly surprised to see that she takes to character acting extremely well – her lead character is funny, recognisable and easy to connect with, giving what is essentially a well-worn script with much of the charm it desperately needs. Claflin works well as the embittered Traynor, who has genuine chemistry with his female opposite – however, much of the rest of the cast simply play parts, if only to advance the plot. Coleman is underused if only to act as a plot device, and there is not nearly enough of Lewis' fitness-obsessed Patrick – the long-term boyfriend who finds himself in competition with his girlfriend's working schedule. There's also a great scene-stealing turn from Joanna Lumley, who – despite only being in frame for no more than five minutes – proves that she can sell any dialogue with as much warmth and class as you expect from her.
Me Before You - Official Trailer (Warner Bros. UK)
While this is a softly funny and well-paced movie, there are a number of issues with the plot, the dialogue and some of the directing choices which prevent it from achieving the levels of romantic greatness it so desperately wants to achieve. Many of the characters are paper thin and are given little to do other than advance the plot where necessary – and a discerning eye can tell that the characters are working from a script. A good script with natural, flowing dialogue can hide such a facade – but awkward and clumsy exposition let the flow of the movie down in a few areas. In terms of plot, too, this is well-worn territory. While the final twist may not be exactly what you expect, there's a chance you'll know exactly where it'll go once it presents it. As such, anyone likely to be entertained by a love story against the odds (that is very, very British indeed) that doesn't mind cliches and formulaic structure will do no wrong in seeing this.
That being said, some of the direction seems a little odd. The movie seems to have an obsession with showing you big, wonderful homes and castles that most of us will never be able to afford – wonderful restaurants and holidays that we'll never be able to go on – and there never really seems to be much of a reason for it. The fact that Traynor is a wealthy businessman is told to us but it doesn't drive the core of the plot and the conflict – his disability and quality of life – and, as such, much of the long panning shots of contemporary mansion design feel a little pointless. Certainly, they're nice to look at, but they're rather distracting. So too must a mention go to an unbelievable level of product placement, with a popular fruit-themed technology product and a British-brewed cider taking obvious centre stage in some genuinely distracting moments. That being said, if the dialogue can't distract you from the advertising, there may be more of a problem with the script than the product placements.
All in all, Me Before You is a romantic drama that desperately tries to be more than it is – and never really moves beyond the comfort zones of cliches and tropes we've all seen before – and as a result, many plot nuances, possibilities and even characters are left sadly neglected. This all being said, it is still a pleasantly entertaining movie that will appeal to target audiences with no difficulty – there were steady laughs in the preview screening I attended – but as a movie in its own right, it's sadly little other than a time-passer that most will find pleasant, if nothing to write home about – despite an impressive cast who will grow on you.