by 👨‍💻 Graham Pierrepoint


WARCRAFT : THE BEGINNING

Dir: Duncan Jones

Starring Travis Fimmel, Toby Kebbell, Paula Patton, Ben Foster, Robert Kazinsky, Ruth Negga, Dominic Cooper, Daniel Wu





3 STARS (out of 5)
Warcraft is another movie this year that has had much riding on its success – not only is it a fantasy movie, but it is also one that has been derived from arguably the most successful MMORPG (Massively Multiplayer Online Role Playing Game) of all time. As many movie buffs will know, the stigma of a videogame adaptation is a heavy one – one look at the list of critical ratings offered to films adapted from gaming across the years will tell you that the recent Angry Birds Movie is arguably leading the pack, and at less than a halfway score at Rotten Tomatoes at the time of writing, this isn't really much to be writing home about. In fact, with an adaptation of Assassin's Creed due in December, 2016 certainly seems to be the year for testing the waters in terms of videogame derivations.
Warcraft takes place in the land of Azeroth, where a portal between the world of humans and the world of orcs opens up to allow the latter – fierce, semi-feral warriors looking to colonise a new land – to potentially enter through and for war to begin between the two species. On both sides, there are honourable fighters and strong, dangerous magic – and it is ultimately the magic spreading from the orc domain that looks set to take a hold of humanity. However, not all is genial in the orc camp, as Chieftan Durotan seeks to rebel against the powerful and dark magic of the sinister Gul'dan – and, from here, struggles for power and for land transpire, with lives and colonies at stake.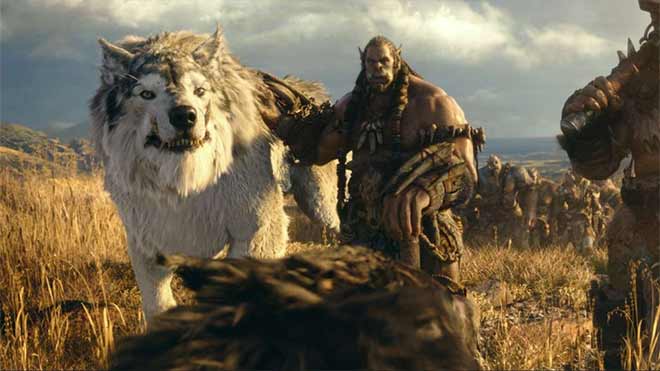 Warcraft has received a critical mauling thus far, and, having taken into account such critiques as well as having seen the movie for myself, I can understand why this is a movie that fails to impress on a purely critical level – but, at the same time, I feel that this is a movie that has received extraordinarily short shrift. Director Duncan Jones is a self-confessed WOW player – and it shows – and it should therefore be expected that this will be a movie that remains extremely faithful to the source material. In terms of design, lore, and from opinions of those who too have dabbled in Warcraft in the past, it certainly satisfies such criteria. For once, we have a movie based on a popular game that is neither disrespectful of its source material nor paper-thin in terms of its delivery. Warcraft is both visually impressive and clearly made with much love – and for this reason I must state early on that I feel critical consensus has failed to look beyond the movie's merits on more than a technical level. However, it is still a movie with flaws.
Warcraft: The Beginning - Official Trailer (Legendary / Universal)
Warcraft's main problem is also its main triumph – its pacing. There is very little waiting around – from the very beginning, we are thrown into the world of Azeroth and its lore with little to no warning, and it is this that will sadly lead to much confusion from the audience. As such, the characters are mostly uninteresting for the first act or so, as it feels that they are merely available to fill roles. Certainly, the orc characters carry more resonance and personality throughout, which makes it difficult at times for the audience to connect or get engaged with any of the characters on the other side of the battlefield. This is also a movie that is heavy with exposition – which, if you have read our movie column regularly, you will know is a particular bugbear of mine – as it requires so much explanation and audience guidance that it has little opportunity to show us its full potential as opposed to telling us all about the lore. This, sadly, is part and parcel of adapting from such expansive lore and existing territory – and while grand exposition can be expected from fantasy movies in general (as, after all, they concern different worlds and laws to our own), Warcraft is a movie which holds its audience's hand a lot of the time, while still at times locking out anyone that has less than passing knowledge of the Warcraft universe. Certainly, this is its core problem – perhaps this is a movie concept that was never destined to appeal to a wider audience. Certainly, anyone that is uninitiated would likely find some of the dialogue and lore rather thick and fast – and I believe this is why so many critics have dubbed the movie as 'boring'.
However, I must protest this. Warcraft is by no means a boring movie, and certainly not just for fans of the world in which it is based. Warcraft is visually incredible, while making heavy use of CG, it does so to create vast, rugged landscapes, wisping, colourful magic and a colony of orcs that look genuinely fearsome. The battles provide genuine spectacle and it is clear that there has been considerable heart and soul poured into the design, the direction and the overall execution of the final product. Certainly, it is a movie that has clearly had care applied in its execution – and, for existing Warcraft fans, this is all that can be asked of it.
However, I am in agreement that this is a movie that is lacking in engaging characters mainly due to both the lack of a viewer avatar to ease audiences into the universe (e.g. Frodo for Lord of The Rings or Luke Skywalker for the original Star Wars trilogy), and due to the sheer break-neck pace at which it throws us into its universe. Certainly, I will agree that this is a movie that is likely to confuse and maybe even disinterest viewers that have less than a passing interest in Warcraft or the fantasy genre – but, this considered, perhaps such moviegoers will simply opt to avoid seeing it.
As it is doing well in cinemas and is picking up more general praise from the public, I believe it safe to conclude that for fans of the genre, Warcraft isn't perfect but is an entertaining enough ride, whereas those already steeped in WOW and associated games will likely find solace in how well the game world and lore has been reflected. On a whole, however – a number of storytelling flaws prevent the movie from ever reaching higher than its own station.