THE NICE GUYS
Dir: Shane Black
Starring Russell Crowe, Ryan Gosling, Angourie Rice, Margaret Qualley, Keith David, Beau Knapp, Kim Basinger





4.5 STARS (out of 5)
The problem with modern cinema – if you ask just about anyone – is that it's not original enough. People are getting their fair share of comic book movies, reboots of old franchises, cheap animated movies and lightweight rom-coms more so now than they perhaps ever have done. This therefore makes for the expectation that originality is largely missing from Hollywood in this day and age – but such speculation couldn't be further wrong. While audiences are happy and comfortable with familiar stories, samey characters and actors that everybody recognises, sometimes a movie comes along that takes you out of your comfort zone and changes the playing field a little. I hope, in the long run, that The Nice Guys – arguably the funniest script I have been witness to this year – receives the plaudits it deserves for being a beacon of truly original cinema in a darkness of adaptations and safe options.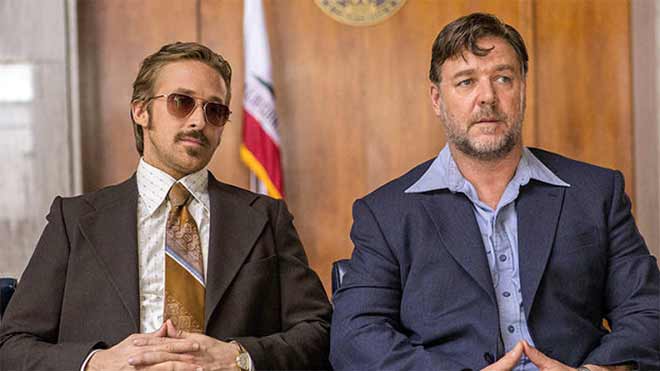 The Nice Guys revolves around a laid-back hitman (Crowe) and an inept private eye (Gosling) who find themselves looking for the same missing girl, and in the process find themselves involved in the seedy underbelly of local adult film production, local government and, of course, murder. The titular 'nice' guys aren't actually all that nice – but they get the job done and they do it with passion, despite the bizarre circumstances that they find each other in along the way. What transpires is a story that's dark, calamitous and ultimately rather surprising – with enough interesting twists to satisfy anyone keen on the mystery element of the picture.
Having seen the initial trailer for The Nice Guys some time ago, I wasn't blown away – and this is largely because it sold the movie to be a run-of-the-mill wacky comedy that focused on cheap humour. The reality is, however, that this is a movie that is not only joke-for-joke precise – there is incredible comic timing on display between the fantastic double act of Crowe and Gosling – but it also builds a genuinely intriguing story, creates genuinely interesting characters that have flaws, motivations, desires and needs, and an atmosphere that is so carefully placed in its time period that it doesn't interfere with the pacing or the story in the slightest. This is a perfect period piece in that it happens to take place in 1970s America – but despite the fashion, the cars and the excellent soundtrack, it's not shoved down your throat. This is because the movie doesn't need to fall back on the tone or setting as a gimmick.
The Nice Guys - Official Trailer (Warner Bros. Pictures)
Many critics have advised that the chemistry between the two leads sells the movie, and I'm more than inclined to agree. Crowe is a revelation as a comedic straight man who acts as the muscle that happens to kill and maim as part of his everyday routine, whereas Gosling shines as an alcoholic single father who just so happens to be a private eye – who, in every sense of the word, is incompetent, and hilariously so. Gosling's mannerisms and affectations alone had me laughing out loud – which I admit I rarely do in theaters – whereas Crowe's concerned and often deadpan timing acts as a welcome buffer and alternative source of comedy. The best analogy for the movie, perhaps, is a strange mix between The Big Lebowski and Se7en – the humour is quirky and accessible enough for it to appeal to a broad audience but the theme and tone of the picture create an intense and gritty atmosphere that is incredible to see unfold.
The cinematography is tight and the script moves at a blinding pace, continuously keeping you engaged. Jokes don't fill the entire movie – there's plenty of moments for intrigue, for pathos, for drama, for excitement – unlike many other comedies to have been released in the past few years, The Nice Guys is a genuine achievement in that it carefully tells a story and does so with so much joy and gusto despite its context that it is impossible not to be entertained.
The ensemble cast as well as the lead actors are fantastic. This is a movie that clearly everyone had a good time filming and it shows – and it is so original, so daring, and so refreshingly funny that it is impossible to place it in the same league as many other comedies on the bill this year. This is a movie that challenges, that entertains, that intrigues and that, frankly, outdoes itself. This is a movie that deserves a better trailer than it received, and has genuinely caught me off guard.
The Nice Guys is both original and captivating, never taking itself too seriously, and never letting down its guard. It remains solidly entertaining from start to finish, and I have no reservations in naming it my favourite movie of the year so far.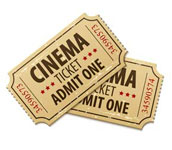 » See more of Graham's Movie Reviews