by 👨‍💻 Graham Pierrepoint


THE BOSS

Dir: Ben Falcone

Starring Melissa McCarthy, Kristen Bell, Peter Dinklage, Ella Anderson, Kathy Bates, Kristen Schaal, Michael McDonald, Cedric Yarbrough





2 STARS (out of 5)
Comedy is hard to get right when it comes to the movies. There's all manner of different genres, tastes to cater for, and the maze of getting comic timing and genuine talent all together in one place. Generally, certain types of comedy have done well over the years for appealing to a broad demographic. There was a period of time where gross-out comedies were big money at the box office. Movies such as 'American Pie' may not fare well today – and this is largely because tastes change. At around the time that 'parody' movies were becoming widely derided, the ideal for cinematic humour seemed to change a little. Comedic talent comes and goes, which can likely explain why this may have occurred – and Melissa McCarthy has been a fixture of US cinematic comedy for some time now to varying degrees of success. The Boss, it would seem, is an example of where we may well have seen this sort of comedy from her too many times before.
The Boss is the story of uber-rich self-made mogul Michelle Darnell, a no-holds barred CEO who takes business by the horns and makes a number of enemies while doing so. After being arrested and given jail time for insider trading, Darnell finds herself without her assets, her empire and any kind of support – apart from that of ex-PA Claire, who reluctantly opts to help the once mega-rich businesswoman get back on her feet again. What transpires is Darnell finding a lucrative opportunity in turning girl scouts and delicious brownies into a business – and from here, her unique brand of being 'the boss' sees her make triumphs and hit pitfalls alike.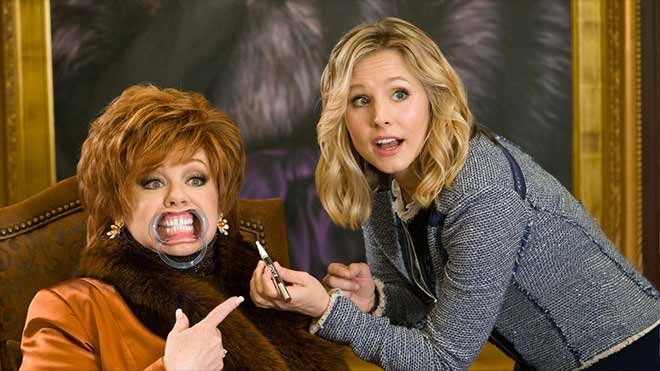 The Boss benefits hugely from having McCarthy as the central character – it's a movie that is centred almost entirely around this ego, this personality – what drives here, where she's going, etc. McCarthy has natural comic timing and rarely misses a beat in terms of delivery, and it's largely what's made her so bankable at the box office. However, The Boss suffers from a script that, while it sports occasional, genuine laughs – as a result of McCarthy's acidic delivery – is incredibly wishy-washy, failing to go anywhere interesting or to offer any particular challenges.
Interestingly, Darnell isn't an entirely hatable character. She is written with genuine motives and ideals and, while her backstory is given a roughshod two minutes ahead of the first scenes, she isn't entirely obnoxious. Certainly, she can be, and a number of scenes are downright mean-spirited – but Darnell is oddly charismatic, and again, this is more down to McCarthy than the script. Character development is sadly negligible – what you see is what you get, with clichés abound.
The jokes, on paper, are poor. There are no laughs here that couldn't be found elsewhere, and the plot is painstakingly predictable and unengaging. Some of the cast seem downright bored to be there – and while none of the acting talent could be considered poor, they certainly seem to be giving little in the faith that McCarthy would be offering a one-woman showcase. Inevitably, she almost does – but in another sense, we've seen loud, obnoxious and downright rude characters from McCarthy before, and this is yet another vehicle for her to exorcise this type of role. McCarthy was involved in the scriptwriting along with her husband and director Ben Falcone, which is somewhat disappointing – as it genuinely feels that there are gaps in the screenplay and entire jokes missing that Darnell could be bringing to the table.
There is also the matter of chemistry. McCarthy, as stated, is doing much of the work. The side characters are uninteresting, clichéd, or simply unmotivated. Kristen Bell sadly pales in this movie in a role which she really doesn't seem to inject much energy into – though, again, this may come as a result of McCarthy's character having too much of the centre stage. By this, I mean that all of the funny lines – and even the most interesting pieces of dialogue – fall to Darnell. Peter Dinklage doesn't fare brilliantly as the villain of the piece, again offering little character behind a set of lines and a sharp suit. Both Bell and Dinklage are extremely talented actors – meaning that I genuinely feel this was a script that simply didn't play to their strengths.
The Boss - Official Trailer (Universal Pictures)
All this being said, The Boss is not the trainwreck that some critics may have you believe. It's nicely paced, it's optimistic while remaining sardonic and even downright obnoxious at times, the central character is oddly likable, and there are a handful of genuine laughs. This, however, is where the problems lie. Taking a comedy movie like The Boss in 2016 - where films such as The Nice Guys can prove that genuine cast charisma, observational humour and comic timing can really make for comedy movies' return to the big time – feels a little bit cheap.
This is a script that would fare better on TV, in episodic formats, with effort put into genuine character charisma, unique plot ideas and jokes than can be given the time and space needed to breathe. The Boss is largely forgettable, and that's mainly because it's so uninspiring. It's an easy watch that will grab a laugh or two out of anyone willing to give it a chance, but on sheer predictability and a poorly-envisioned script alone, it's highly unlikely that this will be a movie any comedy fans will be talking about or flocking to the DVD release for at the end of 2016.