by 👨‍💻 Graham Pierrepoint


INDEPENDENCE DAY : RESURGENCE

Dir: Roland Emmerich

Starring Liam Hemsworth, Jeff Goldblum, Bill Pullman, Jessie Usher, Maika Monroe, William Fichtner, Sela Ward, Brent Spiner, Judd Hirsch





2 STARS (out of 5)
Many would argue that the original Independence Day had a lot to answer for – effectively revitalising the 'disaster' or 'event' movie, it spurred on a spate of copycat movies well into the late 90s and early 00s that could barely hold a candle to its inspiration. While cheesy, and arguably not what many people would call perfect cinema, it was still a movie that resonated with millions as genuine escapism and fun – and while the idea of aliens attacking Earth had been done to death a million times before and since, it is a movie that has remained a lynchpin of the genre for twenty years. Therefore, it's a wonder a sequel hadn't appeared sooner. Having seen the ensuing sequel, it's a wonder the effort was even made.
Independence Day : Resurgence picks up twenty years after the events of the original movie, with a new President in place, and with Earth primed and ready to take on any extra-terrestrial threats that may come its way thanks to pioneering technology and the use of far flung bases on other planetoids. However, as most of the returning cast come to learn – including Bill Pullman's ex-president Whitmore, and Goldblum's defence director and scientist Levinson – the alien menace that once threatened the Earth is coming back with a vengeance – along with a nasty queen of a particularly grim hive that they didn't manage to wipe out first time around. What ensues is an all-out campaign to stop the new menace – while Earth's forces learn that there are greater things at stake in the bargain.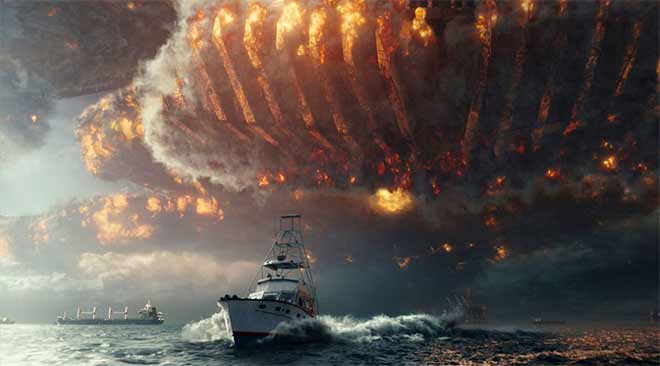 Visually, Resurgence works spectacularly. While it retains the wanton cheesiness and attempts to capitalise on the charm of the original movie, it does so with truly impressive CG and visual direction that will no doubt impress many on the lookout for an all-out visual feast and a thrill-ride in the bargain. That being said, the endless carnage and relentless pace may outstay their welcome for many viewers. Certainly, in comparison with London Has Fallen, these are visuals to write home about.
Unfortunately, Resurgence is very much a movie that works on two levels – nostalgia and visual appeal. Stripping away the CG and the fireworks reveals a movie that is, sadly, rather stale. While it benefits from a reasonably good cast and pacing that, on occasion, works to its credit, it's nowhere near the classic follow-up that it sorely wants to be. The pacing works to its detriment when we are moved from scene to scene in such hurry that it is often hard to keep up with who is who and why we should be caring about such characters, and the mission at stake. It's a script that feels rather hollow, and all the while predictable – this is a plot that has easily been written by any number of fan-fiction writers in the past twenty years, and as such it doesn't really bring much to the table.
Independence Day: Resurgence - Official Trailer (20th Century Fox)
The main problem of Resurgence is not so much its dependence upon clichés or its lack of focus, but how dated it feels. This could have worked to its advantage, and for some fleeting moments, it's genuine fun – but a battle between Earth and aliens is no longer particularly relevant in today's cinema, at least not in the manner that it is displayed here. While Star Wars may continue to grab viewers for its extensive lore and rich story world, Resurgence is straight-up sci-fi by the numbers, giving us characters and twists that we should care about, but never really seem to connect with. It's therefore my belief that this is because it feels like a 90s event movie – had this arrived three or four years after the original, it may have fared better. But since 1996, we have seen the sci-fi genre picked apart and re-crafted a number of times. We've seen ground-breaking features in District 9, new ways to horrify with Event Horizon, and even reboots and reworkings such as the Star Trek trilogy have taught us that new life can be breathed into a genre that has largely been mistreated by sloppy scripts and ideas. For every one of these movies, we have had to endure pictures such as Skyline and a barrage of Starship Troopers sequels that barely challenge us.
As a result, this is the bottom line – Resurgence is not a challenge, and while it tries to be fun and succeeds on occasion, it lacks both the focus and the heart of the original Independence Day, instead offering a hurried mess of a sequel that only really delivers in terms of cast – occasionally – and its visual aspects. Goldblum and Spiner stride back into their roles with ease, and as seasoned sci-fi mainstays, they are able to carry off a film of this ambition with gravitas and light humour. Unfortunately, it's a picture that is otherwise unremarkable. For moments of genuine spectacle and for an easy evening's viewing, it's harmless – but as a movie of depth, it misses the mark. Notably, it also sets up a sequel in the final minute – literally – which will likely leave a sour taste in viewers' mouths, as the movie literally becomes an exercise in 'building up to something bigger'. Many may come away thinking that they have simply seen the trailer to the third installment – and I really wouldn't blame them for thinking as much.