CENTRAL INTELLIGENCE
Dir: Rawson Marshall Thurber
Starring Kevin Hart, Dwayne Johnson, Amy Ryan, Danielle Nicolet, Aaron Paul, Megan Park, Ryan Hansen, Timothy John Smith





4 STARS (out of 5)
2016 is shaping up to be a year where cinema seems relatively happy to borrow from a number of genres and styles that haven't seen the life of day on screen for some time – with The Nice Guys having single-handedly revived my interest in cinematic comedy and the buddy adventure (both Planes, Trains and Automobiles and The Blues Brothers rank highly on my all-time list), I was very happy to give Central Intelligence the benefit of the doubt. Thankfully, I'm glad I did. While there have been attempts to recreate 'dynamic duos' in recent years thanks to movies such as The Heat and the Ride Along movies, they have done little to inspire audiences thanks to a lack of originality – and while Central Intelligence has its flaws in this area, it plays so well to its strengths it'll have you smiling throughout without even caring.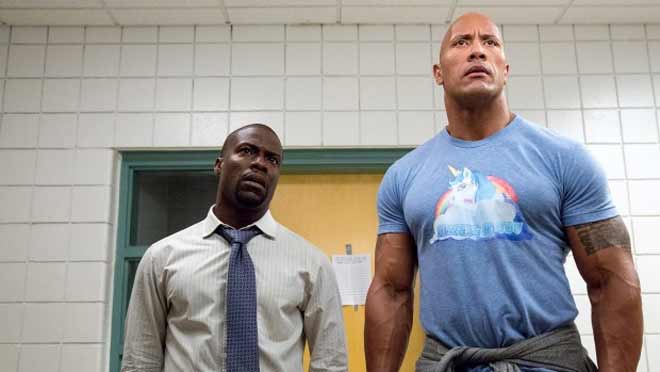 Calvin (Hart) is an accountant who's worried about his lot in life – struggling with marriage to his high school sweetheart and not living up to his high school accolades, he finds himself the 'most likely to succeed' failing to make it big in the world. He's frustrated and disillusioned – and with a high school reunion coming up, it's unlikely he'll attend. That is, until an acquaintance from the old days returns to his life in explosive fashion – Bob (Johnson), who has evolved from an overweight butt of bullying and pranks in high school into an amiable but altogether reckless hard-man who genuinely looks up to Calvin for having offered him some dignity during his most embarrassing hour. Calvin finds that he may soon live to regret this, as he finds himself dragged into a shady set of circumstances whereby tangles with the CIA, shoot-outs with the law and general mayhem occur thick and fast.
As a plot, it's rather predictable. If anything, it's lack of originality that lets Central Intelligence down – much like other 'buddy' movies that have cropped up on the big screen in recent years. There's nothing particularly new or challenging here – but, despite this being the case – and this is an element that could work to the absolute detriment of a lesser movie – Kevin Hart and Dwayne Johnson offer incredible chemistry. Following Ryan Gosling and Russell Crowe in The Nice Guys, this is a fun, energised and talented duo that both seem to know how to make the most out of their script while genuinely seeming to enjoy doing so. If the bloopers are anything to go by, this certainly seems to be the case.
Hart really plays against type as a tightly-wound office worker who regrets not monopolising on his glory days – while Johnson muscles his way in, quite literally, as the happy-go-lucky, extremely capable but ultimately rather risk-happy comic foil – providing his partner with the bizarre situations and dramatic events that he has to stumble through one scene at a time. It's a partnership that is forged from some form of casting genius – Hart's comic timing in his reactions and his frank, almost biting assessment of the situations he finds himself in are incredibly funny, while Johnson plays the role of spontaneous action man without a filter or a care with complete ease. It's a role he plays so well, having made his mark playing big, confident and ultimately extremely likeable characters across a variety of movies and during his time as part of World Wrestling Entertainment. I'd go so far as to call him one of my favourite comic actors of the moment, and it is his presence alone that has me intrigued for the movie reboot of Baywatch that is due to hit cinemas next year.
Central Intelligence - Official Trailer (Zero Media)
Ultimately, there isn't really much left to draw upon – while it's a story that tries to throw you a curveball or a twist here or there, you'll certainly see them coming – and the clichés and nuances on display here are absolutely nothing new. The pacing is great, it rarely dawdles and is therefore a joy to sit back and enjoy – and that is ultimately the level at which it should be appreciated. Some movies this year, such as Hardcore Henry and The Conjuring 2, have simply been made to maximise enjoyment as opposed to attempt to create masterpieces – owing genre savviness to their relative successes. You can safely add Central Intelligence to the pile – when it wants to be funny, it certainly is – and while you may think this is hardly worth commenting on, it's amazing to see so many would-be comedy movies fail to hit the marks that they try so hard to hit. Movies such as The Boss and Pride and Prejudice and Zombies that have been released this year have failed to offer little to audiences other than cursory smiles – and in the latter, barely those.
Central Intelligence is only as good as its two main leads – and as leads go, they carry this movie on their backs. The ensemble cast is also surprisingly characterful and witty, while you really can't take much screen time away from Hart and Johnson. It's a movie that I feel has been let down by below-average marketing and a script which doesn't really do anything new or surprising – but the laughs are big, they're frequent, and it's a movie that thinks about dragging on but thankfully never does. Will a crossover between Hart and Johnson of Central Intelligence and Crowe and Gosling of The Nice Guys come to pass? If it could, it certainly should – and I would be booking my ticket as early as I possibly can. More please!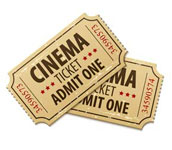 » See more of Graham's Movie Reviews