by 👨‍💻 Graham Pierrepoint


THE LEGEND OF TARZAN

Dir: David Yates

Starring Alexander Skarsgard, Samuel L Jackson, Margot Robbie, Christoph Waltz, Djimon Hounsou, Jim Broadbent





2 STARS (out of 5)
Some stories find themselves retold again and again – some of them enduring, some of them grating – and while the tales of Tarzan have been handled well in the past, particularly in Disney's 1999 animated adaptation, the story of the man raised by apes appears to have caused some film-makers with a genuine struggle. How do you give an original slant to a story that's been told a thousand times before? This is sadly the plight of many movies going into remake or reboot territory, and on this occasion, there's much to be said for what could have been achieved.
The Legend of Tarzan sees the eponymous Tarzan now living as Lord Greystoke in London with his wife, Jane Porter. It's been ten years since he first left Africa, and as result, he's become quite enamored with living in British society. However, he soon finds himself returning to his homeland upon the invitation of King Leopold, after being convinced by a US envoy to do so to investigate unrest in the Congo. Little does Tarzan know, however, that Leon Rom – a Belgian envoy in the Congo looking to claim a particularly fabled set of diamonds – has been offered a deal – a deal which involves trading Tarzan over to an adversary from the Ape King's past. What transpires is a battle between Tarzan and his enemies of old to save his wife and put paid to old rivalries for good.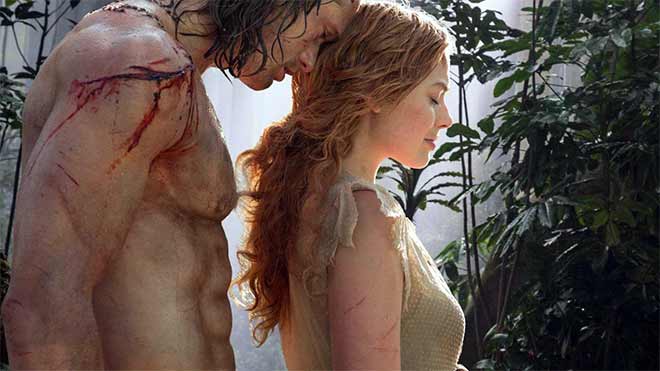 The first problem with Legend of Tarzan is, as discussed, it is a story that has been told multiple times from multiple directions in myriad different ways. Of course, this is no bad thing, as it remains a classic story and one that will likely resurface again in future. However, the manner in which the story has been handled here is rather plodding and uninspired – it's nothing that we haven't seen in some form or other before – while we may not know the new story being played out to us on screen, the interwoven flashbacks which give us a backstory to Tarzan are scripted and shot in ways that we can entirely predict. The direction from David Yates is well put-together and planned, however, it is ultimately a very 'safe' movie. A good spin on Tarzan's story in today's climate should be one that offers something so new, so unexpected, that it creates new memories along with the old. This adaptation, unfortunately, offers little challenge or motivation for audiences.
The action scenes and acting in general is expectedly good – but nowhere near as memorable as they could be coupled with a little more originality. Skarsgard is sadly a little too wooden in places, offering a fairly cut-and-dried Tarzan that has, admittedly, grown used to British society but who offers little character outside of basic motivation. Margot Robbie suits the role of Jane well and gives the main relationship the boost of character it needs. Jackson is, as standard, superb, injecting energy and enthusiasm in almost every scene – it is again part of his enduring charm as a screen actor. Waltz, similarly, while riding on the coat-tails of his marvelously evil turns in Inglorious Basterds and Spectre, provides a sneering, calculative and creepy villain almost effortlessly. Waltz in particular is a superb character actor who we have much more to see from – and regardless of the movie or the motivation, almost every performance he turns in is worth watching.
The Legend of Tarzan - Official Trailer (Warner Bros. Pictures)
Certainly, there is little to keep this movie running at pace apart from the cast and the direction from Yates, who was responsible for some of Harry Potter's darker moments – but it's ultimately let down by a plodding, un-engaging script and pacing that will leave you wondering how much is left to run. Well-intentioned though it might be, there is very little here to be considered consistently entertaining – while on paper it ticks most of the boxes, it is its lackluster execution and lack of originality that ultimately prevents it from being the best adaptation it could be. Its somber moments are delivered carefully, and its cinematography is consistently up to scratch – but there is just something lacking in this movie that prevents it from being the memorable retelling of Tarzan that it so desperately wants to be.
This being said, how does one remake Tarzan? How would one take to breathing new life into the stories? While Yates' movie has attempted to do so with gusto – and there is an immense amount of effort on display here – it is sadly poorly-realized and simply not as entertaining as it could have been. For anyone interested in the original story, or in a harmless action adventure, it's worth a watch – but it's certainly not worthy of the plaudits that it could have had heading in its direction.