by 👨‍💻 Graham Pierrepoint


THE BFG

Dir: Steven Spielberg

Starring Mark Rylance, Ruby Barnhill, Jemaine Clement, Penelope Wilton, Bill Hader, Rebecca Hall, Rafe Spall





2.5 STARS (out of 5)
To many, it's a match made in heaven – Roald Dahl wrote some of the most beloved children's literature of the past fifty years, and Steven Spielberg is responsible for directing some of the most enchanting and memorable family cinema over the past forty – meaning that the latter's take on some of the late Dahl's best-known and loved work was always expected to have plenty riding on it. The BFG has seen an animated adaptation once before on British TV on behalf of studio Cosgrove Hall, who were famously known for bringing iconic animated series Danger Mouse to TV in the 1980s – and it is clear that this adaptation is attempting to capture the same imagination and whimsy of both the cartoon and Dahl's book.
Dahl is said to have given a standing applause upon seeing the 1989 cartoon for the first time – would he have said the same for this Hollywood adaptation? As someone who greatly disliked Willy Wonka and The Chocolate Factory – the movie rendition of his Charlie and The Chocolate Factory – it is hard to say just how the author would find the 2016 re-imagining, as it is successful in some areas but distinctly lacking in others.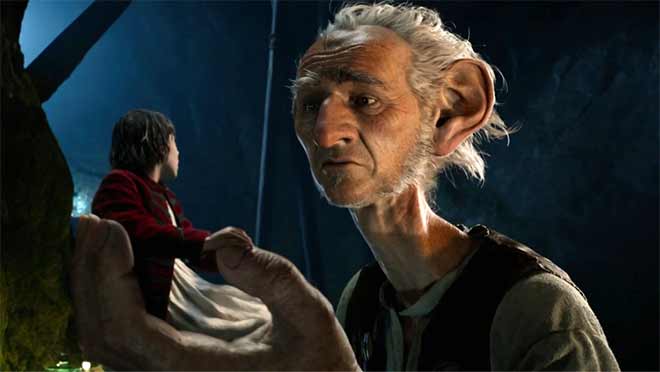 The story is altogether rather simple – Sophie, an orphan in London, accidentally spots a lone giant wandering the city streets in the middle of the night – and finds herself captured by the goliath, who takes her all the way to his den in 'Giant Country'. It transpires that, unlike other giants in the vicinity, he is actually a lot smaller (he's seen as the runt), and opts not to eat humans – choosing instead to keep Sophie safe and to show her his unique job, which involves capturing wild dreams and transmitting them to sleeping humans. However, the tour is cut short as the bullying, bigger giants catch wind of a 'human bean' in the vicinity – forcing the BFG (or, Big Friendly Giant) and Sophie to concoct a plan to rid the dream workshop from the threat of giants for good.
This is a movie that has all the hallmarks of a Spielberg direction – it's rich with whimsy and childlike wonder, and the director always seems to hit the nail on the head in this department. Certainly, this is mainly what The BFG has going for it. It's visually very impressive, blending CG and live action seamlessly while offering a colourful and fantastical environment and lore that many children may well lap up with ease. It's certainly easy to get lost in the visuals and the sheer whimsy of it all – and the casting is generally ideal for Dahl's novel.
The BFG's unique dialect is classic Dahl and is communicated well from the source material. This is therefore going to be a comfort to many fans of the author's library, as despite this being a big-budget re-imagining, it retains much of his style, his nuances and his intentions. Certainly, if anything, it's a movie which takes its time, not over-stuffed with jokes or action or unnecessary plot tangents. In this sense, it is a perfectly watchable movie if you are aiming to take the family out for harmless fun. Certainly, some of the original novel's darker nuances have been avoided entirely, in my opinion for the better.
Unfortunately, it is the pacing and the amount of content that ultimately provide its inability to reach more than simply a somewhat enjoyable family movie. It never really quite pushes itself anywhere or offers much intrigue due to it over-stretching the plot to a run time of around two hours. This is likely to be far too long for many children – particularly younger ones who are likely to get the most out of the fantastic visuals and whimsy – and it is certainly far too long for the story at hand. This is a movie that fixates upon showing you the wonder of everything, it's very visual and is as a result rather lightweight, which is a great shame – and its pacing is often so sluggish that it fails to inspire fixated attention. This may well be a problem it faces when engaging with younger audiences.
The BFG - Official Trailer (Disney)
The BFG is a movie that perhaps should have been attempted a handful of years ago – children are spoilt with a current cinematic climate of fast jokes, loud characters and involve plots – not necessarily a good thing. This, however, is a movie that has a lot of heart and earnest intentions, but never really seems to do much with them. It's sadly rather lacklustre, and at the same time fairly unmemorable barring the two main cast members and a handful of visuals. It suffers hugely from a wasteland of a runtime which could have benefited from additional twists to the tale, or could have benefited from being slashed to around 90 minutes.
Spielberg certainly hasn't lost his touch and while many will find The BFG to be a pleasant enough diversion for a family outing to the cinema, it will struggle to go down in cinema history as a movie that changes much of what we've already seen before. It's perfectly harmless viewing, but there is also a risk that you may find it rather plodding – particularly in the last two acts. Die-hard fans of Dahl and Spielberg, however, may well go away feeling particularly satisfied despite its flaws.