MOVIE REVIEW: Star Trek Beyond

Tuesday, 23 August 2016
by 👨‍💻 Graham Pierrepoint


STAR TREK BEYOND

Dir: Justin Lin

Starring Chris Pine, Zachary Quinto, Karl Urban, Zoe Saldana, Simon Pegg, John Cho, Anton Yelchin, Idris Elba, Sofia Boutella





2.5 STARS (out of 5)
Some franchises may come and go, but Star Trek is a pioneering sci-fi staple that truly has withstood the tests of time – and changing tastes and technology. While there may have been scores of TV episodes across numerous teams within the Federation over the years, the original Enterprise crew, headed by Captain James T Kirk, is the one which remains so vivid in our minds. While the original idea of rebooting the original Star Trek team on the big screen was met with concern some years ago, the franchise has taken off again in a big way, creating continued interest in the brand and in the universe in which it operates. Star Trek Beyond is the third movie in the reboot's canon, and while it still benefits from a fantastic cast, visual direction and score, its story needed some serious work before making it to cinemas.
This time around, the crew of the USS Enterprise find themselves allied to a relatively unknown cause, only to be ambushed and cast asunder into a harsh new environment – split up, without their ship and without means of contacting Earth, Kirk, Spock and the crew now have to focus upon surviving if they want to get to the end of their five-year mission – and the ambushers have far greater, more sinister plans on the backburner than previously imagined.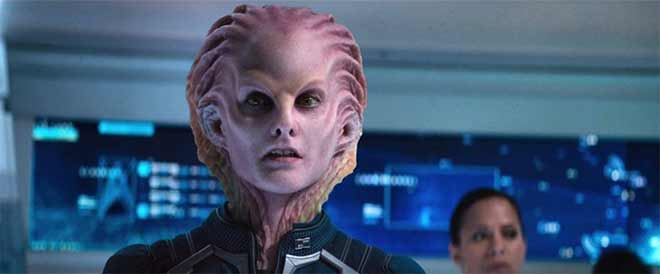 Star Trek Beyond is, on a visual level, spectacular – there are some truly great-looking scenes here that help to sell the grand stage on which the hapless crew are set, and the technology used both compliments Star Trek of old while remaining relevant to a modern audience. The score, and the grandiosity of the movie, should not be undermined – while it is not as original as many may have hoped, it helps to sell the action and the repercussions of events unfolding on-screen. Very much in the vein of Star Wars, when there is plenty happening and you need to know about it, you will know about it – and will likely remember it all the same.
The cast of the previous two movies return just as able and well-suited as before, growing into their roles even further as the crew are thrown into new and more complex dilemmas. Idris Elba – perhaps Hollywood's most-employed villain this year – offers genuine, brooding menace as a new villain to add to the roster. It should be noted that Star Trek Beyond was Anton Yelchin's final movie, making his appearance as Chekov here to be his tragic swansong – the actor was killed in an accident at his home at the age of 27.
Star Trek Beyond - Official Trailer (Paramount Pictures International)
Star Trek Beyond tries hard and mainly succeeds at honouring its roots and its original creations and themes, but at the same time borrows too much from other current movies and sci-fi mainstays to be considered particularly noteworthy. While the story is well-realised, has a clear narrative and shows some focus, there is little in the way of originality here for it to be considered a truly remarkable addition to either the franchise or to the sci-fi genre in general. Simply put, while as a film it offers a welcome diversion and will likely appeal to many fans of the characters and of sci-fi alike, I found it difficult to grow as invested in the movie as much as other critics may have advised.
It is the lack of anything particularly new or challenging in the story and narrative that unfortunately downplay its effectiveness – it looks great, it's well-acted and has plenty of twists, focus and charm in spades – but it feels rather hollow all the same. Bizarrely, Star Trek Beyond is a very well-made movie that should be more amazing and more convincing than the sum of its parts conveys – but not all movies are as superb on film as they are on paper.
Anyone searching for sci-fi action will not be disappointed – certainly, in comparison with earlier summer blockbuster Independence Day : Resurgence, this is a movie that knows how to play to its genre and play to it well. However, this doesn't excuse a plot and storyline largely comprised of clichés and themes that fail to create anything more than occasionally compelling. Certainly, this is a movie that offers a certain amount of fatigue as it burns on into its final act, which is a shame considering the effort and talent on display. There is just something lacking from Star Trek Beyond that fails to enable it to engage on more than just a base level – there are moments of high action and thrills, but there were also moments of tedium and shortened longevity that made me, and potentially others, hope for a shorter runtime. Certainly, this may have benefited the movie on a whole – as everything else here is conspicuously well-crafted.
Is Star Trek Beyond worth the price of admission? Fans of the franchise may be divided – but as a piece of general sci-fi escapism that is well-made enough to capture attention for the majority of its run-time, it's certainly worth a look – it's just nowhere near as much to write home about as certain critics may be advertising.