MOVIE REVIEW: Nine Lives

Tuesday, 6 September 2016
by 👨‍💻 Graham Pierrepoint


NINE LIVES

Dir: Barry Sonnenfeld

Starring Kevin Spacey, Christopher Walken, Jennifer Garner, Malina Weissman, Teddy Sears, Talitha Bateman





0.5 STARS (out of 5)
Every once in a while, a movie concept arrives that really jumps out at you – for a variety of different reasons. 2016 has been a fantastic year for movies on one hand, but on the other, pictures such as Gods of Egypt and Norm of the North made it to global distribution. A challenger to the throne of possibly the most bizarre movie of 2016 comes in the form of a script that wouldn't sound amiss on the back of a bargain bin VHS from twenty years ago – and, as the vast majority of critics elsewhere have discovered, may do well being buried in the bottom of the DVD pile once it makes it to home release.
Tom Brand is an egotistical firebrand businessman and billionaire who finds himself struggling to buy a last-minute birthday present for his daughter – his family life is particularly strained, but little does he know that he's about to appreciate all he has in ways that he had never before imagined. Brand buys a cat from pet store owner Christopher Walken, only to find himself become that very moggy after suffering an accident – forcing him to see life through a cat's eyes, and to be forced to appreciate his family or face life as a domesticated animal for the rest of his days.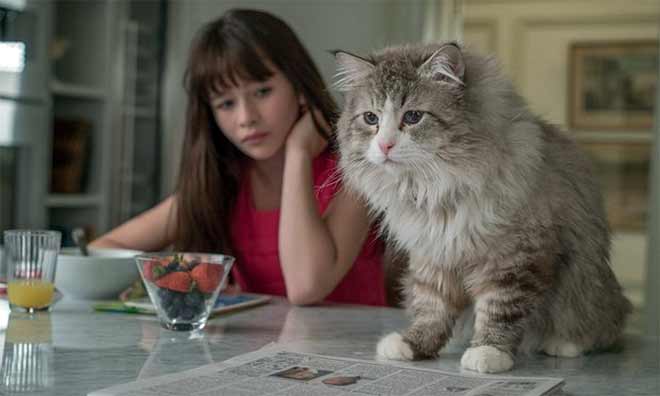 This movie posed me a first in that I genuinely struggled to summarise the plotline. While family comedies featuring body-swaps and cute animal fun may have been all the rage back in the mid-90s – and maybe even a few years ago on certain TV channels – Nine Lives is an absolute anomaly of cinema in that it was produced, financed and released on the big screen worldwide in 2016. In the same year where Pixar redefined animated entertainment once again with Finding Dory, Nine Lives exists. This is the key point that I can't stress enough – it is wholly bizarre that this movie even exists. It boasts a cast of Kevin Spacey, Jennifer Garner and the ever-ready Christopher Walken – a movie about a man who gets teleported into the mind of a cat – and it still manages to fumble around for its runtime without ever doing much that entertains or even intrigues. Nine Lives is a movie we've all seen before – we've seen Michael Keaton become a snowman. We've seen both versions of Freaky Friday. What is there that's new about Nine Lives? It's still a mystery to me.
For a family comedy, Nine Lives is astonishingly devoid of genuine laughs and muddles along a clumsy script that struggles even to aid the already bizarre plot. Bizarre plots are all well and good – but Nine Lives is a very special case – and this is a movie that largely relies upon our love for cats and the memes that come with them – disregarding that the 'caturday' and 'I can has Cheezburger' jokes of yesterday have long since been fallen from popularity. Therefore, it's genuinely hard to see where this movie's appeal lies.
The cast is as the cast does – they do their jobs, but they really have very little work with – and we are presented with an idea that has been trodden through so many times and has been rolled out on so many occasions that even younger viewers would find it easy to write the script themselves. The plot and premise are astonishingly lazy and laboured – with many jokes misfiring and several lines feeling forced and half-written. Certainly, under different direction, or with a twist or two in the tale that made it stand out from myriad other funny animal movies, Nine Lives could have worked. Kevin Spacey is incredibly talented – making his decision to voice the lead character of 'Mr. Fuzzypants' even more baffling.
Nine Lives - Official Trailer (Lionsgate)
It is extremely hard to critique Nine Lives because its concept, and its very existence, are so baffling – it earnestly tries to be a family film that encourages laughs and plot twists here and there but it is so keen to rest on its laurels and to offer the absolute minimum that it's difficult to appreciate just how it was ever seen as viable entertainment. It's likely that very young children who are new to movies may get a chuckle or two from this, but anyone old enough to know better are very likely to be bored. As a composition, it's a film, it's structurally complete, but it's set both I and apparently 90% of critics on Rotten Tomatoes agog.
Nine Lives looks set to be a movie that may be pulled out on 'bad movie night' – but rather than be 'so bad it's good', it meanders around the 'so bad it's inconceivable' mark, never really punching above its weight – it's a film that you need to see purely for its sheer audacity – and then never see again. Families will do better seeing a movie that credits their intelligence a little more – and anyone choosing to spend $10 on Nine Lives over Pete's Dragon had better have legitimate medical reasons for doing so.
You Might Like
Related news from verified sources
MOVIE REVIEW: Nerve
by Graham Pierrepoint - NERVE IMDb Dir: Henry Joost and Ariel Schulman Starring Emma Roberts, Dave Franco, Juliette Lewis, Emily Meade, Samira Wiley, Kimiko...
One News Page Staff
Tweets about this
•More original news reports from One News Page