MOVIE REVIEW: Nerve

Wednesday, 7 September 2016
by 👨‍💻 Graham Pierrepoint


NERVE

Dir: Henry Joost and Ariel Schulman

Starring Emma Roberts, Dave Franco, Juliette Lewis, Emily Meade, Samira Wiley, Kimiko Glen, Miles Heizer





2.5 STARS (out of 5)
Some movies are written, produced and released at exactly the right time – and while some films such as Nine Lives are released years or even decades after they appear to be relevant, there are occasional glimpses of hope in original screenplays that challenge viewer perception and tell stories that are genuinely new. If anything can be said about Nerve, it's that it's certainly original – and rather fitting in today's climate – and while the sum of its parts don't essentially make for an instant classic, there is enough to get excited about and to be entertained by, even if it does lose itself during its own proceedings.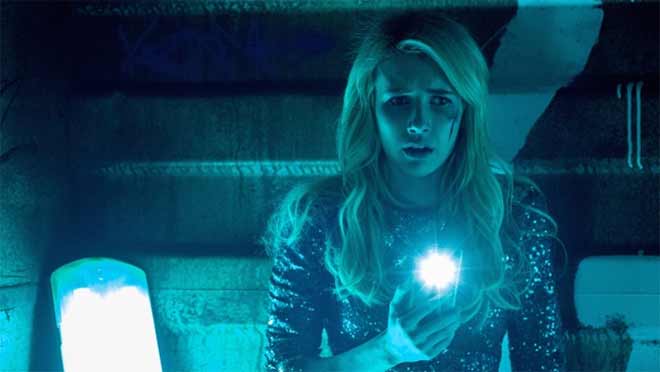 Vee (Roberts) is a high school student in a parallel universe to ours, in which social media games have evolved to a whole new level – as Vee is encouraged to take part in one such game, known as Nerve, she find herself sucked into a world full of dangerous risks and improbable stakes, partnered with a complete stranger and entangled in a virtual mess of social media and gaming taken to the extreme. Nerve is a game where young people challenge each other to high stakes truth-or-dares which involve physical and psychological stunts – and while they are above and beyond what we currently know and experience in our own internet climate, the morals the movie weaves are rather prescient.
Critics generally hit the nail on the head with Nerve – it's fast-paced, fun and relatively easy to follow initially, and while it may be appealing to only a select audience, it does well to harness both a narrative and genuine drama in a world that grows increasingly maddening and bizarre as the movie progresses. There's genuine chemistry in the cast, and as a pastiche of modern culture, social media and the way in which we use the internet, it's nightmarish but not too far away from what could potentially grow into the future of online interaction – which, essentially, is the biggest scare of the film. Essentially, this is possibly the worst movie that any concerned parents of teenagers will likely want to see as we come into September.
Directors Joost and Schulman are responsible for the hit movie and later MTV series Catfish, which focuses on online dating frauds and the drama unfolding therein – meaning that they have reasonable enough experience to warrant helming a movie and a script that's based around the pitfalls of 'going too far online'. For some, the movie's messages may be too cloying and too obvious, but they are messages that are relevant and that need to be told. In addition to this, in any other hands, this could be a movie that failed to connect with its core audience – but under the Catfish duo, it's a picture that never once panders nor struggles to depict young people and how they interact with each other. In this sense, it's realism that wins the day – it's dystopian enough to be fantasy, but relevant enough to hit close to home.
In terms of where the movie heads, it struggles a little into the final act as its relentless pace trip matters up a tad – heading to a suitable climax that, once again, sends forth messages. Nerve is by no means ground-breaking cinema but neither is it a bore – it's perfectly entertaining and it's likely that you will get out just as much as you put in. If the concept alone intrigues you, it's highly likely you'll be entertained – but if the concept alone annoys you, on the other hand, it may be best to stay away.
Nerve - Official Trailer (Lionsgate)
Nerve is, however, fairly rare in cinema in that it manages to be both original and relevant – and while not ground-breaking or particularly noteworthy beyond the topics it tackles and the chemistry between characters – at times, these feel like genuine teens – it's hard to deny that the ride to the finish is anything bar interesting at the very least. This isn't a world that you really want to be part of, but you can't turn away – the directors have tapped into what makes young people tick and have moulded a movie that gives important messages out in a way that avoids being moral panic. Nerve is likely to be enjoyable for its core audience, making it rather niche in one regard, but at the same time it remains a spectacle – and in 2016, it's refreshing to have spectacles that are at least a little bit original.
If you're looking for a teen drama that is relevant and doesn't hammer home moral panic or draw too heavily from tried and tested formulas, Nerve is certainly worth a look purely for the thrill of the ride – whether or not you buy its core messages or warnings and log into Facebook to air your opinions directly after seeing it.