MOVIE REVIEW: Lights Out

Wednesday, 14 September 2016
by 👨‍💻 Graham Pierrepoint


LIGHTS OUT

Dir: David F. Sandberg

Starring Teresa Palmer, Gabriel Bateman, Alexander DiPersia, Billy Burke, Maria Bello





3.5 STARS (out of 5)
The horror genre seems to be coming back into its own in recent months, with a fantastic reception to The Conjuring 2 earlier this year – and while it's likely we won't be seeing the bulk of the scary or gory movies that 2016 has to offer until later in the year when Halloween rolls around, the opportunity to see a good old-fashioned scarefest among big summer blockbusters is still somewhat appealing. Lights Out has largely been one of the summer's sleeper hits, connecting well with audiences and garnering enough critical appeal for it to stand proudly on its own two feet. As it goes, it's a movie that for all its predictability and cliché, does its premise proud – and, further to this, it is genuinely chilling, and not in a way expected of modern horror cinema.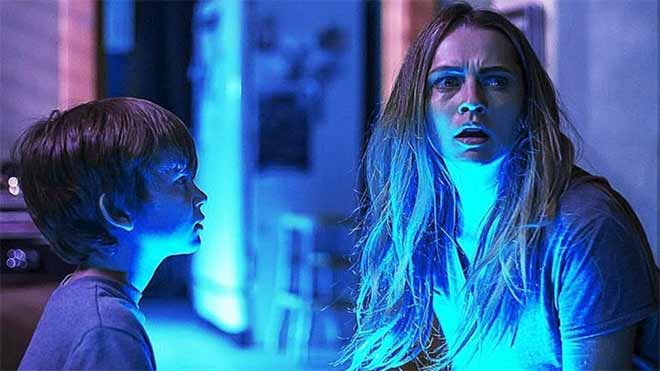 Lights Out tells the story of Rebecca and her brother Martin, who find themselves terrorised by a mysterious entity years after having been traumatised during childhood. This entity, however, seems only to live in the darkness – meaning that whenever the lights go out, she appears – and as it seems that the spectre is communicating with the siblings' mother, there are a number of secrets and twists in their pasts that will come tumbling out before the mysterious and terrifying Diana is dispatched for good.
It's a great premise – the movie sells on its concept alone, a monster that waits until dark to spring an attack – giving a fantastic spin on the things we take for granted, such as light and darkness, making them seem altogether scarier. It's a move that works well for the most part, as instead of relying upon flashy CG or gore, Lights Out is a bare-bones horror movie that really attempts to tap into our primal fears – and this is genuinely what most horror fans are looking for. James Wan, who previously struck cinematic oil earlier this year with The Conjuring 2, was involved in the production of the movie – which itself was based on a three-minute short. It's easy to see exactly how Lights Out would work as a short, particularly as it's a concept that can be watered down easily. However, the feature length movie does well to flesh out backstory and add in twists here and there, even if some moments truly are a little too expositional. But is this not par for the course?
The cast are able and offer likable, tormented victims of the mysterious Diana, offering characters with whom the audience can identify easily. This is often a hard facet to get right in horror movie making – while many are happy to stick to tropes and genre stereotypes, all we ever want to see are scared, normal people. With a few odd backstory tangents thrown in for mythology's sake, we pretty much get this here. If you're the sort of person that isn't overly keen on wandering into the dark, needless to say this isn't the best film for you!
Lights Out - Official Trailer (Warner Bros. Pictures)
Lights Out has its problems – and it's problems that befall many movies in the horror genre – in that it plays too safely by horror standards and expectations. It's fantastic that it's such a diversion back to traditional scare tactics – one has to wonder how much involvement the apparent master Wan had behind the scenes – but, again, as with Conjuring 2, it doesn't do much to challenge the genre. However, that's not necessarily its purpose.
As pure horror escapism, what you see (or not!) is absolutely what you get – and with a focus on minimalistic scares and jumps, it's very easy to inspire an audience into being more than a little fearful. Fearing the darkness is all about fearing the unknown – and while there are certainly allegories here relating to mental illness, this is a movie that can be enjoyed on its own merits without having to worry too deeply about any concepts or conceits. Much like Conjuring 2, Lights Out is a strictly traditional horror movie that plays to its strengths in that it is incredibly original in one sense, if not completely safe propped up against genre stereotyping in another. Does this make for a bad movie? It certainly does not.
Lights Out is, on a base level, very enjoyable – it may not be challenging cinema in 2016, but what it sets out to do, it does well. There is genuine creativity and talent on show here and with an entertaining plot, twists and scares, there is absolutely more than enough here for fans of the genre to warrant having a closer look. Is it on par with Conjuring 2? I'd certainly say so – and if there were to be no other horror movies to come out this year, I'd be happy with the representation the genre has had so far. However, with Halloween just around the corner, we may have to brace ourselves for a bevy of pictures that fall more on The Forest side of quality in horror-making.