MOVIE REVIEW: Imperium

Tuesday, 20 September 2016
by 👨‍💻 Graham Pierrepoint


IMPERIUM

Dir: Daniel Ragussis

Starring Daniel Radcliffe, Toni Collette, Tracy Letts, Sam Trammell, Nestor Carbonell, Chris Sullivan, Devin Druid





4 STARS (out of 5)
Movies that handle real-life issues often try to hit home harder than they can normally handle – after all, it is only the brilliant few that can really connect with an audience. 'True stories' have built up a reputation over the years, and while they often provide entertainment in the form of simple escapism, few are able to deliver more than a couple of hours of fantasy. Some movies, such as Eddie The Eagle, work such a premise to its advantage, helping audiences feel or appreciate something they weren't initially expecting. Others, such as Imperium, offer similar experiences – but instead create realistic, palpable tension that provide genuine curiosity and entertainment. For the most part, this is a movie that is captivating viewing.
Daniel Radcliffe is Nate Foster, an FBI agent plucked by Angela Zamparo (Toni Colette) to infiltrate a ring of white supremacists in order to recover information on a supposed plan terror attack – allegedly masterminded by cult radio host Dallas Wolf. Foster finds himself going in deeper than he ever imagined, taking on the persona and history of a passionate white supremacist who finds himself integrated into the bosom of people who believe in the 'white cause' – forcing the agent to make decisions that go against his character as he drives deeper into hidden secrets and agendas alike.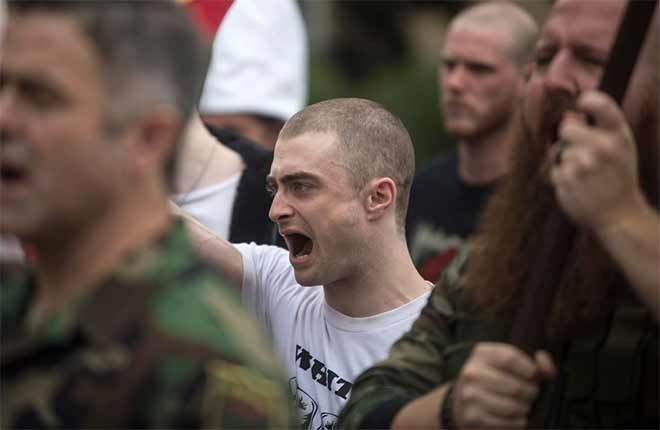 Imperium is incredibly well-cast and Radcliffe is certainly put through his paces by acting while acting – and this is a role that really plays to his strengths as an actor. He has always demonstrated a versatility that has allowed him to stretch beyond Harry Potter and play main roles in Horns, Now You See Me 2 and Swiss Army Man – and here, he plays the cautious but morally aware FBI agent with an underlying sense of quiet fear, which helps us connect to the character as he drifts further and further into dangerous territory.
The movie does incredible work in showing us exactly what so many people fear – that normal, seemingly nice people can hold dangerous views, needs and wants – and Foster finds it particularly difficult not to like some of the people he ends up connecting with during his time undercover. This is a story that identifies exactly what happens to an undercover agent if they get too involved – and while the tale could have gone in a completely different direction, for the most part it is perfectly paced and tense enough to successfully drive home its points.
Imperium - Official Trailer (Lionsgate)
For many people, Imperium may be too murky, or too tense altogether – the issues here are, sadly, perfectly real, and are handled with willing sensitivity but are not wrapped up in cotton wool – morbid curiosity will propel you to be interested in Foster's descent into the world of white supremacy, and as the plot continues, the suspense ramps up – yet, sadly, it only does this up to a certain point. The main criticism that I can throw at Imperium lies in its final 45 minutes, during which the end of the story winds down in a fashion that betrays the intense amount of tension and drama that had been built up earlier in the story. While there are certainly moments of drama left in the final acts, and while the ending is, on paper, rather satisfying, it remains to be said that the final act tapers away from potential high drama that could have been ramped up even further. Without spoiling any plot details, I defy anyone opting to watch this movie to not notice the drop-off in dramatic potential nearing the end of the run-time.
All things considered, and while Imperium may not be to everyone's taste, it deserves to be on the same pedestal as Spotlight in the tense manner in which it handles its particularly contentious subject matter. There is a morbid curiosity cultivated by these movies that are only given the time of day thanks to superb cast performances, addictive pacing and varied plots. While Imperium may not necessarily go down in history as an all-time great of the genre as a result of missed opportunities, it is nothing short of a superb movie that really achieves what it sets out to do – and anyone looking for a tense, realistic thriller can do no wrong by taking advantage of seeing this picture at the box office right now. I must also state that it is another triumph for Daniel Radcliffe, who is fast becoming one of my favourite actors on the big screen right now – and it has me all the more excited to see his performance in the experimental Swiss Army Man. Certainly, if you are looking for versatility, Imperium once again proves rather succinctly that Radcliffe is your man.