by 👨‍💻 Graham Pierrepoint


HUNT FOR THE WILDERPEOPLE

Dir: Taika Waititi

Starring Julian Dennison, Sam Neill, Rima Te Wiata, Rachel House, Oscar Kightley, Rhys Darby, Taika Waititi





4 STARS (out of 5)
Any complaints made regarding the lack of original comic cinema in 2016 were quickly shot down when Hunt for the Wilderpeople made its way to festivals and various countries earlier this year – while it may only recently have seen a UK release after a long wait, it's a movie that has already picked up a great deal of critical praise – with a Rotten Tomatoes score of 98% at the time of writing, it appears to be on par with Kubo and The Two Strings in terms of overwhelming critical acclaim. For the most part, it certainly deserves such praise – as above all it's an incredibly refreshing, diverting movie that throws much of the comedy film rulebook out of the window.
Ricky is a troubled teen – any trouble he could get in to, chances are he has been – and he's been passed from foster family to foster family. He's passed under the care of amiable backwoods housewife Bella and her curmudgeonly husband Hector, who become the young delinquent's family for as long as he needs them. However, just as Ricky starts to settle into his bizarre new life in the New Zealand wilderness, tragedy strikes – forcing the pair, one series of events after another, into the wild – and under the intense scrutiny of local police and media calling a manhunt. Along the way, Ricky and Hec are going to need to learn how to work together despite their differences – or die trying.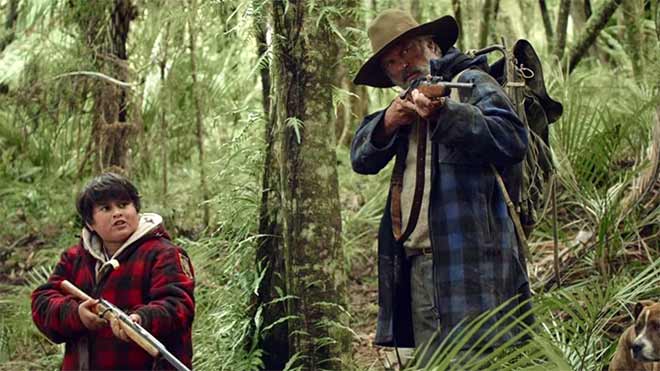 It should be pointed out early on that Wilderpeople is a very specific type of comedy. It's not joke-after-joke funny, nor is it wanting to be – it showcases a very NZ slant on humour that is dark, poignant and bitterly dry at the same time – managing to be familiar as well as slightly disconcerting at times. The way in which it is shot, and the way the characters are written help provide a world and a set of characters that actually feel very real – while we've seen some of these tropes before, there's no holds barred in terms of what we're being shown. Ricky is quiet and awkward early on but grows in confidence as the film progresses. He genuinely learns to appreciate his new guardians and, despite having been painted as little other than a tearaway at the movie's start, grows into a have-a-go hero who will genuinely put his mind to anything despite his initial ineptitude.
Sam Neill cuts an interesting figure as a polarising opposite to Julian Dennison's Ricky, as an embittered and stubborn man of the country who finds himself alone with a city kid perpetually dressed in a hip-hop inspired hoody and an attitude to match. Neill is arguably the only big name attached to this independent production and he's the only one it needs; offering sober bitterness but with fierce passion to protect those he loves with ease.
Hunt for the Wilderpeople - Official Trailer (Vertigo Films)
This is not a movie that everyone is going to get a good time from. It is fashionably bizarre, delighting in the twists and turns that lead Hec and Ricky on the run, and the bizarre ineptitude of some of the characters they come across. It's essentially something of a road movie, constantly moving from point to point, really allowing the viewers to enjoy the journey. In this regard, it's great viewing – it's really quite fascinating, while we do more or less know exactly where some of these characters are going to end up. From a basic story perspective, it's not the most original – bizarrely, some may even make comparisons with Pixar's 2009 triumph Up – but the way in which it is shot, told, framed and handled certainly is. There are grim scenes and themes that are handled nonchalantly as if to inspire you to take them in your stride. Themes of death, despair, loneliness, animal slaughter and alleged perversion are just some of the early touches that you will be forced to handle within the first half of the movie. Certainly, anyone of a slightly sensitive disposition will probably want to sit this out. To its credit, however, it sticks to its NZ comic roots by presenting you with an idea and inspiring you to laugh, and to get on with it. Its brutality is actually fairly infectious – it certainly moves things along, and as a result, there's lots to see and enjoy here.
That being said, it's still a rather niche experience. For every blunt joke or visual cue there's a strand of plot that seems rather familiar, though it manages to subvert any thoughts by delivering twists and turns in the comic elements of the script to keep things interesting. For the most part, the performances are generally very good, it hosts a fantastic soundtrack, and it's visually gorgeous – the locations are exactly what you expect to see going in, and there's plenty of variety in camerawork and framing devices.
Hunt for the Wilderpeople certainly deserves the praise it has been getting – it's original, it's funny, it's well-made and it moves along at a lightning pace – my only real criticisms lie in its broader appeal, and whether or not this is a story that is too clearly signposted. That being said, the final conclusion isn't completely telegraphed, and it's all handled and tied together rather nicely. As movies go, this is arguably one of the year's most original, and one of the most entertaining – just make sure you're prepared for a little bit of an odd journey along the way.