MOVIE REVIEW: Storks

Wednesday, 12 October 2016
by 👨‍💻 Graham Pierrepoint


STORKS

Dir: Nicholas Stoller and David Sweetland

Starring Andy Samberg, Katie Crown, Kelsey Grammer, Keegan-Michael Key, Jordan Peele, Ty Burrell, Jennifer Aniston, Danny Trejo





2.5 STARS (out of 5)
The rulebook on making animated children's movies has been rewritten so many times, it's hard to keep track. On one hand, you have movies from Disney – the old guard – who have rarely put a foot wrong in terms of the quality of animation they put out. Pixar stole this crown for the most part for a good period – and despite experiencing a slight lull, appear to be back to making genuinely original, charming and creative movies. For many, family animation held Disney and Pixar as benchmarks for the longest time – but, as time has gone on, studios have gotten more creative. We've had deep, visually wonderful movies in the form of Kubo and The Two Strings this year, and recently we've had experiments in the form of The Lego Movie, showing us that not everything has to stick to a particular formula. There have been, however, movies such as Norm of The North, which attempt to appeal to young people so hard that it's almost painful to watch.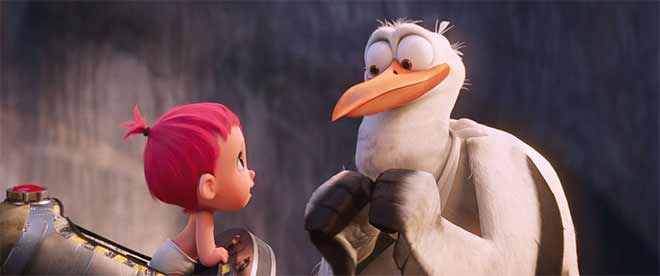 Getting the balance between appealing to kids and appealing to adults can be extremely tricky – and it's clearly something that the creators of Storks have attempted to do with gusto – but it falls short of being the epoch-making reinvention of the animated family movie that it appears to want to be. Helmed by much of the staff involved with The Lego Movie, it's clear that Storks has taken some cues in terms of humour and pacing – but offer them up in a way that isn't completely satisfying. In fact, it succeeds more at being haphazard than it does as being consistently entertaining.
The movie surrounds the exploits of a stork named Junior, who finds himself lined up for a big promotion at Cornerstore – a delivery company operated by storks who gave up on the business of delivering babies long ago. Junior finds himself tasked with having to remove Tulip – a young woman who was left abandoned at the storks' shipping centre eighteen years prior – as she is proving to be a burden upon the business. Along the way, Junior and Tulip accidentally intercept a letter from a troubled young boy who desperately wants a younger sibling – and in the process, end up generating the first baby that the company has produced in years. This leads the duo to have to deliver the baby to its intended new home without the CEO from finding out – and things only get crazier from there.
If you've already struggled to make your way through the synopsis, then my first point should be fairly easy to make – Storks is by no means a simple movie. There are one or two plot tangents running along at the same time, and as a result, things get rather complicated. It's a movie that has a genuine idea of where it wants to go, but it zig-zags all around so hurriedly that it's truly hard to keep up – even kids would find it difficult. The cast is talented and the animation is, generally, pretty appealing – rather in line with what Angry Birds put forward earlier this year – while the level of humour here is on par with Angry Birds, it's the execution which really lets things down.
Storks - Official Trailer (Warner Bros. Pictures)
Storks is, criticism aside, fairly entertaining. It's fast-paced, it's silly, there's some great comic timing and some genuinely engaging characters – but at the same time, it's so relentless and break-neck in both its plot and its quick-fire jokes that there is barely a moment to breathe. While the physical humour and some of the dialogue hits home well, there is just simply too much of it. It is as if the movie asks: "Hey! Find this funny? How about this? This? This? This?" It rarely, if ever, lets up. Which, as it is so visually appealing and as it does have moments that children in particular will find funny, is rather a shame. It feels like a movie that is trying desperately hard to be over-the-top wacky – its pacing gives little relief. Animation such as the Hotel Transylvania movies have similar comic turns and jokes but execute them in a manner that they each have a moment in the sun.
Storks also sadly falls prey to pandering. There is one particular character – a pigeon – who is so desperately annoying and so obviously trying to be the breakout comic star of this movie that it's painful to watch. This character's dialogue ventures into parody territory – to the point where I'm not entirely sure that was the intention. In any case, there are characters here that work well thanks to their voice actors, and others which are so overwritten and blatantly hammed up for the audience that they rather bore you after a while.
The rulebook for children's animation may still be getting rewrites year on year, but Storks seems to just miss the boat slightly – it's going to appeal to children in the way that it is so fast-paced and relentless – but on the same level, it never really seems to go any deeper. Any adults accompanying their children to this one may be best advised to prepare for a headache. Truth be told, it's visually appealing, some jokes work well, and the cast works hard – but in terms of plot, pacing and a number of character choices, it sadly falls short of a very high bar set by other family animations released this year.