MOVIE REVIEW: Swiss Army Man

Wednesday, 19 October 2016
by 👨‍💻 Graham Pierrepoint


SWISS ARMY MAN

Dir: Daniel Kwan and Daniel Scheinert

Starring Paul Dano, Daniel Radcliffe, Mary Elizabeth Winstead





2.5 STARS (out of 5)
Where do you start with a film like Swiss Army Man? Perhaps in the running to be one of the most consciously bizarre movies of the year – a year in which we have seen Sausage Party make huge money at the box office – One News Page reported earlier this year that people walked out of its maiden screening at the Sundance film festival, yet it won critical acclaim and a directorial award to boot. To be clear, this is a movie that begins with a man on a desert island trying to talk to a corpse, which responds by farting. The castaway then uses the corpse to propel himself across the waves, powered by the dead man's constant flatulence.
I am by no means deluding myself in stating that this is the hardest movie review I have written all year. How do you objectively evaluate a movie that features Daniel Radcliffe as a corpse who begins showing signs of life and is used as something of a versatile device – hence the title? The fact of the matter is that Swiss Army Man is perhaps a welcome return to art in cinema – this is no ordinary picture, and it's clear that it doesn't want to be. It's a whimsical and free-spirited look at loneliness, modern delusions, and actually works rather well as a deconstruction of the way we live our lives – as Paul Dano's Hank spends much of the earlier portion of the movie teaching his dead friend about the way the world works. It's all wonderfully bizarre, and incredibly odd to put down in words.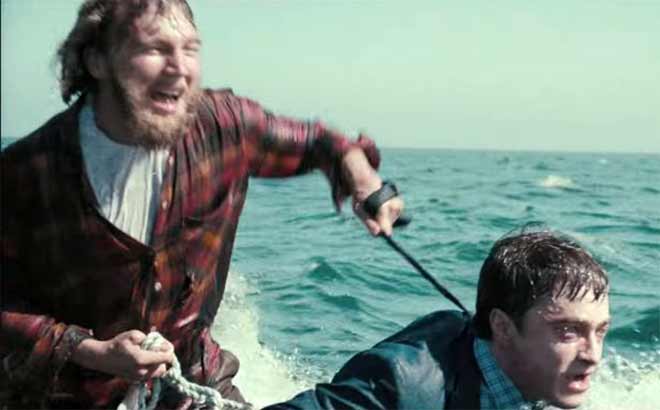 This is a movie that propels itself along on its own whimsy, remaining light-hearted and happily odd despite being rather grim on the whole – it's safe to say that the idea of seeing a stranded, delusional man lugging a talking, decomposing Radcliffe around for 90 minutes will not appeal to everybody – in fact, early on, it was clear to me while people walked out of its first screening. It became even more clear to me once it gained momentum – this is a movie that is on the truly 'happy to be weird' side of weird, and it doesn't let up for a moment.
It's directed with a sense of childish wonder, and the main characters are doe-eyed and philosophical – yet the overriding situation never truly lets its pacing or momentum stumble. Despite it being rather well-made, realised and genuinely original in every possible sense, it is still rather difficult to watch – not only for its subject matter, but also for its main character's relentless pursuit for happiness. In a way, it is rather infectious – but at the same time, it's very hard to relate with these characters, because they are so defiantly odd, and lonely, and removed from the world. That, I assume, is some of the point – and it subverts almost every trope in the book. It's completely unexpected at every turn. The movie focuses largely upon Hank's mania over a woman he sees on the bus – Sarah – and this theme plays out right up until the very end.
That being said, this is a movie that really isn't going to inspire everyone. It could well be one of the most divisive pieces of cinema released this year – and I am genuinely pleased that such an original film has received release in theaters in certain countries. Movie-making is definitely an art form, and this is one that is both experimental and loaded with messages and themes that are keen to get out. What will sadly turn many people away is that it is definitely rather creepy – but at the same time, many people will find the movie a welcome diversion from the standards of everyday cinema.
Swiss Army Man - Official Red Band Trailer HD (A24)
For me, personally, it's hard to say how I feel – I can appreciate its worth as an original piece of cinema and am comfortable with saying that both Dano and Radcliffe are unique and superb in their roles here (it's been a particularly interesting and varied year for the latter) – but it's still rather hard to watch, and I'm not entirely sure what I'm supposed to enjoy. Some of its tweeness and wonderment can grow a little grating, but maybe that's part of the message it's relaying – that loneliness is more powerful than we may give it justice – and, on the whole, there is fun to be had with this movie. Providing, of course, you can get over constant flatulence, corpse humour, and surreal comedy that delights in itself throughout.
Some critics are divided over Swiss Army Man, and rightly so – while its uniqueness is commendable, it does occasionally suffer from its own pretention – and it is this coupled with its main plot that will prevent it from being appreciated on a wider scale. But was that ever the intention in the first place? It's hard to say. For scoring's sake, this is a movie I have to place near the middle – but I have no doubt that someone, somewhere, will find a new favourite movie in Swiss Army Man.