MOVIE REVIEW: Michael Moore in Trumpland

Tuesday, 1 November 2016
by 👨‍💻 Graham Pierrepoint


MICHAEL MOORE IN TRUMPLAND

Dir: Michael Moore

Starring Michael Moore





2.5 STARS (out of 5)
Occasionally, when writing movie reviews, I like to watch and talk about pictures that are a little different from the norm. I did this most recently with the divisive Swiss Army Man, arguably the most difficult film I've watched this year – and I've decided to try something a little different again ahead of the forthcoming US Presidential Election – a review of Michael Moore's Trumpland, a movie largely comprised of the broadcaster and writer's one-man show in a town where prospective US President Donald Trump is revered in the polls. Is this a movie in any traditional sense? Certainly – it was released as such, globally, and Michael Moore certainly isn't a stranger to putting his views to celluloid. Unlike his previous successes in Farenheit 9/11, Bowling for Columbine and Sicko, however, Trumpland is rather a different beast.
The synopsis is short, and sweet – Moore addresses an audience during a one-man show in the town of Wilmington, Ohio, the birthplace (as Moore states) of the Banana Split – and a town where a vocal majority of registered voters are ready to cast their ballots for Donald Trump on November 8th. Moore uses his platform to discuss the fascination surrounding the divisive and controversial Trump's candidacy, why voters may be inspired to vote for him, and, largely, why Hillary Clinton should be considered a more viable candidate. In a nutshell, Trumpland is less an attack on Trump than a glowing endorsement for Clinton.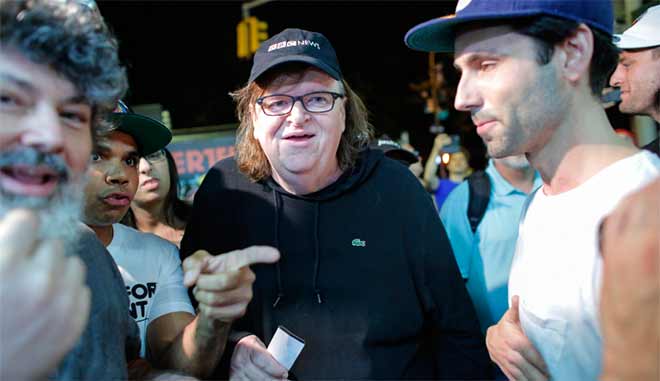 Certainly, anyone expecting Moore's trademark journalism may be disappointed as he doesn't particularly use his platform to attack Trump – after all, he is playing to whom may very well be majority Trump voters – rather talking at length about Ms Clinton, her personal background and her treatment at the hands of the media during Bill Clinton's scandal re Monica Lewinsky in the late 1990s. Moore also pulls up interesting footage of Trump, at the time, offering kind words on Hillary Clinton (and even Moore himself). Moore implores the audience in a fairly interesting segment where he asks even the most ardent Trumpites among the crowd to say something nice about Clinton – he gets genuine responses, and unless heckling has been edited out, he seems largely to have connected well with his audience.
That being said, the movie isn't the 'Moore on Trump' extravaganza that many were expecting. Certainly, this film footage is extremely recent, only being a few weeks old, and has perhaps been pushed out to try and connect with voters ahead of the election. Certainly, Moore makes an impassioned point that everyone should go out and vote – while at the same time advising that anyone who hates Clinton should still vote for her given where she has come from and for the struggles she has faced. Certainly, his points aren't particularly shrouded in mystery – he is very much endorsing Clinton, and while he states he's never outright voted for her (he states he voted for Bernie Sanders in the primaries), he identifies early on why Trump is the less viable candidate – that he is ultimately a protest vote, drawing comparisons with the UK vote on the country's European Union membership – that people voting Trump will be likely to be doing so as a statement rather than out of political intention. Rather than degrade such intentions, however, he appears to understand the anger that many people possess – there is no bitterness towards the voter here – simply an attempt to understand their rationale.
Politics aside, Moore remains a very engaging speaker and broadcaster and it is his way of delivering his messages that have earned his documentaries their plaudits– he is defiantly no-nonsense, and while he is well-known for appealing to the left-leaning among us, there is no denying that he is just as provocative and entertaining as he ever was. My main issue with the footage wrapped up in this film is that there is less about Trump, and more about Clinton – is this Moore's last-leg attempt to try and sway voters on who to put their cross beside? It's safe to assume so – but whether or not his arguments here genuinely hold sway will remain to be seen.
Michael Moore in Trumpland - Official Trailer
As a movie, it's interesting discourse on a largely dramatic election and one which neither gets too angry nor too morose – Moore keeps a happy energy throughout and keeps positive despite discussing areas of controversy and troubled pasts. Regardless on which side of the fence you stand, you can hardly fault his energy – the election has just about everyone talking – but the fact that his show is less a commentary on Trump and more an endorsement of Clinton is largely where the show falls flat. Recommended for anyone looking for even more commentary on the election, my advice would be to enter with an open mind, and to leave with one also.