MOVIE REVIEW: A Street Cat Named Bob

Monday, 21 November 2016
by 👨‍💻 Graham Pierrepoint


A STREET CAT NAMED BOB

Dir: Roger Spottiswoode

Starring Luke Treadaway, Ruta Gedmintas, Joanne Froggatt, Anthony Head, Beth Goddard, Darren Evans





3.5 STARS (out of 5)
Regardless of the good, the bad and the indifferent in terms of movies that we've seen in 2016, there has at least been a genuine mix of genres and stories that directors and studios are trying to tell. It's always a genuine pleasure, too, to sit down and review a movie that puts itself away from the standard mould of storytelling in film, regardless of whether its results work or not. I value originality extremely highly when it comes to the movies I watch, and while A Street Cat Named Bob may not be trying anything particularly new in terms of where it fits into the great pantheon of film-making, the emotions and reactions it evokes from its key audience stand out from the crowd, and commendably so. This is not just a movie that seeks to entertain – its clear purpose is to offer hope.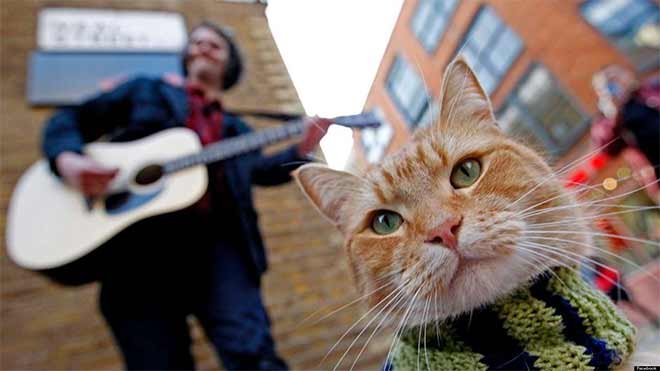 A Street Cat Named Bob is an extraordinarily simple tale that is fact-based and derived from a best-selling book written about the life of James Bowen – a London-based musician who, after experiencing a traumatic family break-up, descended into a life of drug addiction and transience on the city's streets, barely scraping enough together to feed himself, let alone satisfy his next fix. The movie picks up with James at his lowest ebb – having landed in hospital from a near-fatal fix one night, he signs himself up to a scheme to rid himself of his dependency for good – and along the way, he becomes acquainted with a friendly cat, who, little did he know, would become his closest ally and friend through thick and thin.
If you're reading the review up to now and haven't already checked out, then it is likely to be a movie that will interest you. This is a distinction that I need to make early, as Street Cat is a film that will appeal to select audiences and I am therefore offering analysis as such. I am normally wary of 'true story' movies purely on the basis that I'm unsure why there are so many – but in a year where Eddie the Eagle proved that, with a little tweaking, the right stories can be transformed into fantastic escapism, I was keen to see Street Cat amidst a flurry of fuss. This is a movie that's been picking up steam with the British public since its release, with many referring to it as both heart-warming and a guaranteed tear-jerker. After all, Bowen has written two books on Bob, and both have sold in their droves – meaning that there has always been an audience for his story.
Street Cat is slightly different from most 'true story' movies as it never truly sets its sights above its station. It presents everything to you very matter-of-fact, it's extremely easy to follow and is generally one of the easiest films I've watched this year, despite its subject matter and a couple of scenes that some people may find distressing. Bob, as a cat, is extremely easy to love and is potentially one of the friendliest felines you'll see on screen – and while Street Cat may not be a movie with a big budget, nor a film with grandiose aims, it still manages to satisfy its key audience with ease.
This, essentially, is because it has heart. It's a movie that does feel twee or even artificial in places, but there's an underlying core of joy and hope running through that genuinely has you rooting for James and Bob up until the very end. When it does go dark places, it bounces back with happier scenes and story progression that really, seriously, lift your spirits. I am often the first moviegoer to pick fault with a film that I feel is too flimsy or too thinly-veiled – but Street Cat is so effortlessly charming in that, no matter what, it simply wants to tell you a story. There are no villains, or major plot twists, or even that many clichés – it often all feels very organic, despite the fact that you are very much aware that you are watching a movie. It's organic in the sense that it's a straightforward story told in a straightforward manner, but at the same time it doesn't plump for gritty realism. This is never a problem, however, as it is delivered pitch-perfect to the people who want to watch it.
A Street Cat Named Bob - Official Trailer (Sony Pictures)
It's clear even from the marketing material that this is certainly a movie that only certain moviegoers are going to want to see. You more or less know the story before you even buy your ticket – but it's about the journey. Bolstered by a solid cast of British acting talent, Street Cat's aim is to primarily inject a bit of joy into your evening, and by remaining gentle, unwavering and humble in its approach, it's never any less than heart-warming. More cynical viewers may be quick to scoff at its production values or its script – it's certainly no cinematic heavyweight – but anyone intending to watch this story from its synopsis will absolutely get everything they pay for, and I defy anyone invested in this movie even slightly to leave without a smile on their face.
It's my belief therefore that Street Cat is a very important movie in the current climate, and one that we need more examples of – movies such as this and Eddie the Eagle serve to offer hope, and to create a sense of humbled joy in its audience. They're not throwing flashy imagery or three-hour-long screenplays in our faces – they're unpretentiously giving us the sort of escapism that is sorely lacking in much of cinema's line-up right now. Despite Street Cat being nowhere near the measure of a masterpiece and stumbling occasionally on its own humility along the way, it remains one of the most pleasant experiences you'll have at the movies this season, and I thoroughly recommend it to anyone looking for escapism that won't give you a headache.