MOVIE REVIEW: Sully

Tuesday, 6 December 2016
by 👨‍💻 Graham Pierrepoint


SULLY

Dir: Clint Eastwood

Starring Tom Hanks, Aaron Eckhart, Laura Linney





4 STARS (out of 5)
Biopics and 'true story' movies are once again in vogue, and while some may attempt to get you to smile, others try to give you a genuine insight into a life you've only briefly heard about. This year we've seen The Finest Hours, Eddie the Eagle and Snowden, to name three – attempt to tackle this rather odd form of entertainment that still sells tickets and picks up plaudits. Sully, the story of a pilot who went on to become a revered hero, has all the hallmarks of a classic 'true story' picture on paper. Clint Eastwood, however, is no ordinary director – and perhaps in another pair of hands, Chesley Sullenberger's story may have been handled with less intensity and even less realism – but this is a movie that also benefits from having Tom Hanks as its centrepiece, in a film that truly benefits from revolving around his amiable, everyman hero, focusing less on his feat and more on the post-traumatic stress disorder that followed, along with threats to his reputation.
In 2009, Captain Sullenberger and First Officer Jeffrey Skiles (Eckhart) found themselves piloting a US Airways flight that is subject to engine failure several thousand feet into the air – in a moment of panic, Sullenberger chooses to land the plane in the Hudson River, avoiding any casualties and finding himself hailed a hero. However, this is sadly only the beginning of Sully's problems, as he finds himself not only subject to an internal investigation into the engine failure that could see him lose control of his professional livelihood, but also crippling PTSD – as he continues to suffer from nightmares long after the daring journey abortion.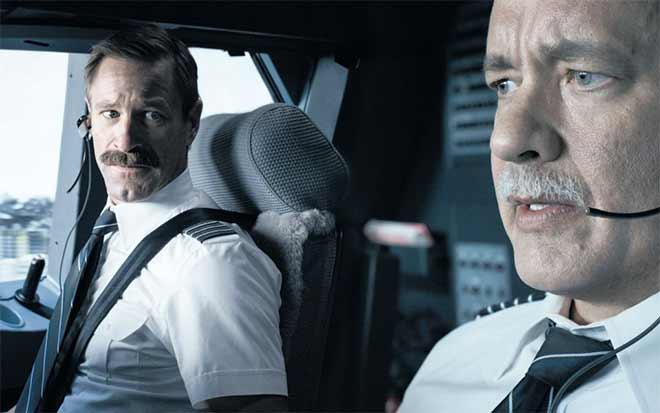 Sully is based upon Sullenberger's autobiography and is therefore building from perhaps the best source available – and while, on paper, this could have been handled in an overly-clichéd or ham-fisted manner, it's a movie that does well to sell you the inner turmoil of an ordinary man thrown into extraordinary circumstances. It is perhaps not too far-fetched to believe that another director, studio or scriptwriting team may have been keen to focus more on the crash and less on the struggles that Sully faced afterwards. It's this that makes the movie rather a breath of fresh air, at least at times.
Eastwood has directed a piece that aims to take us into the core struggles of Sully and, for the most part, does well. Some people may find it rather heavy-handed on occasion or may even feel that it perhaps wallows a little too deeply – but, in terms of direction, Eastwood again proves that he has the mettle to produce truly captivating drama from a premise that could have been taken down an entirely different route.
Hanks is variously lauded as one of Hollywood's best actors alive today – if not among the best-ever for versatility and presence alone – and there is no doubt that Sully succeeds on a whole different level thanks to his presence. It is not the first movie this year that has ridden on the back of his immense talent – lesser movies in Inferno and A Hologram For The King only scraped by as a result of Hanks being on the cast list – but Sully is rather different in that it would easily have worked under a different actor – but perhaps not as well. Hanks has a knack for delivering performances that are both emotional and believable and it is arguably this gravitas that allows the troubled Sullenberger to come alive. It's inspired casting, of course – and Eckhart and Linney must too be mentioned as perfect co-stars. On a casting level, therefore, it's airtight.
Sully - Official Trailer (Warner Bros. Pictures)
True story movies such as Snowden have struggled to engage viewers in the motivations of their central protagonists – but Sully succeeds in that it offers a deeper, overall more different insight into a main character or person represented. This is a movie that enjoys dodging clichés and it's thankfully rather appreciated. That being said, many may feel that the decision to allow much focus upon the aftermath of the accident and the internal struggles of Sully was rather the wrong direction to take – after all, there is not much in the way of precedent available – but for the sheer fact that it does rally against stories that have been told in the tried-and-tested manners should earn it considerable praise.
Sully is not going to be a movie that engages with everyone but it certainly tries its hardest – it's a gripping biopic that benefits from a great cast and intuitive direction, if it can be a little too intense in places. The attention to detail, too, is superb – meaning that it's not only a movie that knows how to engage, but also when to use the facts to its advantage. On the whole, Sully is rather entertaining – and worth a look for anyone on board for a little more than a rescue saga alone.