MOVIE REVIEW: Snowden

Wednesday, 7 December 2016
by 👨‍💻 Graham Pierrepoint


SNOWDEN

Dir: Oliver Stone

Starring Joseph Gordon-Levitt, Shailene Woodley, Melissa Leo, Zachary Quinto, Tom Wilkinson, Scott Eastwood, Nicolas Cage, Rhys Ifans





1.5 STARS (out of 5)
The story of Edward Snowden is one that has been widely reported across the past few years – in a day and age where the information that is kept on us by the government and associated agencies is constantly under criticism, the actions carried out by the ex-CIA rep have been held as a catalyst for much activism that has taken place against secret-keeping and intelligence strategy over the past few years. Snowden's actions were heavily criticized by some and hailed by others, and to this day he remains an extremely polarizing figure – should he have leaked the information he did for the greater good, or did it do more harm than he ever intended? Regardless of where you may stand on the Snowden issue, Oliver Stone's political thriller attempts to convert his story into a captivating true story piece, but sadly misfires on far too many targets to convert the screenplay into an engaging watch.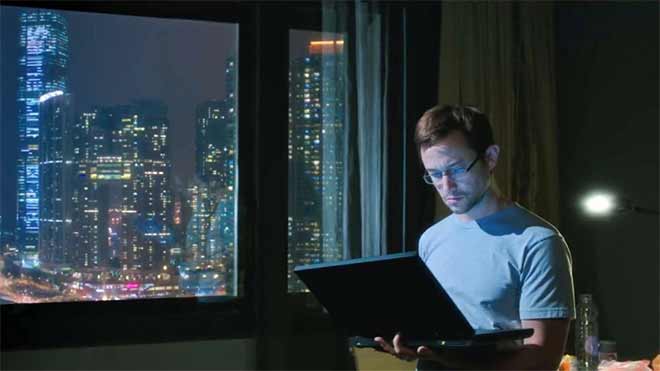 Edward Snowden, essentially, was working for the CIA and gradually became disillusioned with the techniques and ethics involved deep within the world of intelligence and monitoring. As a result, he leaked colossal amounts of intelligence data to the international press – a move which, to this day, holds the man as both a paragon for freedom of information and as a traitor to national security. Stone's direction of Snowden's story attempts to put across what drove the man to become the leaker to top them all – and to humanize his exceptionally polarizing figure.
Snowden as a movie is certainly valiant in its efforts to let us into the world and the mind of its titular protagonist – but while Joseph Gordon-Levitt is arguably in control of a commendable performance, this is a movie that rarely does much to engage the viewer. This is a movie that has driven split critical reception down the middle, and while Oliver Stone is certainly a celebrated director for all the right reasons, his latest movie rather misses the mark.
My main problem with Snowden lies, sadly, with the main protagonist. While Gordon-Levitt has clearly made painstaking attempts to emulate the titular leaker it's hard for us to connect to Snowden himself and his world – his character here is rather simplified and we are given little to latch onto with regard to his motivations and drive. Overall, it's a film that's rather too heavy on the dialogue and the jargon – meaning that it requires far too much attention in many places when it genuinely shouldn't. A popular complaint, too, is that the screenplay plays things far too safe – and this is definitely the case.
Anyone wanting to watch Snowden will likely want to know more than a little bit more about the hidden history behind the man and the services he leaked from – but Stone's movie feels oddly plodding despite the fact that it is so crammed full of expositional dialogue. For the viewer, while it may seem fascinating in places, it struggles to maintain momentum on the back of its own desire to tell a story – painstaking detail does not necessarily make for an entertaining movie, and here, it's the screenplay that sadly makes things rather clunky and hard to swallow.
Snowden - Official Trailer (Open Road Films)
It is hard, granted, to sell a balanced and engaging true political story to a big screen audience. Stone is of course noted for having succeeded hugely in JFK, his biopic of John F Kennedy, however unlike the assassinated US President, Edward Snowden perhaps fails to benefit from the same on-screen charisma. Snowden is depicted as a quiet, unassuming but brilliant man and this is a large downfall – there are merits that should be offered to the studio for sticking true to character (and again, to Gordon-Levitt for nailing Snowden and his mannerisms with accuracy), but at the same time he is not a character that particularly makes for the centrepiece of a two-hour biopic thriller. It's far too muted and far too self-obsessed to become the gripping drama that it clearly strives to be – I personally found it extremely hard to stay focused on and invested in Snowden's story despite having been interested in the stories that unfolded from his leaking.
Snowden is a movie, essentially, that is rather difficult to review – some 'true story' movies like to embellish matters and to make things a little more palatable to a paying audience – and Snowden certainly plays things as straight and as narrow as you can make them. When it does stray from fact-based, down-the-line expositional storytelling, it strays into cinematic clichés that require little to no captivation from the audience. While anyone interested in Snowden and what led him to divulge national secrets will likely gain a few moments of interest from the movie – and may even enjoy it in parts – as a movie, and on a whole, Snowden is far too unengaging and narrow to be able to flourish as the gripping thriller it could have been – particularly disappointing given the cast and crew credentials.