MOVIE REVIEW: Moana

Monday, 12 December 2016
by 👨‍💻 Graham Pierrepoint


MOANA

Dir: Leonardo Matsudo

Starring Auli'i Cravalho, Dwayne Johnson, Rachel House, Alan Tudyk, Temuera Morrison, Jemaine Clement, Nicole Scherzinger





4 STARS (out of 5)
Any Disney followers or fans can hardly say they've had nothing to enjoy this year as the studio has really pushed the boat out when it comes to both their animated material and their Marvel line. Captain America : Civil War, at the time of writing, sits atop the box office champions list and it's not too far ahead of Finding Dory, Zootopia and The Jungle Book in terms of worldwide revenue – this means, too, that Disney has pigeonholed itself into the top four positions on the international box office top ten, a feat that should hardly be sniffed at – and, on the whole, they have performed extraordinarily well critically. Moana, as it stands, is Disney's last box office onslaught of this year – and while it may not have the wintery and wonderful feel of their all-encompassing smash in Frozen from a few years ago, it is clear that the blueprints laid down by the movie remain high on the animation studio's agenda. This works, it seems, to the advantage and disadvantage of Moana, which for the most part is a great movie – but has its struggles here and there.
Moana's set-up is rather familiar but, then again, rather not so – Moana is the sole daughter to a Polynesian chief and is therefore being lined up to be the successor to the island's throne. This means, of course, that much lies upon her shoulders – and as it appears that fishing and crop gathering is failing as a result of a demigod – by the name of Maui – having stolen the heart of an ancient goddess. This is no ordinary heart – it's a physical, glowing stone, and Moana is headstrong and determined to seek out the ancient rune to return it to the Goddess it belongs to. Despite warnings from her family, the princess sets out to brave the sea beyond and to track down the wayward Maui for herself.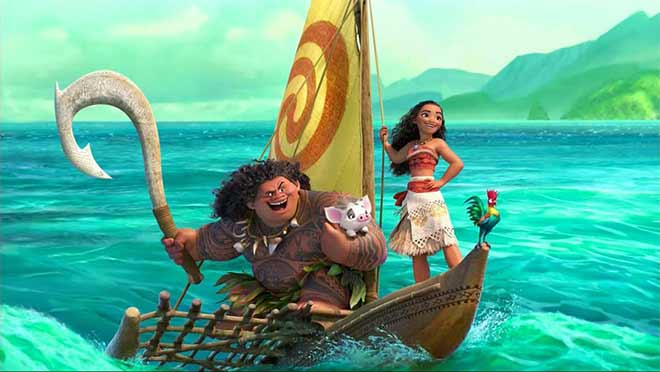 First impressions should be fairly clear – Moana is a great-looking movie that has been crafted from genuinely unique visual twists on oceanic life and the environment surrounding it – everything is smooth, or sparkling, or more besides – and the character designs really hold their own, too. There are a number of villains that Moana and Maui meet during their adventure that really go above and beyond the creative norm that we've come to expect from Disney, even at their most lucid – and it's one of their most grandiose tales they've told. Moana is a princess piece with a difference – it's a colossal adventure that looks great, delivers big on thrills and won't disappoint many in the story stakes, at least for the most part.
The cast of characters, too, are memorable and work well to sell the story – again, for the most part. Moana's development as a character only really starts to take flight once Dwayne Johnson's Maui is brought into the mix – and these are two characters who really work well together. Replicating the 'buddy' relationship that worked so well for Zootopia, Disney once again avoids turning a central gender-opposite relationship into one that is romantic for the sake of it. This is something that, for the sake of the story, has largely been avoided in recent years, and all for the better.
Moana is essentially what you'd expect from Disney even during their second renaissance – it has familiar set-ups and twists, along with familiar musical moments and character journeys. If you're familiar with much in the way of Disney's output during the 1990s and the most recent renaissance (from Tangled onwards), there isn't much here that will likely surprise you beyond the visuals. It's here therefore that the movie feels a little underwhelming, a little as if we have seen this all before.
Moana - Official Trailer (Walt Disney Animation Studios)
This is a movie that is clearly just as lovingly created as the rest of the Disney line, however, it is a tad predictable in terms of plot and character development – while this really doesn't impede on the Disney magic, it will likely impact upon viewers who have trodden their way through the House of Mouse's back catalogue. That being said, while you can predict much of the way in which things transpire, it's likely that you'll still have a good time here.
The main problems with Moana lie firstly in its set-up and its first half-an-hour – until the titular character meets up with the scene-stealing Maui, the movie feels something of familiar territory, and it certainly feels like Disney may be borrowing more than mere characterisation from their hugely popular Frozen – which, of course, will sell well for the key audience – but we struggle to really get invested in Moana and her cause until around 30 minutes into the movie. It's not a fantastic start, but once things start picking up, they really start picking up.
Ultimately, as movies go, this is among Disney's most entertaining, but not so much on the scale of productions such as Zootopia, which arguably set the tone for animation this year as a whole – it lacks in many areas such as character development and just seems to struggle to monopolise on that elusive Disney spark – while Moana will likely live on as one of 2016's best, and rightly so, it may struggle to sit comfortably among other films in the canon as a memorable movie in its own right. That being said, it has received almost as much critical acclaim as Zootopia, and certainly from an entertainment perspective, Moana is a great movie for kids and adults alike this holiday season. Hugely entertaining but perhaps not the epoch-making classic many will be expecting it to be, it's best to go into Moana expecting entertainment but not necessarily anything too ground-breaking.