MOVIE REVIEW: Assassin's Creed

Monday, 9 January 2017
by 👨‍💻 Graham Pierrepoint


ASSASSIN'S CREED

Dir: Justin Kurzel

Starring Michael Fassbender, Marion Cotillard, Jeremy Irons, Brendan Gleeson, Charlotte Rampling, Michael Kenneth Williams





2 STARS (out of 5)
The videogame curse, as it is known, is hardly the stuff of urban legend – you only have to cast a cursory glance at some of the biggest gaming properties that have been made into movies over the years to understand that it's a move that really hasn't worked so far. The Angry Birds Movie remains at the top of the mountain – arguably – but it is largely downhill from there. Last year's Warcraft really strove to take the genre out of the doldrums and into somewhere special – only to get ravaged by critics upon its release. Does the problem lie in that games are too far removed as a medium? Will we ever see a well-made movie that captures the spirit of a videogame – or one that at least stands on its own two feet? Many assumed that Assassin's Creed – based on the hugely popular first-person action adventure series – would buck the trend. After all, it has a great cast – and the trailers looked interesting, to say the least. It pains me slightly to say, however, that we are going to be starting the year with yet another game-to-movie romp that really misses the mark.
Cal Lynch finds himself sentenced to death for killing someone who threatened his own life – but, in a bizarre twist, finds his execution faked, and is instead entrusted to the work of an organisation aiming to locate a relic known as the Apple of Eden. Lynch has been chosen to help find the artefact as he has lineage dating back to ancient Spain, where his ancestor – Aguilar – operated on behalf of a group known as the Assassins, and is responsible for knowing the whereabouts of the sacred item. Using pioneering technology, Lynch is thrown into his ancestor's past to relive his life – and to learn physical skills and manoeuvres that may help him in the present day. But is there more behind the organisation's trials than may seem.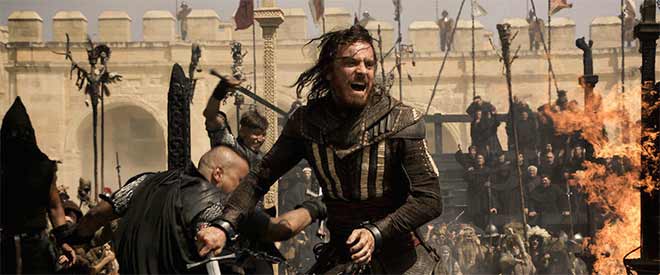 There is no denying that this is a movie that at least holds some visual interest. Praise must be given for the stunt work, and much of the visual appeal – there has been genuine care and effort put in place here to ensure that the world of the games has been emulated to the very best of the studio's ability. This, we can at least say, is a videogame movie that has at least had a token of effort thrown behind it – and it certainly tries to respect its source material. When faced with barely-connected stories in movie adaptations such as the Resident Evil series, Silent Hill, or even the campy 90s Street Fighter starring Jean-Claude Van Damme, it's great to see that someone is taking the world of a videogame and not entirely butchering it. Sure, while the story here is virtually original, there is still a sense that the mood and style of the games has been observed. This, unfortunately, is where brownie points run out for Assassin's Creed.
Beyond the medieval parkour and the genuinely intriguing premise lies a story and a web of dialogue that just doesn't inspire. There is barely any joy to behold here – it plods along, through the motions, offering action when it needs to and trying to simmer off with a supposedly tense conversation between characters. The cast is genuinely not at fault here – Irons in particular seems pained at times to even be involved, whereas Gleeson's involvement at all is rather baffling. Fassbender is still a big name in Hollywood and it was arguably his attachment to the project that has allowed it to garner such interest, along with Marion Cotillard – but it's been proven many, many times before that a great cast does not make for a good movie on its own. You only need to look at Movie 43 for confirmation of that.
Assassin's Creed - Official Trailer (20th Century Fox)
Assassin's Creed is an oddly gloomy movie, wallowing in its own false trepidation, bogging audiences down in a brooding and rather predictable plot that does little to inspire the action scenes that try and bolster it. The action, while well choreographed, feels par for the course in line with such a morose story – some may in fact have wanted the entire movie to have taken part during Aguilar's time with none of the Lynch business layered on top – as the end result seems rather like a Dan Brown affair without the gusto and charm of Tom Hanks, and without the goofy fun. Assassin's Creed is very much – and this may be controversial territory – like Gods of Egypt in its sheer inability to engage its audience effectively. What sets this movie apart from Egypt (our pick for the 2nd worst movie of last year), however, is that it is at least reasonably well-made in a number of areas, and that it shows some respect for its source material.
On the whole, however, Assassin's Creed is just rather bland. It's not the 'turkey of the year' that many critics are selling – but it really isn't all that entertaining. It's the sort of movie that sighs and says "Right, let's get this over with." It holds no joy in its own journey, and therefore lacks the gusto to persuade audiences that it is worth persisting with. Beware, too, for a sequel hook – however, if critical reception is anything to go by, we may be waiting a while. It will now depend, therefore, on financial performance – and with it still to make back its budget even internationally at the time of writing, I don't think we'll be seeing any more of Lynch and Aguilar any time soon.