by 👨‍💻 Graham Pierrepoint


DENIAL

Dir: Mick Jackson

Starring Rachel Weisz, Timothy Spall, Tom Wilkinson, Caren Pistorious, Andrew Scott, Alex Jennings, Harriet Walter, Jack Lowden, Mark Gatiss





3.5 STARS (out of 5)
Is there a film that is perhaps more better-timed for release than Denial? Maybe not. Denial is a movie which has arrived at a point of time in world politics and mass media coverage where both are threatened to change dramatically as a result of recently elected figureheads. I, of course, refer to the US Presidency – and in the past few weeks, the term 'Alternative Facts' has sprung up as a result of Donald Trump's staffers giving their account of how many people attended his inauguration. What exactly does this have to do with a film about Holocaust denial? It's extremely prescient that a movie which centres around a battle of 'facts' should come along just when they are being challenged in the mainstream. This, thankfully, makes Denial for all the more interesting watch – as without such importance, it may have fallen rather flat.
Denial is based on true events and surrounds the unfolding saga of professor and author Deborah Lipstadt writing a novel about the act of denying the Holocaust – the genocide of Jewish people by Germany's Nazi party – and, in doing so, references historian David Irving. Irving takes unkindly to his inclusion in the book, and promptly sues Lipstadt for libel, forcing the academic to take to court and prove that Irving knowingly lied about the Holocaust having occurred. This, in turn, leads to a judge-only trial, and a case which hinges on the defence having to find genuine evidence to prove that, beyond evidence of doubt, that Jewish people were tortured and killed by order of the Nazi party.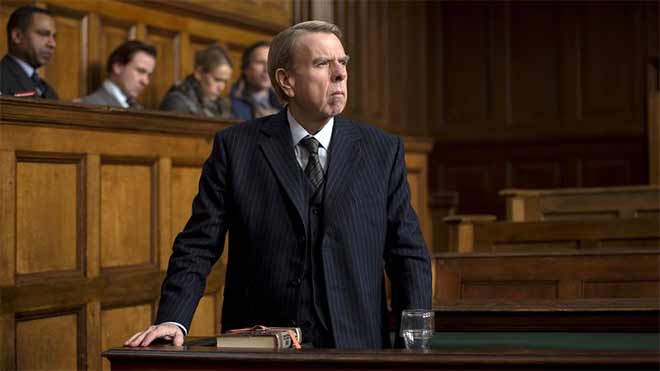 This is a film that, in short, isn't really as cinematic as it could be – but does it need to be? It stands to reason that this is a story that needs to be told – it shows that truth has just as much of a case against opinion in a landscape which is bogged down in hyperbole and hearsay, some of which is perpetuated by the political and media spheres. It's a film which points out that, while some cases and arguments can be patently ridiculous (it has been proven time and time again that the Holocaust did indeed occur), there is worth in challenging even the pettiest of arguments. Certainly, if nothing else, it gives hope to those who may feel that truth and honesty are being swept behind chaos and rhetoric. History, certainly, will repeat itself – when it comes to the facts, media spin and politician hyperbole will ultimately be peeled away.
In terms of film-making, it's a piece of brilliant, thought-provoking cinema that poses plenty of intriguing questions and genuinely encourages viewers to read up on what was a particularly fascinating piece of legal history. The movie treads around the topic of genocide without respecting those affected by the atrocities and it is therefore a perfectly affable watch for anyone interested in the sheer premise. As a piece of cinema that could be considered dramatic, it misses out on really getting its teeth into anything nail-biting. It's clever, it's well-scripted (by playwright David Hare), but it never seems to want to be on the big screen. It's quite strange – why this wasn't considered for a TV release as opposed to a big screen debut seems to be a valid question. Its release has occurred quietly during the midst of Oscar fever, where audiences are more likely to be watching La La Land, Moonlight or Hacksaw Ridge – while the message at stake is extremely important (and very timely indeed), it's rather baffling why it was pushed for a big screen release.
Denial - Official Trailer (BBC FIlms via Movieclips Trailers)
The film boasts a great cast, among them a sturdy lead in Rachel Weisz, the ever-reliable Timothy Spall, and a horde of British TV royalty who can always be relied upon to beef up any screenplay. It's just as well, thankfully – as with a lesser cast, the movie may not have hit as many notes as it does. It serves its audience well, giving us plenty to think about – but little to marvel at. It rather plods along its path, perfectly reasonable and fairly entertaining – but it never really takes us to any particularly dramatic highs. While the story is great – it's a true story which deserves reading up on outside of the movie – I dare say that it isn't pushed far enough.
As a result, while Denial is perfectly watchable and is, on the whole, satisfying for anyone keen on the premise, it's not to be considered a piece of high drama by any account. As a result, due to its cinematic release, it may be doomed to be forgotten – a crying shame, as it would have slotted in perfectly on mainstream British television.