MOVIE REVIEW: Hidden Figures

Tuesday, 7 February 2017
by 👨‍💻 Graham Pierrepoint


HIDDEN FIGURES

Dir: Theodore Melfi

Starring Taraji P Henson, Octavia Spencer, Janelle Monae, Kevin Costner, Kirsten Dunst, Jim Parsons, Mahershala Ali, Aldis Hodge, Glen Powell





4 STARS (out of 5)
Society has come a long way in such a short period of time, certainly in terms of human rights as well as technology and the way in which we conduct our everyday lives. Hidden Figures, which is up for a slew of Oscars this month, is a film that tackles a pivotal time for change in both human rights and technology - in a way that neither patronises, nor goes too far in a melodramatic direction. This is a movie which tells a story that arguably needs to be told – and it's one that also benefits from being rather satisfying to watch.
The movie surrounds the lives of three African American women – Katherine Johnson, Mary Jackson and Dorothy Vaughan – who provide NASA with essential mathematical support at a time which was not only important for the US in their attempts to get ahead of Russia in the Space Race, but at a time where black and white people were continuing to be segregated – not just at work, but in everyday life. Hidden Figures celebrates the work of these women, while largely focusing on the immensely talented Johnson – whose calculations and dedication to their craft helped put John Glenn into space, and helped to push space exploration beyond its boundaries. The name itself – Hidden Figures – is a clever turn on the fact that not only was much of the mathematical formulae handled by the women on a need-to-know basis, but that their stories have largely gone untold. That is, of course, until today.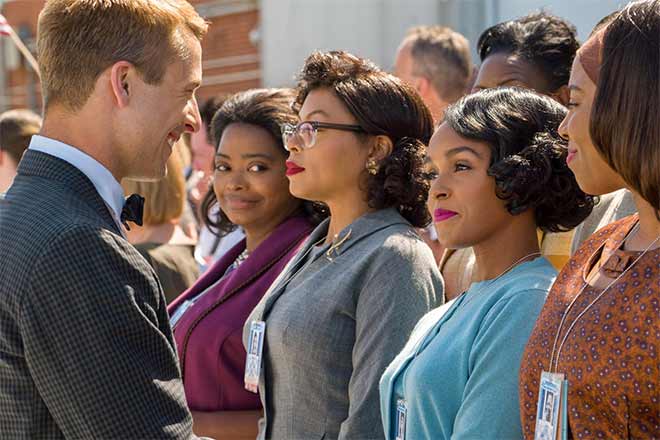 Let's be clear – 'true story' movies always carry a certain stigma to them before they even start. They are, sadly, ten-a-penny on certain TV networks – however, many are told in the right way, in the sense that they focus on the genuine drama and genuine events without going overboard, and that they provide the audience with enough in the way of character and spirit for viewers to be able to enjoy them. Hidden Figures is well-paced, very well-scripted and boasts a marvellous leading cast – which, in the first instance, is largely enough. However, in addition to this, this is a movie which doesn't dwell on showing you what you've seen before. It takes you through every step in these women's lives during a particularly life-changing period, and therefore, it resonates all the more successfully.
At the same time, while this is a movie that has an important story to tell, and one which is carried marvellously by its core cast, it is still hampered in places by that dreaded 'lifetime' or cable TV melodrama feel – if only on occasion. Without knowing beforehand, it is the sort of film which gives off that vibe – it can seem glossy in places and, as such, it can be a little distracting. However, this is all the more balanced by genuinely powerful performances and a compelling story set in a time period that is all to alien to us now.
That being said, it doesn't brandish its message nor the problems that it highlights too fiercely. It doesn't go into all-out melodrama when it could. It genuinely gives slice-of-life moments that vary from saddening to infuriating for the women involved – making their victories along the way all the more rewarding. It makes the right choice in not going too overboard as it certainly doesn't need to – its sombre, matter-of-fact retelling in fact makes for much more compelling viewing. We genuinely care where the story is going, and how this part of US history changed. In the same vein as fellow Oscar nominee Hacksaw Ridge, it is the performances and the script choices that allow us to become deeper invested in the story. Perhaps we are witnessing a new age in 'true storytelling'? Let's wait and see.
Hidden Figures - Official Trailer (20th Century FOX)
There are arguments abound that more passion and maybe even more fury could have been displayed by the characters – perhaps so, however, this may have risked it from veering into parody territory. It is weighed down by an obvious 'lifetime' sheen and can therefore feel a little clunky in places – however, the subject matter at hand and the way it is handled more than provides for two hours of genuinely captivating entertainment. It's a fascinating story from a fascinating – if barbaric – time in US history. Truth be told, the script and the movie do well to balance technological progress with its civil rights subtext quite well, with neither overlapping the other to provide an undesired effect. It's this that, perhaps, has provided it with a route to the Academy Awards.
Hidden Figures showcases an important story which may do well at the Academy Awards – however, it lacks the spark to be granted 'classic' status. Against the likes of La La Land, Hacksaw Ridge, Moonlight and Arrival, it may face stiff competition – but as a film in its own right, it's a pleasantly captivating and enjoyable movie which will offer viewers more than a springboard to learn more about US civil rights and NASA's role in the Space Race.
You Might Like
Related news from verified sources
MOVIE REVIEW: Lion
by Graham Pierrepoint - LION IMDb Dir: Garth Davis Starring Dev Patel, Rooney Mara, Nicole Kidman, Sunny Pawar, David Wenham, Abhishek Bharate, Priyanka...
One News Page Staff
Tweets about this
•More original news reports from One News Page