by 👨‍💻 Graham Pierrepoint


THE FOUNDER

Dir: Robert D Siegel

Starring Michael Keaton, Nick Offerman, John Carroll Lynch, Linda Cardellini, Patrick Wilson, BJ Novak, Laura Dern





3.5 STARS (out of 5)
'True stories' are fast becoming hot property on the big screen once again, and with good reason – there are still many stories left to be told, and with a host of fascinating takes on even the most well-known stories also in the pipeline, it seems that the biopic is far from dead. The Founder is one such story which, while it may be well-known to those in the know, has perhaps not been laid out in such warts-and-all fashion quite like this. It's a movie that, while seemingly championing spirit, also isn't afraid to show exactly what some people are prepared to do to harness success.
The Founder focuses on the story of one-time milkshake machine salesman Ray Kroc, who, in mid-50s America, is struggling to get by through innovation after innovation. While Kroc may have the patter down, he doesn't necessarily have the backing to seal a good deal – that is, until the McDonald brothers approach him for a large order of machines for their revolutionary 'fast food' restaurant. Kroc soon gets to know the brothers and shows a genuine interest in helping them build their restaurant into an all-American franchise – one which would eventually become the all-conquering McDonalds we all know today. This isn't simply a cut-and-dried tale about a humble man making it big, however – is it details each step Kroc made along the way to ensuring that the Golden Arches became so recognisable. This, it seems, meant going toe-to-toe with the brothers responsible for the very first restaurant.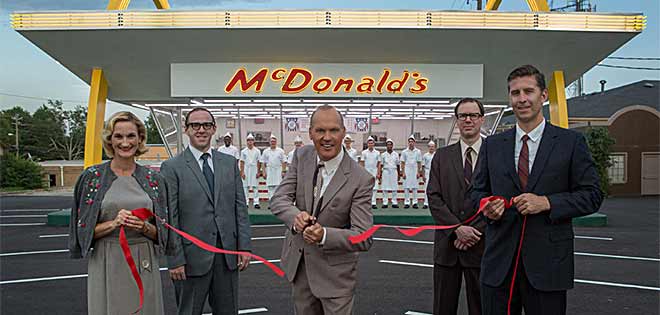 Michael Keaton is arguably in the full swing of a career renaissance after his incredible comeback in Birdman and in the Oscar-winning Spotlight – and he is certainly the best man for the role of the affable and magnetic Kroc, who lives and breathes through the ideas he creates. The movie does well to show exactly how such enthusiasm impacted on his home life and, of course, with those he went into business with – and, refreshingly, it doesn't back down from showing you the bare bones of exactly what went on behind the scenes. There is a particularly jarring sting in the movie's 'after' reel that I won't spoil, but it rather seals the whole story – and the man Kroc – off rather nicely. Keaton has the ability to sell passion and enthusiasm in such a way that you feel he's doing the right thing in everything he stands for – even when he doesn't. As such, as this is a movie largely framed around one man, it needs an actor of his calibre to sell the story. Thankfully, he does with ease.
At times, particularly early on, there are moments in the script that rather drive away from the action. While many true life stories may swerve into moments which were directly derived from real life, there is an extended scene early on where the McDonald brothers share their story with Kroc – and it smacks of both borrowing from the history books and rather selling the brand. The movie does try to stay away from endorsing McDonalds, but this may not be enough for hungry viewers! That being said, it is genuinely refreshing to see a story that lays everything down on the table – even if it does so in a rather clichéd fashion at times.
The Founder - Official Trailer (The Weinstein Company)
The Founder is also a movie that is only going to work for people that are genuinely interested in what makes businesspeople tick. Kroc was a one-of-a-kind businessman, a never-say-die salesman who did whatever it took to get him where he wanted to be. This, it has to be said, is how many people work their way to the top – they are either born into such tenacity, or they find a way how to earn it. Kroc, it appears, was born with the endurance to make McDonalds America's 'new church'.
Overall, The Founder is an entertaining and interesting watch, but not one that is particularly recommended to those with less than a passing interest in the story at stake. This may be a fairly moot point, of course, but it has a sharp focus on its story, and with the help of a great cast, is able to sell Kroc's rise to greatness as the 'founder' of McDonalds despite a host of clichés that do rather pepper the script at times. When all is said and done, The Founder may not be the ground-breaking, challenging masterpiece so many critics are telling us, but it is an intriguing and worthwhile watch all the same. Be very careful, however – watch on an empty stomach and you may feel the urge for a burger in a bag no matter how you may feel about fast food.