MOVIE REVIEW: Logan

Monday, 6 March 2017
by 👨‍💻 Graham Pierrepoint


LOGAN

Dir: James Mangold

Starring Hugh Jackman, Patrick Stewart, Boyd Holbrook, Stephen Merchant, Dafne Keen, Richard E Grant, Eriq La Salle, Elizabetha Rodriguez, Elise Neal, Quincy Fouse





4 STARS (out of 5)
Hugh Jackman has been portraying Wolverine for so long now that it will be improbable that anyone ever picks up his claws – and while some of the X-Men adventures that have been brought to the big screen have dipped and succeeded in varying measures, it can hardly be denied that the main draw of the series has become one of modern cinema's most recognisable icons. While Wolverine's spin-off movies aimed to showcase Logan's side of the story as best as they possibly could, they have been met with lukewarm reception – how fitting, therefore, that his supposed final adventure take a stunning swerve into more adult territory that has been largely critically lauded.
Logan takes place far along the X-Men universe timeline where the eponymous mutant has since exiled himself into a life of driving cars on commission, and where he finds himself holed up looking after an increasingly-ailing Professor Xavier. The former Wolverine's hideaway, however, doesn't last long when he is approached by a woman and a young girl, pleading that he takes on one last mission for them. While Logan ignores the pleas, tragedy strikes and a knotted web of mutant testing ends up thrusting the young girl into his supervision, and with her the future of mutantkind.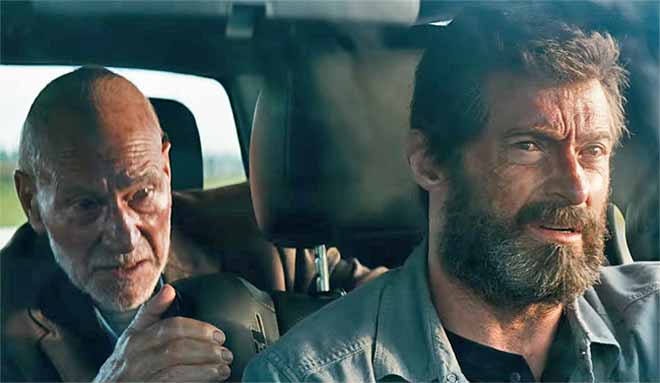 Logan has been very, very well received by both critics and viewers. It is perhaps all the more shocking to see a comic book inspired movie that is currently sitting within IMDB's 40 highest-rated films of all time. This, of course, is for good reason. Logan is, perhaps, the first comic book movie to really loosen itself from the tropes and shackles that have threatened their creativity for the longest time. Issues that befell the supposedly gritty Batman V Superman and even X-Men Apocalypse don't even drift into focus here. Logan is, from a creative and from a storytelling standpoint, in league with movies such as The Dark Knight – however, I am not so keen to revere it as anywhere near Nolan's Batman standards.
Jackman's Logan has grown old and weary, Stewart's Xavier is aged and failing, and the pair of them wander through the movie knowing that they have at least one last stand (no pun intended) in them before the curtain call. This is a movie that has clearly learned from Deadpool in the sense that profanity and heightened gore can fit into comic book screenplays providing they are used appropriately. As such, Logan is very well made in the sense that it is perhaps the most underplayed 'hero' movie you'll ever see. This, unfortunately, can be to its detriment – while it is unexpectedly heavy, ponderous, often despairing and introspective, it may provide jarring for audiences expecting a third movie for the character in line with the standards of old. Logan is an inherently depressing and therefore somewhat difficult movie to watch – which, rather uniquely, works to both its advantage and its disadvantage.
While the movie may not be particularly to my personal tastes, it can hardly be denied that this is a curiosity made with intense care and appreciation. Many may not like the direction in which some of the characters are taken – many, too, may not be so comfortable with the film's final scenes. However, it must be praised as a movie that is somewhat unique in its treatment of the genre and characters that are in play. We have never seen these characters quite like this – this is an extraordinarily wrenching character study that delves deeply while setting up a story that naturally ties together one universe with the beginning of another. The cast is suitably muted and offer little exposition except where needed, and it's all in all something of a wake-up call for comic book movies in general. If Deadpool set the benchmark for how irreverent they could get and Dark Knight set the benchmark for how intricate stories could be told – Logan surely shows us how intense these worlds can become, and how you can, occasionally, put away big, flashy effects and retreat into character study once in a while.
Logan - Official Trailer (20th Century FOX)
As a movie – and as an experience – I am not too sure how to grade Logan. Technically, it is very well made, and very well told – and as discussed, it does more than enough to bring new items to the table. Jackman and Stewart are so at home in their characters that their journeys here are genuinely disturbing – and it is perhaps this that leads me to rate the movie a little less gloriously than other critics. While it may be ground-breaking in some ways, it is also a movie that gets perhaps a little too wallowing in its pursuit of its intentions. Logan is not your typical superhero movie. It is dark, it is disturbing, and for any fans of the franchise, it will evoke a multitude of emotions – some may even hate it for what it does to its characters. These reactions, in my opinion, are completely valid – as I produced some of them myself.
However, as a movie, it is still enjoyable – on a level that it is refreshing, intriguing, and nonetheless heart-rending. While it may be a difficult watch, Logan remains a well-made and well-intentioned movie that will hopefully open up creative doors to other pictures in future. If comic book movies are finally 'growing up', we have Logan and Deadpool to thank – and future output from both DC and Marvel have lessons to learn.