by 👨‍💻 Graham Pierrepoint


PATRIOTS DAY

Dir: Peter Berg

Starring Mark Wahlberg, JK Simmons, John Goodman, Michelle Monaghan, Kevin Bacon, Jimmy O Yang, Vincent Curatola, Alex Wolff





4 STARS (out of 5)
The Boston Marathon Bombing of April 2013 will go down in history as one of the most sudden and intense terrorist attacks on US soil. Two bombs took the lives of three people while hundreds were left fighting for survival, and while an investigation to find the perpetrators launched immediately to prevent any further casualties. Even those who knew of the tragedy from international news will remember the shockwaves that the disaster sent, and that, thankfully, there were several people who helped to ensure that the scene was made safe and that Dzhokhar Tsarnaev, the surviving perpetrator, was brought to justice.
Patriots Day tells the story of the subsequent aftermath of the Boston Marathon attacks, and what both the FBI and Boston police did in terms of mounting an investigation. Tommy Saunders is a police sergeant at the forefront of the aftermath, who not only helps those impacted at the scene of the crime but who also undertakes the frenzied manhunt to find those assumed responsible. The movie surrounds the efforts that were undertaken to bring the terrorists responsible to justice, and how the lives of those changed forever by the attack were attended to by the authorities. As such, it is a movie that seeks to detail events as opposed to exploit them.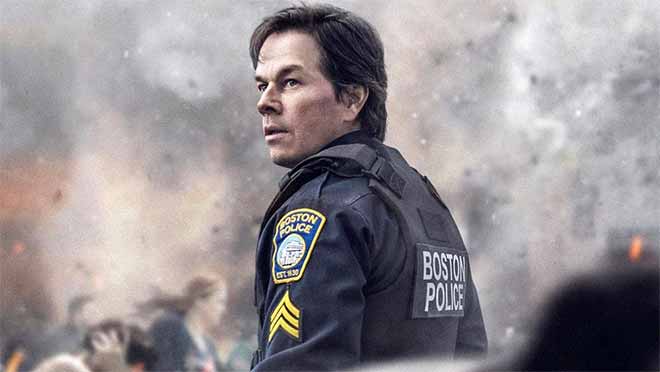 Wahlberg and Berg have worked together before on Deepwater Horizon, and it was a partnership that worked well to bring a true story to the big screen that felt neither cloying nor disrespectful. Patriots Day, thankfully, very much does the same. The screenplay and direction does very well to balance the facts, events and fast-paced nature of the attack's aftermath in a way that will both satisfy those craving drama, and in a way that the real-life events are not disrespected. As such, it is a rather satisfying movie – benefitting from a brilliant cast full of great names and, once again, benefitting from Wahlberg.
Wahlberg has had his fair share of interesting roles over the years – including flops – and it is, again, his take on the everyman where he shines brightest. Contrast his performance under M Night Shyamalan in The Happening and his performances under Berg in Deepwater Horizon and Patriots Day – it's extraordinary what certain actors can do when given the right opportunities and direction.
Patriots Day is appropriately paced, frenetic and full of twists and turns that both reflect the genuine chaos that unfolded in Boston and the manhunt that occurred directly after the bombs went off. As such, it must be said that it is not a movie with much room for character focus or development (though Saunders receives particular focus, which some have criticised). While certain choices are made regarding some of the people involved, some may find trope usage a little trite at times – however, it can be argued that this is a movie which is dependent more upon its relaying of the story rather than those involved. Thankfully, a solid cast bolstered by Michelle Monaghan, John Goodman and JK Simmons do more than enough to sell the story and to add enough realism to proceedings.
Patriots Day: Official Trailer (CBS Films)
The movie has received criticism from Boston itself, at least a handful of publications, which claim that it is merely profiting off the events that unfolded by over-glamorising. I must disagree in the sense that it is ably-crafted enough for viewers to understand that dramatic licence is in play, and that in some cases, tropes and techniques are required to bring certain stories to the big screen – hopefully without them disrespecting what had originally occurred. I will draw back to Deepwater Horizon, one of my favourite movies of 2016, by saying that Peter Berg has again shown a knack for dramatizing events in a way which neither offends reality nor shies away from the medium it is playing out on. As far as true story movies go, the director seems to hit upon a nice balance that offers just enough realism in hand with drama.
Patriots Day will unlikely appeal to everyone and I am not shy to advise that it is a thoughtful disaster movie purely on the basis that it genuinely happened – and that it is told so carefully and with such detail that we are made to think as well as emote. It's great to see movies like this making way in recent years – the Boston Marathon attacks were devastating and, in my opinion, Patriots Day does more than enough to commemorate those who lost their lives, empathise with those directly injured or impacted, and to celebrate the work of those who attended the scene and to ensure that justice was served. If you are interested in seeing a movie that treats a true story with care and retells it with genuine gusto, you can do worse than see Patriots Day.