MOVIE REVIEW: Kong: Skull Island

Monday, 13 March 2017
by 👨‍💻 Graham Pierrepoint


KONG: SKULL ISLAND

Dir: Jordan Vogt-Roberts

Starring Tom Hiddleston, Samuel L Jackson, John Goodman, Brie Larson, Jing Tian, Toby Kebbell, John C Reilly, Terry Notary





3.5 STARS (out of 5)
On paper, Kong: Skull Island is a mixture of two beasts. It boasts a solid, reputable cast that could bring even the wettest of screenplays to life, and it is playing off and adding to one of the most famous cinematic franchises of all time. King Kong is widely regarded as one of early cinema's defining greats, having set the scene for movies of all calibres and genres regardless of whether or not they had an enormous ape scaling the New York skyline or not. However, it is also a franchise – and Kong is also a character – that has been bandied around a fair while, across parody and lacklustre revamps. Thankfully, Skull Island seems to do more than enough to paint over memories of Peter Jackson's King Kong over ten years ago, which to this day is only really fondly remembered as a cheesy relic.
Skull Island, rather simply, sees a group of scientists and soldiers head out on a government operation to the unchartered and unexplored Skull Island – where conscientious attendees in Hiddleston and Larson aren't so keen on what the rest of their comrades have in mind for the new land. Cue big thrills, big explosions, huge monsters and generally everything you can imagine from a movie of this calibre. While it may seem terribly like a film we've all seen before (and far too many times), it's oddly welcome.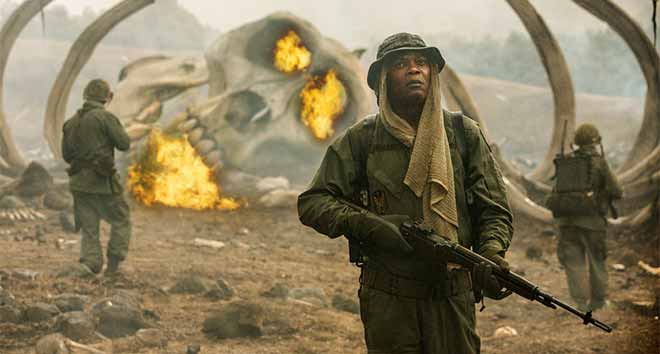 Firstly, while you have to commend the cast involved, this was never going to be a movie that focuses on character development nor nuanced performances. Hiddleston may have picked up plaudits in The Night Manager and Goodman may be picking and choosing roles these days that really play to his darker side, there's no need to go in expecting any characters that are particularly memorable or worthwhile clinging to. This can be to a screenplay's detriment, of course – but actors such as Samuel L Jackson are having so much fun here that it's hard to keep focused on such a thread. If you are expecting superbly-framed character studies from Kong: Skull Island, you may need to rein in your standards a little. While deeper, harrowing stories would have been the icing on the cake, the movie does enough, pretty much, in all other categories.
Visually, it's great, and the mile-a-minute action will appeal to anyone with a thirst for genuine monster madness after a series of misfires over the past few years. There is no pretentiousness and no envelope-pushing – it's straightforward 'let's-go-find-some-monsters'. Many will no doubt roll their eyes at such a premise, and frankly, why not – but Skull Island puts across everything it wants to deliver in such a frantic and unabashed fashion that it's hard to see how anyone going into this wouldn't be satisfied.
Many people may even be surprised that it's had such a positive reception from critics – surprisingly so with almost 80% approval on Rotten Tomatoes – but this is largely due to the movie doing what it does with a sense of fun and a focus on the important factors. Big, brash action movies such as London Has Fallen have fizzled onto the big screen in recent years for being too formulaic and too dependent on their formulas – while Skull Island certainly offers up little in the way of anything groundbreaking, it at least brings something to the table that fills the screen time with daft, visually-pleasing action that is energised and slightly self-aware.
Kong: Skull Island - Official Trailer (Warner Bros. Pictures)
Skull Island also focuses more on the titular isle – and instead of presenting Kong to us as this impossible-to-imagine being, we're rather thrown into the mix haphazardly. This does work rather well – it dulls the fatigue of expectation from another King Kong movie, and instead gives us a real chance to marvel at the other beasties set to scramble across the screen. This may not be a movie with much depth – and it is this lack that therefore prevents it from scaling the heights of a four star review – but it holds its own and seems to want to offer its core audience everything they're in it for. It should also be mentioned, too, that it never once wants to be anything near the original King Kong – it's a retelling of his origins, and for that, it's more than palatable to anyone wishing to shut their brain off for an hour or so.
Chances are if you merely like the idea of Kong: Skull Island, have seen trailers or simply marvel at the cast list, you will almost certainly enjoy this. While it may not be the masterpiece it clearly has no dream of being, it certainly does more than enough to take the premise and tick every box for casual moviegoers.