MOVIE REVIEW: Power Rangers

Tuesday, 28 March 2017
by 👨‍💻 Graham Pierrepoint


POWER RANGERS

Dir: Dean Israelite

Starring Dacre Montgomery, Naomi Scott, RJ Cyler, Ludi Lin, Becky G, Elizabeth Banks, Bill Hader, Bryan Cranston





3 STARS (out of 5)
Did Power Rangers really need rebooting? Has it really been that long since we saw spandex-suited pugilists beating up aliens from another planet in the name of dinosaur totems? The series has, in one form or another, been ongoing since the early 90s, and while the early days of the franchise are long gone and are arguably the most fondly-remembered, it has perhaps been some time since the public had fresh consciousness of the original band of five technicolor teenagers – Jason, Kimberly, Billy, Trini and Zack – and this reboot, heavily marketed and widely believed to be an attempt to breathe new life into the original idea, tries valiantly to retool the brand for a new audience. Sadly, however, while it does show clear effort and awareness, the final product doesn't do much to stand up to those early episodes – and, at the very least, it is reasonably fun.
For those uninitiated, five random teenagers from an American town are chosen by fate (of course) to take on strange new powers to help defend their planet from the crazed Rita Repulsa – who, in this iteration, is a former Ranger herself – and who is seeking a powerful crystal with which she can destroy the Earth. The new Rangers are brought together by the awakened Zordon, the original Red Ranger – who intends to mould the teens into a lean, mean fighting machine – one whom can take up the mantle of the Power Rangers and can defend the Earth against monstrosities such as Repulsa. If you're slightly baffled by the storyline, don't worry – it's rather similar to that of the original series!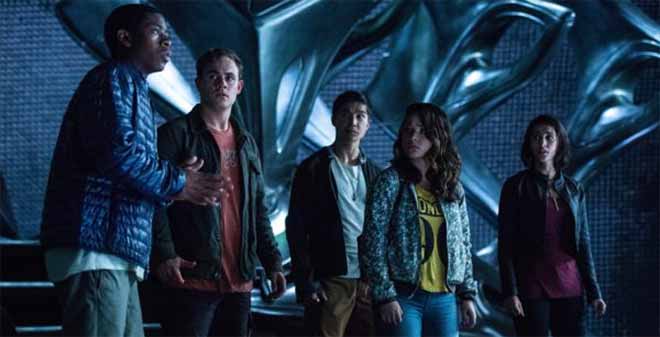 Firstly, the cast is mainly great. There have been risks taken here to ensure that the original characters have not only been brought up to date but have been given new 'problems', 'attitudes', and more besides. Many may see this as rather clunky or old hat, however, in comparison with some of the very flat characterisation the original show was known for, hardened fans may find this refreshing. Despite these good intentions, however, there is often too much going on to give the time to the characters that they need. Despite this, however, the action, pacing and story is, while cheesy, speedy and varied enough to keep your interest.
The movie is likely going to be compared with the series a lot, and this is to be expected – while it may hope to reboot or revive the original brand, it rather needs to be treated separately. These are not your original Power Rangers – they're moodier, grittier and decidedly less goofy – and for many people, this will mean a removal of the charm that made the original show so appealing. Power Rangers has always been rather campy and knowingly silly – while at the same time working as something of a punchline – but the 2017 movie doesn't take itself too seriously to be warranted as a hardcore, super-serious reboot. Instead, it's a fairly interesting teen action film that, despite its script flaws and its frantic nature, has all the blueprints for a genuinely effective action movie in its own right.
Power Rangers - Official Trailer (Lionsgate Movies)
Those expecting the film to be little other than a gritty rehash of slightly embarrassing older material may be surprised. The main cast do work well together, and Elizabeth Banks is a fantastic villain as Rita Repulsa – it's a movie that never really tries to do anything too differently in terms of cinema nor the genre it sits in, but it at least does something new with a brand that neither paints all over it or rejects its influence entirely. Far from it – the way this movie treats the source material works somewhat well – it's certainly not the show that so many of us grew up with, but neither is it an obvious attempt to harden the idea into something it's not. Ghostbusters and CHiPS, take note – rebooting a franchise doesn't always mean you have to go in the opposite direction, nor does it mean you have to stick completely to the original designs.
Power Rangers was surprisingly fun – it's not a great movie, and many are calling it a good 'bad movie' – but for the very fact it gives a genuinely interesting look at how reboots can be done and done well, this is certainly worth the price of admission. With a nice little tease at the end of the movie, too, it seems that we may not have seen the end of this new band of Rangers – but will it perform well enough at the box office to return? If it does, we certainly hope it will give more time to the characters, and more opportunity for the brand to emerge as its own entity once again.