THE BOSS BABY
Dir: Tom McGrath
Starring Alec Baldwin, Miles Bakshi, Jimmy Kimmel, Lisa Kudrow, Tobey Maguire, Steve Buscemi, Conrad Vernon, James McGrath, ViviAnn Yee





2.5 STARS (out of 5)
DreamWorks' story is an odd one – and it's a long one we don't have time to go into today – but while Disney have generally weathered the past five or six years well (as have Pixar, barring one or two false starts), Jeffrey Katzenberg's former animation studio, originally partnered with exceptional talent such as Steven Spielberg, really has seen ups and downs in the quality of its output. They had a great 2016 in the form of the brilliant Kung Fu Panda 3 and the enjoyable Trolls, yet they also struck low points with efforts such as Home and Bee Movie (which, if nothing else, has been enjoying an extended life as a popular YouTube meme). This is without going into the once-appealing Shrek franchise and its various sequels (The Third being its absolute lowest point). Fans of animated cinema, therefore, were interested to see exactly where DreamWorks Animation would go next – and while a third movie in the fantastic How To Train Your Dragon franchise is forthcoming, we have been treated to another effort – The Boss Baby – in the meantime.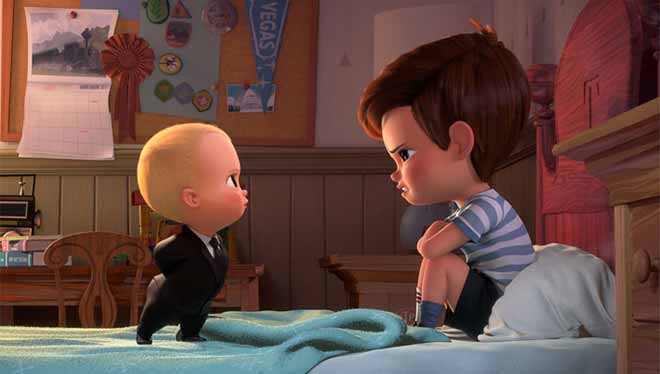 The Boss Baby, based on the children's book by Maria Frazee, is centred around 7-year old Tim and his facing up to having a baby brother in his life – only, his new brother isn't as innocent as he may seem. Tim's brother is The Boss Baby – an infant in a suit and armed with corporate buzzwords and a briefcase – and he just so happens to be a secret agent dispatched on a very special mission. The mission? To find out why puppies are getting more love than babies – and to try and tip the balance in what appears to be a battle to gain the most love from the adults of the world. But why is Tim and his family involved? His parents just happen to work for the company facilitating the puppy side of the battle.
If you've been keeping up so far, you'll likely agree that the premise here is defiantly off-the-wall – it's based off a children's book, so DreamWorks staff are not completely behind the premise here – but, it's a premise and a script that is both so bizarre and yet so contrived that it's a creature rarely seen on the big screen. While the animation is slick and there's plenty here to appeal to younger kids, the story and the concept here read as if they are the fantasy of a young child – this is likely what the aim was here, of course, and there are certainly many moments within the film where the imagination of children is used to great effect – yet, unfortunately, it feels like it is based solely around the one joke of the baby acting like a boss. One this joke wears thin, there's little else to cling onto – and it really tries to build a world and a struggle around this idea with middling success.
The cast is made up of a number of big names, many with success elsewhere but all oddly put-together – they certainly try their hardest here and Alec Baldwin must be praised for his dedication to the character. He's best known for sending up the US President on Saturday Night Live in recent months, and here he does well to bring an alternative businessman character to the big screen albeit with a large twist. There are many moments in the movie that do raise a smile and, on the whole, there's a fair bit of variety. However, none of this succeeds in raising the movie above its sole-joke centre, resulting in a piece of animation that feels rather stale long before its credits start to roll.
The Boss Baby - Official Trailer (Dreamworks)
The movie is host to the traditional DreamWorks quirks and irreverence, however, there lacks the heart and focus that have made other movies from the studio work so well. It is hard to imagine The Boss Baby as being in the same league as, say, How To Train Your Dragon or Flushed Away – movies with bigger variety and more focus on characters and plot than a perpetual central gag and eye-rolling moments – as such, it's perhaps fitting to think that this movie could have worked better as a short, or as an animated series of Netflix. As a feature film, the premise is stretched extraordinarily thin, and it will likely fail to inspire anyone above the age of nine or ten. It may be a little more creative and a little touch more irreverent than the Smurfs movie which is also debuting, but we have seen far better material from DreamWorks.
The Boss Baby is not a poorly-made film – it's just not brilliantly realised, nor is it a story or concept that requires the runtime. With an adaptation of Captain Underpants due from DreamWorks next, it will perhaps be some time before the studio veers away from flat-out comedy in the name of something a little more wholesome – but we will always be prepared for a surprise.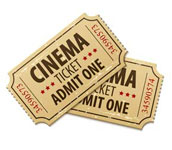 » See more of Graham's Movie Reviews